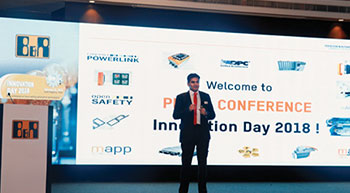 B&R Innovation Day 2018: Automate, lIoTize, Deliver
B&R is a technology leader in industrial automation, and Innovation Day serves as a platform for launching innovative solutions in India. This helps machine builders to cost-effectively adopt new technologies, be globally competent and ready for the future.
B&R is a technology leader in industrial automation, and Innovation Day serves as a platform for launching innovative solutions in India. This helps machine builders to cost-effectively adopt new technologies, be globally competent and ready for the future.
"With the acquisition of B&R by ABB in July 2017, B&R Austria has become the new global center for machine & factory automation for the ABB Group," says Jhankar Dutta, Managing Director, B&R India. B&R remains an independent business unit and own legal entity, with the B&R brand name and cultural identity continuing to remain. B&R also keeps its focus on continuous growth. "We are expanding our office space to 16000 sq. ft. in Pune at the same time investing on manpower across India to match our growth plan of doubling business volumes in coming three years," quotes Jhankar. "B&R is known for providing best-in-class service to customers and today we take customer service to the next level by launching a world class customer support initiative with a dedicated hotline."
Jhankar speaking on the theme of Innovation Day 2018, "Automate • IIoTize • Deliver", provided a glimpse of many innovations to be launched during this event with a few notable ones highlighted below.
ACOPOStrak: Enabling the batch of one
Customers demand for individualized products is increasing, and manufacturers are constantly working towards satisfying these ever rising needs. Customization is only possible with highly automated factories, however, and they are moving from mass production to batch-of-one. In order to be profitable, factories face the dilemma of producing single units with the same economy as bulk production. Retooling a manufacturing system to achieve individualization seems to be a cost-prohibitive endeavor.
To answer these market demands and achieve mass customization cost effectively, B&R has introduced ACOPOStrak. It is a revolution in adaptive manufacturing that helps extend the economy of mass production down to batches of one. In the case of a bottling plant, ACOPOStrak enables beverages of different flavors and sizes to be filled, labeled and capped on a single production line – with zero downtime for changeover. ACOPOStrak opens up new dimensions of resource efficiency. It boosts the quality factor of overall equipment effectiveness (OEE), multiplies return on investment (ROI) and accelerates time to market (TTM).
Machine vision: Intelligent & integrated
Vision technology ensures better quality and flexible production in modern manufacturing facilities. Conventional machine vision systems rely on a separate controller and camera systems that communicate with the machine controller over either I/O channels or a communication network. This approach is not real time and adds a significant amount of programming to developers' workload. It also increases the amount of integration work for machine builders and adds enormous costs.
Previously existing in two separate worlds, machine automation and machine vision now come together seamlessly in B&R's new fully integrated solution that requires no special engineering tools and no extra programming languages. Like all of its automation products, B&R's machine vision system is programmed using the ready-made components of mapp Technology.
The resulting application covers everything from process control and motion to machine vision and HMI. The first fully integrated machine vision system opens up a world of new opportunities for machinery and equipment manufacturers by allowing them to implement both control and machine vision tasks with a single tool.
Orange Box: Industrial IoT for brownfields
A greenfield site is a blank slate, where new technologies for smart machines and factories can be implemented with relative ease. For brownfield machines and factories that have been operational for decades, the task is much more difficult. The challenge is to establish sufficient communication to retrieve production data. Tracking energy consumption and optimizing the efficiency of processes and maintenance tasks are important factors, especially for small and medium-sized companies, yet machines cannot simply be replaced year after year to keep pace with technology trends.
B&R now offers a cost effective solution that makes it easier than ever to perform advanced analytics on brownfield manufacturing assets. B&R's Orange Box lets users access previously unreadable energy and process data from digitally isolated machinery. The Orange Box is able to read data from the machine without any changes to existing hardware or software. Clearly visualized performance metrics make it easy to identify opportunities for targeted improvement so machinery can be operated more efficiently. As an Industrial IoT solution package, the Orange Box brings smart-factory intelligence to brownfield installations.
Open communication standards
A typical factory relies on machines from different vendors that use a variety communication protocols. This makes horizontal (machine-to-machine) and vertical (machine-to-cloud) connectivity a distant dream. Industry 4.0 and Industrial IoT demand open interfaces and open communication standards.
Open standards are essential for the success of Industry 4.0. B&R systems are based on open source, vendor-independent standards such as OPC UA, Ethernet POWERLINK and openSAFETY. Ethernet POWERLINK provides real-time, deterministic communication down to 100 µs for machine automation. OPC UA acts as a backbone for machine-to-machine and machine-to-cloud connectivity with all the necessary security mechanisms in place. openSAFETY is the only open, fieldbus-independent safety protocol enabling safe communication from the sensor to the process layer.