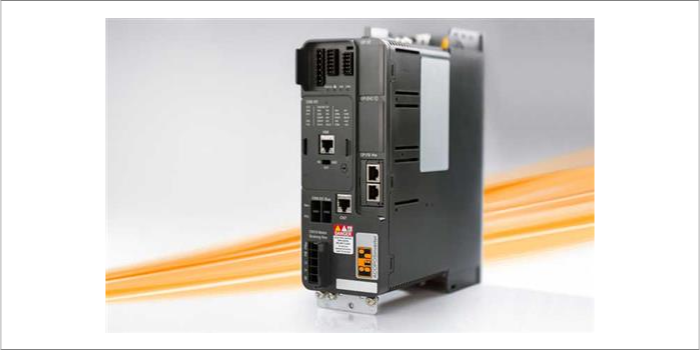 B&R frequency inverters for broad range of applications
The ACOPOSinverter P86 is a series of frequency inverters for three-phase synchronous and induction motors, with or without encoders. It covers a wide power spectrum from 0.75 to 75 kW and is particularly well-suited for packaging, conveyor system, material processing and hoisting gear applications.
B&R's P86-series inverters already comply with the IE efficiency factors standardized in EN 61800-9-2. The future-proof inverters are easy to configure and exceptionally flexible. The new ACOPOSinverter series is also equipped with the dual-channel safety function Safe Torque Off (STO) in accordance with SIL3/PLe.
The frequency inverters are particularly well suited for dynamic applications. They can deliver up to 220 per cent of the nominal output torque for two seconds. They can be used for open-loop or closed-loop control of induction motors (IE2, IE3), synchronous motors and reluctance motors. An integrated POWERLINK interface, numerous I/O channels, and embedded encoder and optional interface cards offer maximum flexibility in plant design.
The ACOPOSinverter P86 series has an exceptionally rugged design, and is built to perform under harsh conditions. They easily cope with vibrations, shock, dust and temperatures up to 60 degree Celsius while maintaining consistent performance.
The new P86 series further expands B&R's ACOPOSinverter portfolio. Together with the P66, P76 and P96 series, they cover a range of drive technology profiles for three-phase induction motors and synchronous motors with a voltage supply from 200 to 600 V and a power rating from 0.18 to 200 kW. With easily scalable functionality and full integration into the B&R automation landscape, the ACOPOSinverter family is suited for a wide range of applications, from small machine modules to complex plants.
B&R takes intuitive operation to a new level
B&R enables a unique new form of intuitive operator guidance. Typical operating functions are now incorporated directly into the glass of B&R touchscreen panels. This eliminates the need for hardware switches and leaves no chance for dirt and grime to collect or enter the device. The panels are therefore ideal for environments with the strictest hygienic requirements.
Upon customer request, B&R offers all HMI variants with a projected capacitive touchscreen with corresponding finger guides. The guides can be any shape and size, enabling optimal integration of all types of sliders and dials in the HMI application. This opens up the entire screen surface for displaying content. B&R's patented tactile finger guides allow eyes-off operation. Operators can adjust settings without ever taking their attention off the machine.
The ergonomic finger guides are approximately 1 mm deep and can have a matt or clear finish. The integrated keys and rotary switches never wear out. The panels are available in sizes from 5-inch to 24-inch as either a display unit or Panel PC.
B&R panels with finger guides are ideally suited for the food and beverage, pharmaceutical and medical technology industries. In addition to the easy-to-clean touch screen, the panels are also available with a joint-free stainless steel housing that offers IP69K protection. Hygienic-design panels are constructed from highly resistant materials such as smooth stainless steel, high-quality polyester overlays and special sealants.
New CSO at B&R
On August 1, Luca Galluzzi (52) will join the executive management team of automation specialist B&R. As the new Chief Sales Officer, he will succeed Peter Gucher, who will be entering a well earned retirement after 34 years at the company.
In his new role, Galluzzi will be responsible for all of B&R's global sales activities and advancing its entry into new markets. In addition to his position on the executive management team, he will retain his current responsibilities as Managing Director for Southern Europe.
"Luca Galluzzi has done an exceptional job in the Southern Europe region and has demonstrated a commitment to expanding our business there. I am very pleased that our executive team will now be able to benefit from his knowledge and experience," says B&R CEO Hans Wimmer.
Peter Gucher began his career at B&R at a time when the company was still a small Upper Austrian start-up with 60 employees. Over the years, he built up a sales network that now comprises 27 subsidiaries and over 180 offices all around the world.
"This global presence and the closeness it gives us to our customers are the result of Peter Gucher's personal dedication," says Wimmer. "We owe him a debt of gratitude for his hard work and wish him all the best for his well earned retirement."
B&R is an innovative automation company with headquarters in Austria and offices all around the world. On July 6, 2017, B&R became a business unit of the ABB Group. As a global leader in industrial automation, B&R combines state-of-the-art technology with advanced engineering to provide customers in virtually every industry with complete solutions for machine and factory automation, motion control, HMI and integrated safety technology. With Industrial IoT communication standards like OPC UA, POWERLINK and open SAFETY as well as the powerful Automation Studio software development environment, B&R is constantly redefining the future of automation engineering. The innovative spirit that keeps B&R at the forefront of industrial automation is driven by a commitment to simplifying processes and exceeding customer expectations.