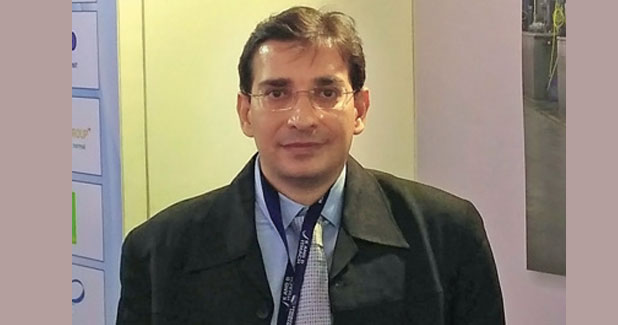 Boost to weaving quality
Textiles have come a long way since the advent of weaving, and Bharat Beams is leaving no stone unturned to innovate on this front.
Textiles have come a long way since the advent of weaving, and Bharat Beams is leaving no stone unturned to innovate on this front. The company has been manufacturing quality warper beams and weaver beams for more than 36 years! The company's commitment to execute research and test-based development has made Bharat Beams a leader in the field.
Bharat Beams' Director, Snehal J Panchal proudly claims that quality is their main forte. "We have sustained in this market because we have never compromised on quality, he says, during an interview with ITJ Senior Sub Editor, Karthik Muthuveeran at ITMACH event in Gandhinagar. He adds, "We are in this field for the last 36 years, but have never compromised on quality and that is why we are working with European machine manufacturers and even with Indian machine manufacturers as OEMs. They are banking on us."
The journey
Taking this correspondent through Bharat Beams' journey over the years, Panchal says, "We are a successor to Bharat Bobbins Limited. Bharat Beams was started in the year 2011. Within this six years, we have come out with a lot of innovative products to the market. The latest innovation what we have done is plant load analysis of flanges. The resulting data from the analysis is utilised for selection of right type of flanges to fulfill our customer's requirement. This has been developed in-house, and I feel proud that no one has done this in India. You can say that we have a monopoly in the market." As far as the technical textile industry is concerned, Bharat Beams enjoy almost 95 per cent of the market share for technical textile-related beams. "Those are heavy beams of Q3 and Q4 quality," adds Panchal.
Customised products
Bharat Beams has three different type of products – warper beams, weaver beams and cloth rolls. "We also manufacture special chucks for warping machines as a machine manufacturer and as an original equipment manufacturer (OEM). But that is a very customised product and is solely manufactured for specific requirements in India, avers Panchal.
The company offers dynamically-balanced warper beams of flange diameter up to 1,600 mm and warping width up to 2,800 mm, and other high speed warping machines suitable for spun and filament yarn. All warper beams are assembled and dynamically balanced as per ISO/DIN norms. Each beam passes through rigorous inspection process to ascertain highest quality standard. The weaver beams are up to 1,250 mm flange diameter and 540 cm working width.
The company manufactures warper and weaver beams suitable for natural firbe yarns and for man-made fibre yarns utilised in synthetic industry and technical textile.
Domestic market
"From GST onwards, textile market for us has come a long way. This is because, earlier our products were under excise zone. What happens is when you sell a niche product then obviously your product will cost more. So over the particular price, the person has to pay an additional 12 per cent as an excise. Now after GST, they can set up the 18 per cent GST. Earlier people who were unable to buy beams because of cost barriers, now they are able to do so, says Panchal. "The most upcoming market in India is Ichalkaranji and the southern market. The Ichalkaranji market is growing fast with good quality machines. The owners over there are technocrats who are running things wonderfully. So for us, Ichalkaranji market is our prime focus area."
Wide clientele range
The Ahmedabad-based company has worked with some of the leading textile players in India and abroad. Panchal says, "Right now, we are working with Ramallumin Srl of Italy, who are into manufacturing warping and sizing machines. Earlier, we have sold beams as OEMs to Karl Mayer of Germany. Before that, we were the OEM suppliers to Benninger, Super Muller in Germany, to name a few. We were also OEM suppliers to Schlafhorst, when they used to manufacture warping machines."
On export front, he says: "We are exporting our beams to China. In terms of exports, China is the second largest country for us. It is altogether a very different preposition because Indian people are buying Chinese products at a cheaper price, whereas we are exporting our products to China at premium. Our core competency is in designing and executing very customised type of beams. We are also selling beams to Indonesia, and a lot of countries in Latin American continent (like Peru, Venezuela, etc). We are also selling beams to Africa, Germany, Russia, Iran and Iraq, to name a few. We are directly selling our products to 37 countries through OEMs."
Technical textiles market
"The technical textile segment, where we are actually present, is still in the nascent stage. We have some solutions for the technical textiles industry, and we are coming up in a big way. In other markets like terry towels, denims, etc., there are a number of players. But if you talk about the technical textile segment, there is not much comparison. Going forward, this field will definitely do very well in India," says Panchal. He adds, "The government is providing a lot of assistance to the technical textiles segment. They are doing well to help these type of industries. A-TUFS scheme is providing a lot of impetus to this particular industry. As far as the government is concerned, the manufacturers are getting benefited."
Stronger 2018
Speaking about the company's performance in 2017 and plans for 2018, Panchal says: "There were some setbacks as far as our business is concerned during the initial period of the introduction of GST and demonetisation. But currently, the market is really very good. In 2017, our turnover is over 20 per cent of what was there last year. Next year, there are various plans coming up. Technical textiles will [definitely] do well in the overseas market. Technical textiles are a very niche segment in India. But abroad, the sector is doing very well."
Panchal concludes: "We are thinking of coming up with some new products that are not available in India. For this, we plan to tie up with a foreign company; however, I cannot share more details on this. We plan to bring this new product in another two to three months."