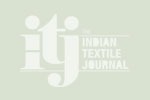 BMS system based on wireless data collection technology
BMS displayed the latest version of its Manufacturing Execution Systems (MES).
BMS displayed the latest version of its Manufacturing Execution Systems (MES) for weaving, knitting, tufting and spinning, all based on wireless data collection technology. All of these systems include software modules for real time machine monitoring, production scheduling, fabric inspection, yarn inventory management and traceability. A complete new generation of touch screen based data collection hardware (data units) was introduced. For the first time, a data collection device supporting both Wi-Fi and Bluetooth wireless communication was introduced.
A new version of the report generator now allows combination of real time data and history information in the same reports.
BMS also presented its EnergyMaster system for monitoring the energy consumptions in the plant and reporting of the CO2 footprint of the company. The combination of energy consumption values with other MES applications, such as monitoring of the spinning, weaving and finishing operations, provides a perfect insight in the relation between energy consumption and production and allows quick identification of energy saving potentials.
For fabric inspection, the Cyclops automatic on loom inspection system with its latest software features supporting inspection of grid fabrics, carbon and Kevlar fabrics and various other types of technical fabrics will be shown. For grey and finished inspection, a brand new inspection terminal, the QT, in combination with the latest version of the QualiMaster software will be presented.
All BMS applications now also support the use of mobile devices for both data entry in the plant as well as reporting. As such, weavers can for example enter declarations or consult information from the server on a tablet or mobile phone. A new module ?Management Dashboard? allows the combined presentation of data available in different software modules into one single web based report. With this tool, the user can create his own dashboard showing all important KPI?s at a glance.
As such, the manager can have all important information regarding efficiencies, quality and energy consumption displayed in real time on one single screen, either on PC, tablet or mobile phone. Zooming functions allow him to dig into any further detail if required. Also on display was BMS production and quality monitoring sensors and systems for spinning: BarcoProfile for on line quality monitoring on texturizing machines, OptiTwist real time monitoring system for twist level on twisters and direct cabling machines and the OptiSpin sensor for spindle per spindle monitoring on ring frames. All these sensors can be connected to the SpinMaster MES system.
BMS, established in 2007 as a carve-out from the Barco group, is a leading supplier of Manufacturing Execution Systems (MES) for discrete manufacturing, with focus on the textiles, plastics and pharmaceutical industry.Under the brand name BMSvision (formerly BarcoVision) and with over 30 years of experience as a former division of the Barco group, BMS offers a wide range of systems aimed at productivity, quality improvement and energy management. BMS is present at key locations around the world, either with own branch offices or through a world wide network of agents and service centers.
For further information:
Johan Schepens
johan.schepens@visionbms.com