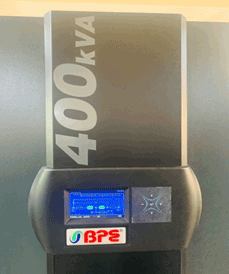 Best Power Equipments' fully digital UPS system GTC-H series
GTC-HSeries is compatible with wide range of application. Flexibility achieved through may choices, including type of battery, single or multi-unit configuration, accessories and options.
GTC-Hseries of fully digital UPS system from Best Power Equipments – Noida is one of the most reliable, rugged industrial solution in the range from 600VA to 8000KVA widely popular brand as BPE. BPE offers variety of solutions based on applications such as LI UPS, high freq UPS, Rack mounted UPS, transformer based UPS, modular data centre UPS, ultra high efficient industrial UPS etc.
GTC-Hhas been widely used in Textile industries for digital printing machines, digital & fully automatic textile machines where continuity and precision in power is quite inevitable with ultra- high efficiency.
Some of the most prominent features of GTC-H Series have been listed as follows :
Greater power higher efficiency
GTC-Hseries uninterruptible power supply (UPS) with innovative 3 level technology is a true on- line double conversion, three-phase UPS system that provides one of the highest level energy efficiencies in the industry.
Three level GT challenger series
With its latest Three level inverter & rectifier design GTC-H series brings the newest power conversion technology and delivers efficiency up to 96.5 per cent at 50-75 percent load operation which is the most common operating range. This ultra high system efficiency provides considerable cost savings in comparison to the traditional transformer less UPS's with 93 per cent efficiency.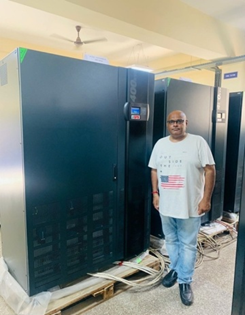 GTC-HSeries consumes less energy to supply the load thanks to its high efficiency up to 96.5 per cent high efficiency rate provides:
Reduced energy loss
Reduced electricity usage and air conditioning requirements
Reduction in operating cost of UPS (OPEX)
Dual input operation
GTC-H series can operate with either single or dual power inputs. Dual input feature increases availability by allowing UPS to be connected to two separate power sources. In dual configuration the rectifier is fed from utility (main source) and the static and maintenance bypass are fed from a secondary source.
Advance battery management
GTC-H series guarantees enhanced battery life and maximizes battery performance, life span and reliability through intelligent precision charging. Temperature Compensated Battery Charging monitors performing measurement of external battery temperature and adjusting the charge current rate accordingly. Advance battery management provides real-time information about battery capacity and backup time, this information can be seen on LCD panel. The UPS tests the batteries at adjustable periods without switching off the system, the test periods can be set by users.
EPO (Emergency Power Off)
EPO function is designed to switch off the UPS in emergency conditions (fire, flood, etc.). The system will turn off the rectifier, inverter and will stop powering the load immediately (including the inverter and bypass) also the battery stop charging or discharging.
Static & manual (maintenance) bypass
GTC-HSeries includes standard static and manual bypass. Static bypass provides safe failure to mains if UPS is overloaded or develops a fault condition. When EMI filters are used to help to neutralize spikes and electrical noise, the load may be routed through bypass to provide further protection.
Manual bypass function is intended only for maintenance work, this bypass supply is incorporated in to the GTC Series design. Manual bypass is used to power down the UPS without interrupting the power to the load. With this feature it is completely safe for the technical personnel to work on the faulty UPS.
Auto restart
When the main and bypass sources fail, the UPS draws power from the Battery system to supply the load until the batteries are depleted. When UPS will reach its end of discharge, it will shut down. The UPS will automatically restart and enable output power:
After utility power is restored
After the "Auto Start Delay Time" is expired (the default delay is 5 minutes)
Advanced user interface
GTC-H series has large and user friendly 320×240 touch panel GLCD display that provides operating information in four different languages. Thanks to this advanced touch panel GLCD display all parameters of working device can be monitored and controlled UPS is capable of recording up to 500 events.
Perfect generator compatibility
GTC-H Series is perfectly compatible with diverse sources, especially with generators. When generator power is used, thanks to its robust IGBT rectifier, it ensures clean, uninterrupted power to protected equipment. With high input power factor performance of GTC-Hseries it is enough to choose generator with power only 20 per cent higher rated then the UPS, so in turn reduce the CAPEX. GTC-Hseries has the ability to adjust power walk in from 5 to 60 seconds, along with reduced input current distortion.
Reverse energy tolerance for regenerative load
GTC-Hseries can be used with regenerative loads, such as synchronous motors. The regenerative load pump the energy back to mains, traditional UPS system burn this feedback energy and this causes lower efficiency. GTC-Hseries UPS with IGBT rectifier are able to absorb intermittent load generated power. Additionally, this reverse power tolerance permits execution of important system operations like closed transfers of the UPS load directly to an engine generator source.
Flexibility
GTC-H Series is compatible with wide range of application. Flexibility achieved through may choices, including type of battery, single or multi-unit configuration, accessories and options.
Frequency converter mode
Optional temperature sensor for external battery cabinets (to assist the recharge voltage compensation)
Additional battery chargers to optimize recharge time
Separated bypass
Back Feed protection
Parallel operation
GTC-H series features easy and simple scalability and redundancy. It is ready to grow with your business demands. Different power rated units and any number of UPS can be connected in parallel.
Power increase:
The UPS's can be connected in parallel to increase total capacity of system. If one of the devices goes out of order the critical loads are transferred to bypass.
Parallel operation features:
Internal standard parallel microprocessor for all models
Up to 8 units parallelable
Parallel connection
Optional Loop BUS connection
Auto sensing disconnected parallel cable
Equal current share with DSP control
Easy power upgrade without any interruption
All parallel systems can be controlled from the front panel of one unit (ID1)
Full synchronisation of parallel units Ye Isolated parallel operation card
Static bypass for all units
Salient features of GTC-H series
True online, three level IGBT Rectifier & Inverter Technology
High output power factor 0.9
On Line-double conversion technology (Class VFI-SS-111)
DSP control
Ultra high efficiency 96.5%
Low input current THDi (<3%)
High input power factor (>0.99)
Dual input
DBST (Dual Bus Synchronisation Technology)
Optional DC/DC Charger/Booster
Wide input voltage range +20% -30%
Advance battery management
Parallel upto 8 Units
500 real time event log with detailed parameters
Static & manual bypass operation
Small footprint and easy maintenance
Advance communication capabilities
Perfect generator compatibility
Isolation transformer compatible