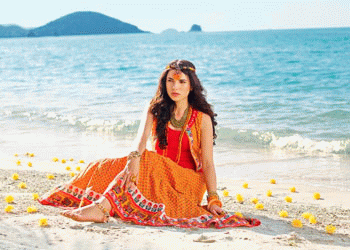 Beat the heat with Fusion Beats? summer collection
Fusion Beats, the retail women?s apparel brand launches its Spring Summer Collection?15 that celebrates the free spirited, bohemian woman of today
Fusion Beats, the retail women?s apparel brand launches its Spring Summer Collection?15 that celebrates the free spirited, bohemian woman of today.
The eclectic collection that forms the SS?15 line includes a wide range that caters to every palette and style. Some of these are; The Denim Studio which is the traditional denim that is chock-full of the season?s key staples. From hi-summer jumpers to ?wear with anything? vests, from easy summer look gypsy skirts to fun dungarees, this trend remains a constant fixture in high-fashion this summer. Fits and washes form the USP for this collection. Shades of denim from stonewash blues to dark indigos build up the story. The Bohemian look comes across in its prints and motifs vary from paisley floral to Aztec influences.
The Truck Art collection inspired by the indigenous art of decorated Indian cultural identity forms this trend. Funky gypsy truck apparel is highlighted with bohemian embroidery, Kutch quilting and a tinkle of smocked skirt with detailed handwork. The ?Horn Ok Please? makes a fashionable statement this summer. Primary colours in this collection include ochre yellow with highlights of scarlet reds and cobalt blue. The prints are accentuated with cultural florals, stripes and truck motifs.
Chalkboard Tribe collection takes inspiration from the classic black and white, done in tribal pattern. From flowy dresses in monochrome palette to Ikat inspired swirls and Aztec placements with lace trims is what this collection is all about.
The Earth Deco collection, as the name suggests is inspired by earth and has flattering cuts which are constructed out of panels of organic linens and viscose. Metal tassels, attractive Aztec tapes, traditional pom-poms and beadwork are the key details.
The Shibori collection takes inspiration from the traditional Japanese Shibori blended with rhythmical baroque presents a fresh take on this SS?15 line. Bright indigos highlighted with hints of yellow form the colour palette.
Club Tropicana collection is a street style inspiration with the presence of chic dresses, bold embroideries and placement prints in resort style. High summer energy fuels this fun tropical theme. Jades and fern greens are trimmed with bold primary colours of pale yellows, corals and midnight sea-blues. Prints are exuberant tropical with bold geometrics supporting the beach palm trees. There?s a mix-n-match at play of tropical florals.
The Kora collection brings the favourite kind of silhouettes, elegant embroideries and lovely laces classic approach to the warm weather with simple and flattering designs. The fabric comprises of organic linens, sheer mesh laces, crochet lace fabrics, jacquards, hakobas and pleated georgettes that gives a classic look.
With the Tribal Mix collection, the bohemian look makes a comeback again this SS?15. The famous Aztec influence mixed with geometric ikat continues to stand out. This collection has shades of bright rouge and turquoise with accent of jades and navy.
The collection prices starts at Rs 1,500 and is available at all Fusion Beats exclusive brand outlets.
About Fusion Beats
Fusion Beats from the house of Creative Lifestyles Pvt. Ltd. is a women?s wear brand which is western in look, but Indian in spirit. It is an amalgamation of ethnic and western wear for the woman who is urban and traditional. Fusion Beats fills the gap between the western and the traditional, by fusing these and adding a fun and fashionable element to the appeal.
For further information:
Fusion Beats
248, Linking Road
Bandra (W), Mumbai – 400050.
Tanya Menon
Email: tanya.menon@wizspk.com
Tel: 983 3007695
Amrita Dutta
Email: amrita.dutta@wizspk.com
Tel: 992 0079919