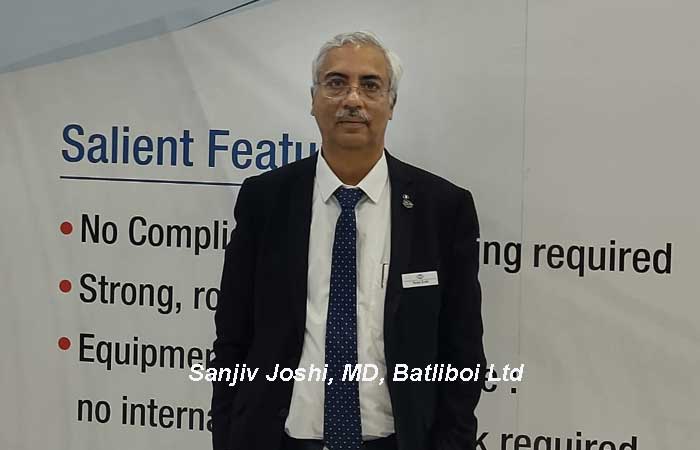 Batliboi: The complete solution provider
The engineering major Batliboi Ltd showcased the latest generation of textile machinery for serving the textile segments like spinning, knitting, processing, printing, technical textiles, etc at ITME 2022.
Batliboi group broadly operates under two business units – machine tools and textiles division. "Textile division has its own manufacturing unit and also partners with some of the leading global companies to offers their solutions to our customers. Batliboi, through in-house manufacturing and its trading partners (principals), serve the entire value chain of the textile industry. We are known to offer a complete end-to-end solution to the industry," opined Sanjiv Joshi, Managing Director, Batliboi Ltd.
At ITME, Batliboi was represented at two stalls. At Hall 7, the group participated along with its principals like Mayer and Cie, Ferraro, Mario Crosta, Loris Bellini, Pentek, Eliar, Europrogetti, Ichinose, Fimat, Dettin, Pozzi, Intex, etc. Batliboi exhibited its textile air engineering division and Loptex and Saurer BD's semiautomatic rotor spinning machines at Hall 11.
He stated, "With respect to our manufacturing business, we have developed IoT-enabled integrated panel for remote controlling and monitoring. We are focusing on make our products aesthetically good. In trading business, we have added new partners in dyeing and printing, who are displaying their solutions for the first time to Indian customers at this trade fair."
With rise in competition, customers are becoming more and more demanding. "In addition to providing state-of-the-art products/machines, it is important to offer high-quality after-sales services. Textile is a continuous process industry and any breakdown in the production needs immediate solutions. So, we are scaling up our services network to be closer to the customers. Digital features on our machines will also help us serve the customers better," said Sanjiv Joshi.
Talking about the company's future plans, he said, "We are looking at expanding business by increasing product portfolio (via new trading partners). For example, we are adding partners for effluent treatment solutions as the environmental issue is a big challenge before the industry today. We are also looking at solutions to offer in the areas like textile recycling, energy conservation, etc. In addition, we are looking at inorganic growth opportunity as well."