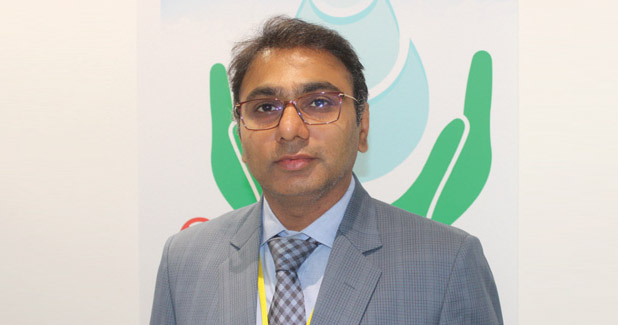 Backward integration on our plans: V. Jariwala of Colourtex
From a modest beginning in 1976 with acid dyes, Colourtex [today] produces a complete range of dyes for all kinds of textile fibres and leather.
From a modest beginning in 1976 with acid dyes, Colourtex [today] produces a complete range of dyes for all kinds of textile fibres and leather. Says Vishad Jariwala, Director – Marketing, Colourtex Industries, "Colourtex is a dyestuff and chemicals company, which was started by my father – Jayantibhai Jariwala. Earlier, we were only trading dyestuff and chemicals to the customers. Slowly we ventured into manufacturing of dyestuff and chemicals." Soon, Colourtex grew rapidly in four decades to become the largest producer of dyes in the Indian subcontinent.
On the range offered by Colourtex, Jariwala said: "Basically, we have a complete range for any all kind of fibre – be it cotton, polyester, nylon, viscose or others. Along with auxiliaries and chemicals, we provide a complete gamut. Recently, we have ventured into digital inks for digital printing, which is for polyester and cotton."
"Last year, we completed our 50th anniversary. Since
we are based in Surat, and Surat being a hub for textile, we received a lot of support from industry present there and the government. Earlier, sarees in Surat were made from polyamide and acid dyes were run on them. This is how we ventured into manufacturing of acid dyes," said Jariwala.
Well spread out marketing and distribution network backed up by full-fledged technical service facilities located in major textile and leather centres, Colourtex is reaching out to more than 2,000 potential customers to provide customised solutions for colouration of textile and leather.
Colourtex is fully committed to environment. Says Jariwala, "All the products that we manufacture or we market are eco-friendly, and we have received certificates for the same. We have registered with ZDHC and are also a partner with bluesign. Our company has received ISO 9001 certificate. We even have 14001 certification and 18001 certification."
Colourtex produces eco-friendly products using environmentally safe process, it does have an impact on the environment during manufacture, use and disposal and are committed to minimising their impact throughout their lifecycle by pursuing best environmental management practices. The company has therefore developed and implemented an active environmental management programme at all production plants as well as TSDF site. Colourtex became the first dyestuff company to develop its own government-approved TSDF site as per the guidelines provided by the Central Pollution Control Board of India.
"We manufacture around 8,000 metric tonne of dyes in a month," said Jariwala proudly. Colourtex owes its strength to sound infrastructure – 60,000 m3 soft water reservoir, 6 MW coal-based cogeneration power plant,
18 hectares of dedicated land fill site, strong backward integration (84,000 tonne of dye-intermediates and additives) built over past four decades.
On the company's tie up with DyeCoo, Jariwala had this to say: "We have launched a range for waterless dyeing – super critical carbon dioxide dyeing. We have
a range for that which we have developed with DyeCoo, who are the manufacturers of the machine. We have developed dyes for DyeCoo. Colourtex offers Coranger dyes. This is an exclusive range of colours for super critical Carbon Dioxide dyeing of polyester. The partnership between Colourtex and DyeCoo was established in 2000. The Coranger range is the first range of commercial dyes suitable for CO2 dyeing." He added, "This concept has been in the industry for a long time, but DyeCoo has come up with a machinery for this concept using super critical carbon dioxide as a medium of dyeing. Since a very long time, we were working with DyeCoo. Today, we have
a complete range for that.
Speaking on the export markets, he said, "About 40 per cent of the total products go to exports. We have a presence in every textile manufacturing country."
"Mainly dyes that we manufacture goes for textile and leather. Textile is a very promising sector. Industry's growth depends on our growth. So we are directly linked with textile industry," he said.
"As of now, we have no plans for capacity expansion. We may go for backward integration and go into intermediaries and other products," says Jariwala.