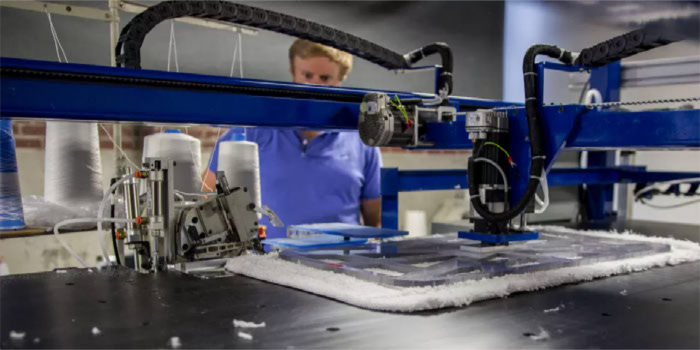 At the forefront
As coronavirus pandemic gripped China, the Indian textile accessories industry went into frenzy and started looking for solutions and alternatives to beat the situation.
As coronavirus pandemic gripped China, the Indian textile accessories industry went into frenzy and started looking for solutions and alternatives to beat the situation.
The Indian textile engineering industry, which is more than five decades old, is ranked first among the capital goods sector of the engineering industry. The textile engineering industry has expanded rapidly and its annual installed capacity is Rs 38, 000 million per annum, employing more than 50,000 workers. Though the utilisation of capacity has increased to 72 per cent as compared to 55 per cent in the preceding year, there is ample scope for increasing the capacity utilisation.
The entire range of textile machinery including the latest generation machines are produced by the industry. Many units manufacturing textile machinery are under technical collaborations and some are both under technical and financial collaborations facilitating transfer of updated and new technology to the Indian entrepreneurs. The latest technology thus obtained from abroad and developed indigenously has enabled the industry to compete in the international markets both in quality and prices.
This section of the industry consists of units of varying sizes. Spinning machinery components and accessories like, spindles, rings, ring travelers, cots and aprons and weaving accessories like, reeds, healds, etc. are manufactured by and large by small and medium scale units on the basis of technology evolved by themselves though some of the units started production under technical collaboration.
In most of the cases, the quality and standard of components and accessories produced in India has been accepted worldwide. The very fact that as much as 45 to 50 per cent of the total exports of the textile engineering industry is contributed by parts and accessories sector is a positive proof of this statement.
The ancillary sector is equipped for catering to the needs of sophisticated components and electronic attachments besides meeting the requirements of spinning, weaving and processing sectors. Some units are much ahead of others in quality management since they have already obtained ISO 9000 accreditation and many others are in the process of getting such accreditation. More and more units in the components and accessories sectors have already obtained ISO 9000 accreditation. Further, as much as one-third of the production of parts and accessories of textile machinery is absorbed by the machine building industry.
Ideal Sheet Metal Stampings & Pressings offer spinning tubes, cones and bobbin holders in spinning accessories segment. Speaking on the current market demands, Ideal's President – Sales & Marketing, Laxmikant Rathi said, "I think it's too early to talk about today's market situation because the demons unfortunately are not known. Unlike India, many other markets are still working. We are able to manage well with the demand from other countries. We focus a lot on developing products, and not only depend on one particular product. We have been focusing a lot on our exports. I'm happy that last year out of the total spending, almost 50 per cent was exports, which actually helps us to balance out the equation."
He added, "All our products are actually made to order. We are into engineering products which requires a different type of customisation and precision. We are fortunate that we could start our operations. We really have a lot of orders for exports and government was kind enough to consider our application."
Tamil Nadu-based Fiberplus is into offering spinning accessories. G Muralikrishna, Director, Fiberplus Tex Products, said, "There is substantial development happening in compact spinning systems. If they are modernised, it will give you high-strength yarn, which can run without any problems. If you see in the last few years, we are getting inconsistent in the quality of raw materials, especially in cotton. I feel it is the need of the industry that compact could be used as a way to enhance your raw material spinability, and the same time increase your profitability."
In April 2019, Fiberplus signed an agreement with Inarco, who is largest rubber cots and aprons manufacturers in the country. The agreement is for distributorship in Andhra Pradesh. The company is also dealers for rings and travelers for Inno- Spin, north India Company, who got the technology from Korea around two years back. We have supplied these to a few of the leading spinning mills in Tamil Nadu. They are also into manufacturing of roving transport system. They also sell Compact Spinning spares from SRM Technologies who is the pioneer and largest manufacturer of lattice aprons used in compact system.
Another company is Madurai-based MecGrowths Texmach, which is into compact spinning systems. A Senthil Raja, Joint Managing Director, MecGrowths Texmach, said, "We manufacture three major products for the textile industry – compact systems, retrofits for spinning ring and top arms for ring frames and roving frames. Compact systems is the future for all the manufacturers. The second main offering from MecGrowths is the shortstretch retrofits for spinning rings. We have installed this in around 39 spindles globally. We are the only compact manufacturers to launch compact that is below Rs 1,000 (around $14). This has made a big impact in the market. After the installation, every customer recognises the product, and in a very short period of time, we were able to install many spindles."
This segment of the textile engineering industry is also making all-out efforts in upgrading its technology and improving engineering designs in order to further match the global standards. In this connection, I would like to point out the effective role being played by the Indian Textile Accessories & Machinery Manufacturers' Association (ITAMMA) in trying to work closely with various Research Organisations and Institutions. This will go a long way in helping this segment of the textile engineering industry to compete in the world market effectively. Moreover, the ancillary sector is equipped to catering to the needs of sophisticated components and electronic attachments besides meeting the requirements of spinning, weaving and processing sectors.
ITAMMA has opened Export Cell Centres in Ahmedabad, Mumbai Coimbatore and Northern India and because of regular interactions among units which are engaged in exports of textile machinery components and their teamwork has been developed and created global network. In its quest to further improve the exports of components and accessories, ITAMMA has embarked upon in organising delegations visit to various countries. ITAMMA has taken delegations to Bangladesh, Vietnam and Thailand and Pakistan. ITAMMA is also creating ITAMMA Pavilions in various exhibitions in India and abroad.