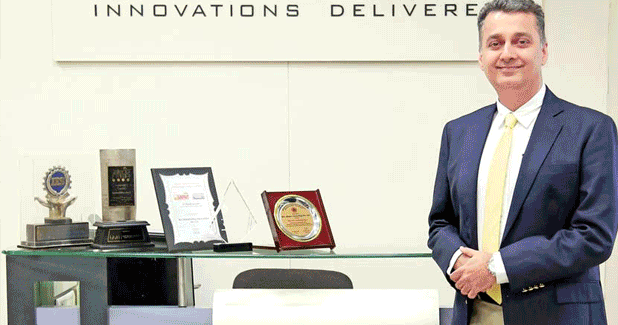 Asmeta Phase 2 to cater to rising demand: Mayur Suchak
Mayur Suchak, MD, Magus Consulting Pvt Ltd speaks on the vision and objective of the company and its USPs as project consultant.
Mayur Suchak, MD, Magus Consulting Pvt Ltd speaks on the vision and objective of the company and its USPs as project consultant.
What's the vision and objective of the company?
Asmeeta has been conceptualised to create the cluster of garment and apparel zone offering all category of spaces for large, medium and small scale manufacturer as well as processors to improve their production and productivity. It is designed to suit the market requirement to improve their business performance in domestic and international market.
It delivers the best in class infrastructure to support the manufacturing processes and create a Hub to become a landmark in Industrial space.
Asmeeta-Phase 1 offered large factory building to small gala units for garment and apparel manufacturers. Phase 1 became a grand success and is now nearing its completion, however demand for quality infrastructure in garment and apparel manufacturing industry continues. To cater the rising demand for industrial galas we have launched the phase 2.
What's your USP as company as a project consultant?
Magus being a Concept to Commissioning (C2C) consultant has focus to observe the project from holistic perspective. It also brings variety of skill sets under one room, i.e., project designing, engineering, approvals, financial closures and project marketing. The consultant also further facilitates services for various end users occupying the space by way of extending various the Government benefits to make it more sustainable for them to operate on long run. Also the extensive knowledge bank and experience of handling various category of industrial infrastructure projects from small scale to large scale helps to make the project most viable proposition for all the stakeholders. Asmeeta TEXPA is the first and the only approved integrated textile park in the MMR region under the scheme for integrated textile parks (SITP) by the Ministry of Textiles. It is located in MIDC, Seravali, Bhiwandi. The TEXPA is not only designed as eco-textile park, but also adheres to the principles of Vaastu Shastra for prosperity.
Promoted by Hubtown, the park will have world-class infrastructure, utilities, and common facilities. Common Facilities Centres (CFC) comprises of HRD centre, medical and safety centre, telecom centre, financial centre and support service shops. The Asmeeta TEXPA is located in octroi free/stamp duty exemption zone offering build to suit plots with factory buildings of global standards and industrial galas with plug and play facilities at affordable rates.
As a project management consultant (PMC), Magus—with its total client focus and dedication—provided an array of services to ACL in establishing MMR's first integrated textile park of international standards. From designing and master planning the park and its facilities to offering detailed engineering solutions to ensuring approvals for design and utilities from various government departments to award of contract to project marketing, Magus played a key role in the success of Asmeeta TEXPA. Also, our expertise in securing subsidies helped the client in receiving maximum subsidy from Central Government. We are extremely happy to see the resounding response that Asmeeta TEXPA has got.
Which textile projects are you working on now?
Magus, as one of the PMCs under the Ministry of Textiles, has been instrumental in facilitating the development of textile park on pan-India basis.
We have successfully completed textile parks in Surat, Gujarat; Dhule, Maharashtra, and are currently developing projects in Ichalkaranji, Maharashtra as apart from the Asmeeta Textile Park at Kalyan-Bhiwandi, Maharashtra.
Brief more about textile park project.
Self contained and self sustained project where everything from industrial units to support centres are located within the same premises
24-hour power supply, no load shedding – express power feeder installed
Separate water lined laid by MIDC exclusively for Asmeeta TEXPA
Project promoted under special purpose vehicle (SPV)
Vaastu compliant
Which segments of clients are you targeting for the park?
Garment and apparel manufacturers are operating on domestic and international markets.
What are the benefit of being a part of textile park for manufactures?
One and only gated integrated facility in MMR region.
Offers world-class infrastructure designed and implemented to suit the operating requirements of the manufacturers.
Unit holders can avail various government benefits from the project developer office itself – a single window solution
Excellent connectivity with entire MMR and surrounding centers within state as well as neighbouring states
Availability of skilled and unskilled manpower including women employment
One of the rarest legal park for the hassle-free operations
One of the attractions for individual units is availability of concept to completion unit level services such as subsidies, finance, registration, licensing etc. under one roof by Magus.
Are there any special incentives offered to being a part of park by the Ministry or from Magus?
Unit holders at the Asmeeta TEXPA can avail various Central and State Government benefits. The Central Government subsidies are 20 per cent margin money for powerlooms for small scale industries. Fifteen per cent margin money subsidy for SSI textile and jute sector.
A five per cent interest reimbursement for all textile units, even if the ceiling limit of investment in plant and machinery exceeds Rs 200 lakh.
The State Government subsidies include a 25 per cent tax reimbursement for a period of 7 years up to 30 per cent of fixed capital, and an interest subsidy on interest actually paid to banks for the first four years up to a ceiling of Rs 10 lakh. Electricity duty exemption, stamp paper waiver and octroi exemption of up to 100 per cent of fixed capital are some of the other incentives being offered.
Micro, small and medium manufacturing enterprises can avail additional benefits like 5 per cent subsidy on equipment, 50 per cent subsidy on quality certification expenses, 25 per cent subsidy on cleaner production measures and 50 per cent subsidy on patent registration expenses.
What is rate of space offered to clients?
The rate offered is very affordable and value for money property base.
Asmeeta: An integrated industrial cluster
Objective
India has always been instrumental in balancing the growth trajectory of various sectors. Industrialisation is one of the very core objective for any Government body. Further India has been transforming through the development of various clusters to promote the current and upcoming industries present in the said location. In order to support the said approach, an integrated textile park was designed and structured to invite various interested textile manufacturing units and uplift the textile sector in the said region.
Key components
Location: Maharashtra
Area: 2.60 million sq ft
Development area: 3.90 million sq ft
Capital expenditure: Rs 295 crore
Investment: Rs 424 crore
No. of textile units to set up: 400
Tenure: 5 years
Key interventions of project
The project has been designed to suit the various textile manufacturing processes with the support of world-class infrastructure facilities, including four-lane wide concrete roads with illumination facility, well laid storm water drains, excellent utility network, dedicated industrial electricity supply line, water recycling plants, and common area and rooftop solar energy provisions.
The project offers well built earthquake resistant concrete factory units to suit variable capacity of textile manufacturing plants. Project also offers vertical factory units to accommodate various small and medium category entrepreneurs. The project offers common facility centers (CFCs) like common marketing zone, Forex centre, banking facilities, labour training centre, material testing centre, textile accessory plaza, logistic centre, maintenance/facility service providers, etc. to enhance the productivity and production of the units operating in the said project.
USPs of the project
Approved by the and State Governments.
Recognised as one of the landmark projects amongst the various Government approved projects during the visit of team of senior Government officials.
One of the rarest mega textile projects developed in and around Metro city.
Transformation of Bhiwandi from traditional powerloom hub to textile hub with the presence of full-fledged forward linked garmenting units.
Facilitation for the decongestion of Mumbai by way of mobilising the industries in the outskirts of the Mumbai Metropolitan Region (MMR).
Real integration of large number of homogeneous textile activities in one area.
One of the few completely legal integrated clusters.
Increased turnover and better domestic as well as international market reach.
Improved quality of products and better customer satisfaction.
Increased industrial investments leads to higher economic value addition.
Increased employment generation with higher percentage of skilled manpower.
Creation of potential export hub.
Landmark project to harness more similar industrial developments.