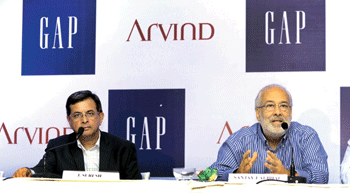 Arvind readies for big jump with GAP & e-commerce
In 1993, Arvind Ltd, one of the largest integrated textile and branded apparel player from Gujarat, brought the iconic Arrow brand to India. From since on, the company never looked back. Arvind scaled a new peak in brands when recently it announced the tie-up for presenting the iconic GAP
In 1993, Arvind Ltd, one of the largest integrated textile and branded apparel player from Gujarat, brought the iconic Arrow brand to India. From since on, the company never looked back. Arvind scaled a new peak in brands when recently it announced the tie-up for presenting the iconic GAP in India. Earlier, after 1993, brands started appearing without much GAP between the launches — Bridge to Luxury, Excalibur Gant, U.S.A. 1949, Tommy Hilfiger, Flying Machine, Energie, Ruf & Tuf, USPA, Lee, New Port University, Wrangler, Izod, Cherokee, Mossimo… some of them licensed and a few of them joint venture brands and their own.
At Arvind, brands work across multiple channels, price points and consumer segments. The expanse of the Arvind brandscape is spread across the Indian market with around 273 standalone brand stores in addition to 975 counters selling through key accounts and multi-brand outlets across India.
Arvind Group, led by Sanjay Lalbhai, has also ambitious plans on anvil, one of which is the entry into e-commerce and targeting Rs 1,000 crore in this business in the next three years. Truly Arvind stands alone as the brand master on the textile front, having spearheaded a new revolution in dressing up the new generations, and making them proud of their attire.
¨GAP is the fourth largest clothing retailer in the world with a turnover of $14 billion. This is a huge opportunity for Arvind to include GAP in their portfolio,¨ said J Suresh, Managing Director and CEO of Arvind Lifestyle Brands. The GAP was started by a couple Donald and Doris Fisher in 1969 with the simple idea ¨to make it easier to find a pair of jeans¨, in the words of the founders. The brand represents ´optimism´ and ´casual lifestyle´, the concepts which are catching up with the spirit of the new generation in India.
According to Suresh, GAP is a brand that is approachable as a brand in terms of style, fitness and price. The product portfolio of GAP is a visibly big differentiator compared to its competitors – menswear, womenwear and a strong place in kidswear. ¨Today, menswear rules the market in India, but the global trend is tending towards womenwear. So GAP, which has a dominant woemnwear portfolio is expected to be a big hit in India. Kidswear again is a stronghold for GAP¨, said Suresh.
Arvind feels that the GAP portfolio will make the company future-ready. ¨So far our portfolios are unmatched but now we have a big brand which will look towards the future when the per capita income goes up significantly in India and the new generation gets ready to spend more on apparels¨, said the Arvind MD.
Arvind will have a relook at the Indian market – the high premium segment and the middle class. Arvind has two effective formats – Arvind Store and the Megamart. ¨What we are looking at is the middle class movement upwards to a higher segment. This is where Arvind already has a good portfolio, including US Polo and Arrow. Arvind has all the brands in this Rs 1,000 crore section and GAP nicely fits in this segment¨, said Suresh.
Arvind is also confident of going beyond the tier-I towns. ¨The opportunity is huge with all the brands we have and in the next 3-5 years, we will have a sizeable number of store fronts with 8,000 to 10,000 sq ft,¨ said Suresh. The target is to reach 15 to 20 towns in the next five years. ¨Arvind today has about 20-25 international brands and is still raring to go further and this is the reason for having tied up with the iconic GAP to bring to the Indian customers a new experience in shopping for clothes¨, said Sanjay Lalbhai, CMD of the Arvind Group.
The first GAP stores are expected to open in India´s two largest cities Mumbai and Delhi starting with GAP´s Summer 2015 collection for adults, kids and babies. Arvind plans to open about 40 franchise-operated GAP stores in India.
¨India is an emerging, vibrant market and an imp