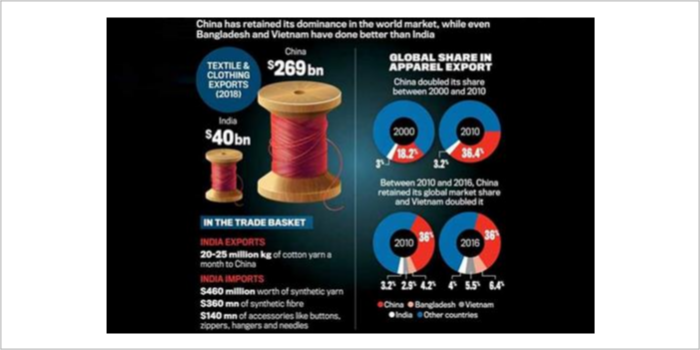 Are we prepared for import substitution?
An independent research on current import portfolio from China promotes the idea that there are about 40 sub-sectors that have the potential to lower their import dependency on China. An independent research on current import portfolio from China promotes the idea that there are about 40 sub-sectors that have the potential to lower their import dependency on China.
Ever since the Galwan Valley border skirmish with China, the vehement voices against China has metamorphosed into Government actions imposing restrictions on importing goods from China. Initial reactions were very euphoric as befitting reply by a 'new and stronger' India that can defend itself with its military and economic might. Very soon the angst of manufacturing sector in India became apparent as imported goods from China piled up at the ports as customs refused to clear these consignments. The range of goods that we import from China is massive: consumer durables such as electronic goods, smartphones, industrial goods, vehicles, solar cells, and essential pharmaceutical products including tuberculosis and leprosy drugs and antibiotics, among many others.
The fatality of a 'switch-off' hit me couple of weeks back when our housing society was asked by the Mumbai Municipal Corporation to start recording oxygen levels (SPO2) of residents on a weekly basis. There was an obvious scramble for personal Oximeters (rather than using shared device), and in true nationalist spirit all the residents requisitioned for devices that are 'not-made-in-China'. I believe there were no stocks available for Oximeters that are supposedly assembled in India (with components from China). The retailers sounded the alarm saying that its best to pick up available units of the China-made devices as they are going to be banned very soon and there are no supply for Indian devices. So much for our Aatmanirbhar resolution.
A recap of the trade statistics sets the landscape for discussion on themes like 'import substitution' , 'Aatmanirbhar/make in India' 'replace China in global supply chain' etc.
China is one of India's leading trade partners and constitutes 9 percent of India's total export and 18 percent of total merchandise imports. Import dependency on China for a range of raw materials (APIs, basic chemicals, agro-intermediates) and critical components (auto, durables, capital goods) is skewed. To give a flavour, out of the respective imports, 20 percent of the auto components and 70 percent of electronic components come from China. Similarly, 45 percent of consumer durables, 70 percent of APIs and 40 percent of leather goods imported are from China.
So a meaningful discussion should be on our preparedness to build internal capacities leading to import substitution and on immediate basis look at diversifying our imports from China to other exporting countries. We should park all notions of trying to hit back at China by stopping imports since it's been established that India accounts for only 2 per cent of China's export market. Similarly destroying products that have been already purchased from China would only affect us financially as the Chinese companies have already earned their money of your purchase.
Let us evaluate some sectors that need focussed attention to build domestic capabilities. An independent research on current import portfolio from China promotes the idea that there are about 40 sub-sectors that have the potential to lower their import dependency on China. These sectors contribute to $33.6 billion worth of imports from China and about 25 per cent of these imports can be substituted by local manufacturing without any significant additional investments. These import substitutions can be made in sectors like chemicals, automotive components, bicycles parts, agro-based items, handicrafts, drug formulations, cosmetics, consumer electronics and leather-based goods.
A sector-wise assessment of important industries faced with high levels of dependency would help us work on required steps. In the first assessment report, three industry verticals have been analysed – chemicals, APIs (pharma) and textiles. In subsequent trade analysis report, other key industry verticals like consumer electronics, electrical goods, automotive, plastic, metals, opto & photographic equipment etc. would be analysed for domestic manufacturing.
Chemical
The chemical industry, a sector worth $163 billion, covering more than 80,000 commercial products is struggling in the absence of critical raw material inputs from China. It is India's biggest source of intermediate goods, a sector that, as per official estimates sees bilateral trade worth $30 billion a year.
To understand the quantum of chemical imports in India one needs to understand the fact that there are two broad categories in which chemical importers deal with – organic chemical imports and inorganic chemical imports. Organic chemical imports primarily support the agricultural industry, whereas the inorganic chemicals are used in multiple industries such as the paint and dyes industry, and manufacturing industries.
Following are some of most imported chemicals in India:
Methylene diphenyl di-isocyanate: This chemical is typically not produced in India and therefore, needs to be imported. Chemical importers get this product because it is primarily used in the production of rigid polyurethane that is used in the plastics industry.
Cyclic hydrocarbons: This is another chemical that heavily features in the list of chemicals imported in India.
Acyclic alcohols: This sub-set of organic chemicals is also heavily imported in India. It is estimated that combined with cyclic hydrocarbons, acyclic alcohols are two of the most imported organic chemicals in the country.
Caustic soda: This chemical is widely used for many industrial processes. It is used in water treatment, the manufacture of soaps, and also in the food industry.
Liquid chlorine: Just like caustic soda, this chemical is also widely used in many industries including the pharmaceuticals industry. In fact, we witness the use of chlorine in our everyday lives as well in the form of disinfectants for swimming pools and drinking water as well.

Top eight chemical categories imported from China that are individually worth more than Rs 3,000 crore:
Heterocyclic compounds with nitrogen hetero-atom[s] only
Antibiotics (including penicillins, streptomycins, tetracyclines, chloramphenicol and erythromycin)
Insecticides, rodenticides, fungicides, herbicides, anti-sprouting products and plant-growth regulators, disinfectants and similar products
Oxygen-function amino-compounds
Saturated acyclic monocarboxylic acids and their anhydrides, halides, peroxides and peroxyacids; their halogenated, sulphonated, nitrated or nitrosated derivatives
Amine-function compounds
Separate chemically defined organic compounds (Diloxanide furoate, Cimetidine, Oxyclozanide, Famotidine)
Unsaturated acyclic monocarboxylic acids, cyclic monocarboxylic acids, their anhydrides, halides, peroxides and peroxyacids; their halogenated, sulphonated, nitrated or nitrosated derivatives
The industry expert adds that to ramp up domestic production in such a scenario, suppliers from US, EU, Japan, South Korea, ASEAN countries, South Africa and others can fill the space vacated by the Chinese suppliers. However, for that to become a possibility, these countries have to get out of their own lockdowns, sort out trade preferences, capacity constraints, high logistics cost and non-tariff barriers and restrictions.
Some of the other steps are:

procurement of mines of critical raw materials, rare earth materials, natural resources in other countries
quickly find resolutions to the issue of environmental moratorium in major industrial estates in Gujarat and Rajasthan, besides allowing product mix changes and capacity expansion as a temporary measure
Negotiation for a reduction of the substantial increase in product registration costs and prolonged timelines (three to five years) for registration in countries like the EU, South Korea, Turkey, the USA, Russia, China and Brazil
The chemical industry needs to better its feedstock allocation policy, government investments in chemical clusters across the country, easier access to capital due to its capital intensive nature, and simpler pollution compliance laws
API/pharmaceutical
The novel coronavirus disease (COVID-19) pandemic has revealed India's overdependence on China for active pharmaceutical ingredients (APIs) — also known as bulk drugs. India's pharmaceutical industry is the third-largest in the world in terms of volume. There is heavy reliance on Chinese imports for raw materials in the pharmaceutical industry. Two-thirds of the total imports of bulk drugs or drug intermediaries, come from China. In some cases, such as for life-saving drugs and anti-biotics, the dependence on Chinese imports is 90 per cent. An ad hoc or reactive decoupling could disrupt the production of a wide range of medicines which currently require ingredients from China. Dexamethasone, a steroid which a UK study recently found significantly improves survival rates from COVID-19, is one notable example. Others include painkillers, such as paracetamol and ibuprofen, as well as antibiotics, such as penicillin, Levofloxacin. For example, entire requirement of 4-amino phenol for the production of Paracetamol was met through imports from China. Similar is the case with Cipro Acid, Acetophenone and Cyclopropylamine which are the intermediates required in the production of Ciprofloxacin.
A formal risk assessment study was conducted by Government of India on the dependency of Indian Pharma Industry on China for its raw materials, a report was submitted in 2017 but no concrete policy measures were undertaken to encourage domestic manufacturing. Ironically on March 21st when the country was faced with uncertainty of sourcing critical API's from China in the face of COVID-19 pandemic, the Union Cabinet under the chairmanship of Prime Minister Narendra Modi had approved an expenditure of Rs. 9,940 crore and Rs. 3,820 crore for APIs and medical devices, respectively. The government has identified 53 key starting materials and active pharmaceutical ingredients (APIs) whose output will be boosted on priority. These include fever-medicine paracetamol and antibiotics such as penicillin and ciprofloxacin.
"The package includes establishing three mega parks for bulk drugs production over the next five years. The government will provide grants-in-aid to states with a maximum limit of 1,000 crore rupees, or $131 million, for each park, which sill will have common facilities such as solvent recovery and distillation plants, power and steam units and common effluent treatment plants. A sum of 3,000 crore rupees, or $394 million, has been approved for this scheme for the next five years.
In addition, the package includes a production-linked incentive (PLI) scheme for boosting domestic manufacturing of critical key starting materials, drug intermediates and APIs. Financial incentives will be given to eligible manufacturers of 53 identified critical bulk drugs on their incremental sales over the base year (2019-2020) for six years.
Of these 53 drugs, 26 are fermentation-based and 27 are chemical synthesis-based. The rate of incentives will be up to 20 per cent for fermentation-based bulk drugs and 10 per cent for those based on chemical synthesis. The PLI scheme will lead to expected incremental sales of Rs 46,400 crore and significant additional employment generation over eight years."
India used to export APIs during the 1990s and was far ahead than China in global trade, but then in subsequent years China strategically supported its core industry to create global scale of supply.
In India the central pollution control board identified the API sector as one among 18 highly-polluting industries in the country. The API sector was kept in the same grouping as other chemical industries. Indian API firms have been under strict scrutiny for pollution, and was forced to follow stringent environmental regulation. The Chinese API manufacturers had a free run till about 2015 and adopted least-cost manufacturing practices while it captured global export market.
With liberalisation of Indian economy private pharma companies got the freedom to either import or locally procure APIs based on economic viability, and Indian companies chose to import APIs from China due to cost advantage. Hence it would not be far from truth to say that the policy environment that existed in late 90's through 2000's that discouraged local manufacturing of API's in favour of cheaper import options from China. Hopefully all of that would change in post-COVID economy, and India has compelling reasons to promote APIs & KSMs for pharmaceutical industry.
Textiles
India is dependent on China right across the entire textile value chain, starting with raw materials for textile production, the synthetic yarn, the fabric and even the final product, be it garments or home textiles. China is India's fourth largest trading partner in purified terephthalic acid (PTA), which goes into making polyester fabric, and the largest trading partner in polyester staple fibre (PSF), made using PTA as one of the inputs. In 2019, China exported around 41,000 tonnes of PTA to India. India imports $460 million worth of synthetic yarn mills used to make fabric and $360 million worth of synthetic or man-made fabric from China annually. It also imports over $140 million worth of accessories like buttons, zippers, hangers and needles. In February this year, the Centre removed anti-dumping duty-ranging from $27 to $160 per tonne-imposed earlier on PTA imports from China and other countries after the textile industry asked for it to reduce production cost and enhance global competitiveness. This would have been a further boost to PTA imports from China but for the Covid-19 pandemic, which brought all industrial activity to a near-standstill.
The major textile imports from China are:
High tenacity yarns (filament, monofilament less than 67 decitex), of textured polyester, nylon, or other polyamides, of aramids, textured or not.
Technical textile fabrics which are impregnated, coated, covered or laminated with polyurethane, poly vinyl and other materials.
Synthetic knitted fabrics including dyed and printed are the biggest category of MMF-based fabrics that are imported into India. These fabrics are used for casual wear and sportswear/activewear.
Synthetic fabrics – knitted and warp using elastomeric yarn (>5 per cent) is the second largest category of MMF-based fabrics that are imported into India. These fabrics are evidently used for Sportswear/Activewear garment manufacturing.
Synthetic staple fibres, of polyesters, not carded, combed or otherwise processed for spinning.
On the garments front, though China is the world's largest exporter, when it comes to India, it is allegedly indulging in back-handed practices and routing garments through Bangladesh into the country. Chinese fabric is going into Bangladesh, being converted into garments and exported to India. These are 15-20 per cent cheaper than Indian garments. Bangladesh exported $499.09 million worth of garments to India in 2018-19. Indian fabric too goes to Bangladesh, is made into garments, and exported back to India, but in much smaller numbers than Chinese exports via Bangladesh.
Let us observe how a microcosm of garment manufacturing – Tirupur, is bracing this situation: Tirupur, which, employs more than 6 lakh workers and exports Rs 25,000 crore worth knitwear for global brands, besides making another Rs 25,000 crore for domestic markets. Let's start with the sewing machine, Tirupur is full of 'Juki, Brother or Siruba machines. An interlock machine with single kneading costs around Rs 9,000, while the domestic ones — Singer or Usha, costs twice as much. In needles too, 'Organ' is the sought after brand even though there are Indian alternatives that are slightly more expensive.
More than 90 per cent of the accessories are imported from mainland China, which includes buttons, zippers, pullers and badges. Most international brands along with garment pattern, also specify the details on accessories which have their sourcing base in China. In the accessories space, Chinese have a 90 per cent to 95 per cent stranglehold and in man-made fabrics, they have a 35 per cent share. Alternative sources for nylon are Vietnam and Turkey. But on machine spares, Chinese domination is absolute. Hence soon after the Chinese COVID-lockdown and subsequently during import restrictions caused by border-dispute, the garment manufacturers suffered due to lack of timely delivery of accessories without which their garment order could not be fulfilled. Many units had issues because spares for their machines were not being delivered resulting in production downtime.
Policy tightrope walk
It is a magician's job to address all the issues of fibre producers, spinners & weavers, and garment manufacturers at any given point of time. There is always contra-effect of policy action for any segment in the value chain, on another segment depending on it being a customer or supplier. A case in point was in February 2020 when the government decided to remove the anti-dumping duty on PTA (a critical petrochemical component for Polyester fibre manufacturing). Major producers of PTA were deprived of the advantage but polyester consumers were elated at prospect of lower fibre cost.
As soon as the intent to ban Chinese imports gained momentum, the same group of petrochemical producers and fibre producers wanted a total ban on imports of PTA and Polyester fibres from China to strengthen their position putting the fibre consumers at peril of high domestic prices. Spinners of synthetic yarn lament about high cost of fibre for higher cost of production, and hence want anti-dumping duty imposed on import of 'duty-free' yarn. Weavers & Knitters feel that growth of domestic synthetic fabric manufacturing is limited due to unavailability of cost effective local yarn, they have to rely on duty-free imports from FTA countries. Garment manufacturers have been raising concern of cheaper garment imports from Bangladesh & Vietnam on the strength of cheaper yarn & fabric from China. A lot seem to center around the ability to produce cost efficiently utilising the benefits of scale upstream-downstream linkages.
The latest R&D statistics released by the National Science and Technology Management Information System (NSTMIS) of the Department of Science and Technology (DST) show that while R&D expenditure in India tripled in the period from 2004-05 to 2014-15, its size as a percentage of GDP remained at 0.7 per cent. This is very low compared to the 2 per cent and 1.2 per cent spent by China (for 2015) and Brazil (for 2014), respectively. Countries like Israel spend as much as 4.3 per cent of their GDP on R&D. This makes it imperative to think about resource allocation and invest in research and development, which in turn will equip our industries with the requisite technology and skill to fight this trade battle.
Another critical success factor to achieve the desired scale of manufacturing is lower cost of capital in the range of 6 to 7 per cent. This would be comparable to lending rates prevalent in China and Vietnam for Industrial projects. The third success factor is consistency of government policy to ensure that the project assumptions and financial viability is unaffected. This factor has been the biggest deterrent for large 'foreign direct investment' in India.
India is taking very encouraging steps towards attracting International investments moving out of China and looking at alternative manufacturing base in Asia.
Since land availability is a concern for foreign investors in India, the government is developing a land pool nearly double the size of Luxembourg to attract firms that are looking to exit China. A total area of 461,589 hectares has been identified across India, including 115,131 hectares of existing industrial land in few prominent states, such as Gujarat, Maharashtra, Tamil Nadu, and Andhra Pradesh.
States in India are working on incentives to attract foreign investment, including relaxing labour laws for new projects, building infrastructure, and providing land for large manufacturing units. The government has committed to subsuming the remaining 40 labour laws into three other codes to ease India's convoluted and, often, contradictory labour regulations. It has passed the Wage Code Bill 2019, which replaced four related legislations.
India will face competition from countries like Vietnam, Indonesia, Thailand, and Bangladesh, who will likely be able to provide competitive incentive schemes. But in a major tax reform, the corporate tax rate for existing companies was reduced from 35 per cent to 25.17 per cent, and for new manufacturing companies from 29.12 per cent to 17.01 per cent. Thus, India's corporate tax rates are now comparable to the lowest rates charged in peer group countries such as China, the 10-nation ASEAN bloc and South Korea.
Footnote:
The article is authored by Manoj John, who leads the Strategic Initiatives department at Sutlej Textiles, with a mandate to identify growth opportunities for investment, prepare feasibility studies and business plans, lead project implementation task force, and establishing business partnerships.