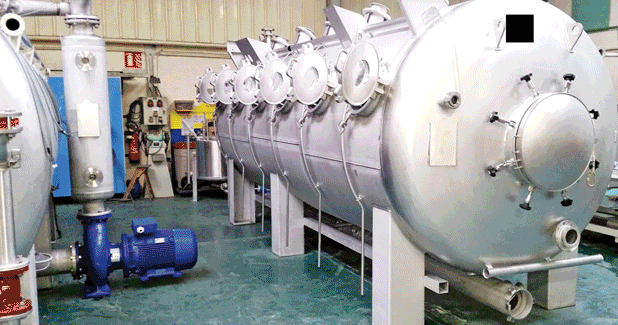 Air engineering: A vital link to upgrade quality
Air engineering has been playing an increasingly important role in producing products of international quality. Reliable compressed air is crucial in advanced textile manufacturing processes today.
Air engineering has been playing an increasingly important role in producing products of international quality. Reliable compressed air is crucial in advanced textile manufacturing processes today. It will increase mills uptime and productivity, across many applications, which include air-jet weaving, spinning including ring, open and air jet spinning, man-made fibre production including POY & FDY, texturising, winding and dyeing nonwoven textiles, pneumatic transport for PET chips and waste water treatment.
For instance, Siyaram Silk Mills claims to be saving a whopping 56,000 kWh every year, thanks to the establishment of an effective compressed air system. Today's high production machines are very sensitive to supporting systems like filtration, waste collection, temperature control, humidity control, etc. Depending on the process, if one of these parameters is not managed properly, it can have a huge impact on production quality and efficiency.
Apart from compressed air, air conditioning via simple to complex machines is vital for the textile industry. Yarn and fabric production processes are sensitive to dust, rH levels, fluffs and room temperature variations. The air engineering comes to the rescue and more and more sophisticated equipment are flooding the market because the ultimate quality, production efficiency and energy saving are all dependent on how effectively the air engineering has been throughout the production circle.
"Whether it is spinning, weaving or knitting, whatever combination of raw materials is there, textile air engineering plays a decisive role. In every aspect of air treatment, air conduction, cleaning and waste handling, Luwa being a leader, both in comprehensive systems know-how and in the application of the latest technologies to the air systems, provides solutions with much efficient operational parameters which results ultimately in improvement of overall productivity at optimal power consumption," says PK Singh, President of Luwa India Pvt Ltd.
Luwa with its experienced engineers, provides for each manufacturing process in technical textile, the right and efficient solution, based on the company's strong expertise and know-how in this field. Luwa Group has fully operational companies with manufacturing, engineering and service divisions in Switzerland, China, Singapore, India and Turkey, and partners closely with the industries worldwide, for their air engineering requirements, which plays a very important role in the textile industry.
Luwa's air engineering solutions include : Filtration system, waste recycling, humidification, air conditioning, process conditioning, heat recovery and exhaust air cleaning systems, ceiling cleaning devices, ventilation systems, exhaust air systems, control engineering.
SN Barathi, the Managing Director of Coimbatore-based Airmaaster Tecnolozies India P Ltd, says "We are the pioneer in introducing energy-efficient product in waste collection systems and humidification plants. "Multi Drum Filter", which gives excellent power saving and space savings in case of waste collection system has won a national award. High-pressure air washer "Fog Master" gives excellent power saving and reduced maintenance cost in case of humidification plants. This product was also awarded the national award. The company is continuously in the process of developing the above products for further advantage to the end user."
AVC Industrial Sales Pvt Ltd, an Indian marketing arm of China-based Jiangsu Polygee Environmental Technology Co Ltd, offers BG series of electrostatic air purification systems for the textile industry, which is primarily an air purification system, which also has a heat and oil recovery system. The recovered heat can be redirected to other uses in the factory while recovered oil can be sold for various other applications. Recently, the company has installed Polygee BG20K system at Saachi Processors Private Limited, Ludhiana.
AESA Air Engineering supplies complete textile air engineering systems in order to maintain the required temperature and humidity adapted to each type of fiber (cotton, rayon, polyester, blends, wool, acrylic). Their scope of supply ranges from simple textile air conditioning stations to turn key textile air engineering projects, including centralized dust collectors, baling press systems, chiller and refrigeration plants, ducting and piping.
Coimbatore Air Control Systems, another air engineering specialist, is managed by well-qualified and experienced professionals having 20 years of experience in the humidification and ventilation systems and is also equipped with highly skilled work force to meet the ever-growing demand for its products. It offers best support in terms of design and development, marketing and strictly maintain quality oriented products and services. The company has already extended its services in India and overseas.
The company is having TUV 9001-2008 ISO certification for its products. In manufacturing process of textile yarns and fabrics, the importance of atmosphere control especially in respect to temperature and humidity can never be overlooked. In fact, Moisture Regain—the ratio of the moisture to the bone-dry weight of the material expressed as a percentage —directly impacts properties like dimensions, weight, tensile strength, elastic recovery, electrical resistance, etc.
Humidification is rapidly gaining importance in textile industries and when you consider that high-speed machines generate heat, the need for humidification is all the more important. That is where this company comes in. Over the years, it has established a reputation as the leading solution provider in the field of humidification.
The company is committed not only to the design and development of humidification systems but to giving customers complete solutions through highly evolved services and support. It takes up projects on turnkey basis from preliminary design through final engineering and fabrication to on-site installation, testing and commissioning.
Its product range includes: Axial flow fan, automatic rotary drum filter, self cleaning disc filter, damper, air washer, supply air diffusers & airtight doors.
Experts in weaving departments say it is of vital importance for the production process that the air of the environment around the looms is not too dry. Air that is too dry increases the chance of breaks. Producing under stable conditions ensures a more stable process and less production stops.
Dry air could cause static electricity in an environment. Static electricity can be reduced by increasing the relative humidity. The machines in a machinery cause static electricity because of friction. The more machines there are in a room and the longer they are running, the more the friction increases and, thus, the chance of static electricity. This mainly occurs with the machine's dry elements. Most static electricity is caused by a relative humidity between 30 and 35 per cent.
Adiabatical cooling is what the experts say plays a crucial role. When water is brought into the air by direct vaporizing, this damp will extract energy from the air of the environment to be able to go from a liquid form into a vapour form. This results in a drop in temperature of the air of the environment. This phenomenon is a nice side effect in warm production zones.
Humidification process is a must for textile industry right from yarn to weaving. Although the importance of maintenance of proper relative humidity in different section of entire process is well known to everyone from supervisor to President, it is rare that we find the proper measurement of Relative Humidity, feel some experts.
The first basic change that has been prevalent for years are locations of measurement of Relative Humidity. The wall-mounted instrument is placed in alleys where there is no heat load, thus showing desired R/H at low power consumption. But this is not the location where conditioned air is required. Proper R/H is required where the material is being processed.
Yarn manufacturing machines have length of approx 70 ft and the heat load also varies from tail end to head. For quality product to be manufactured the R/H should be constant over entire length of machine. Only under above parameters can quality product be manufactured.
Modernisation is the hub of activity in every industry today. As our country is lacking in technology, our industrialists always look toward European, American or Japanese technology for upgradation. Whatever may it be, the textile industry needs a finely-tuned systems of air engineering, the role of which cannot e ignored in terms of quality production and energy saving.