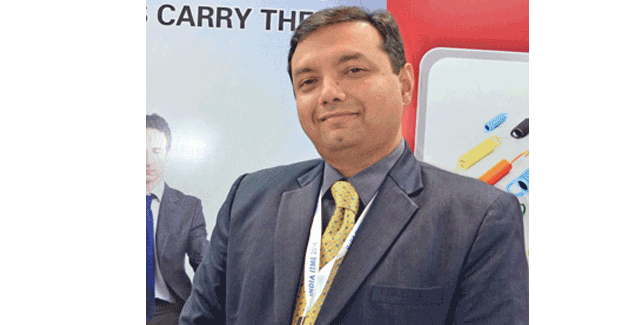 Accurate Helical Springs aims at `200-cr target
You talk about springs, Utpal Shah virtually springs into action, waving around to show a variety of springs in various colours and sizes! Utpal Shah, Managing Director of Accurate Helical Springs Pvt Ltd, is matter-of-fact and straight to the point etc.
You talk about springs, Utpal Shah virtually springs into action, waving around to show a variety of springs in various colours and sizes! Utpal Shah, Managing Director of Accurate Helical Springs Pvt Ltd, is matter-of-fact and straight to the point, showing little tension, when he unravels the story of his success in springs! It says it all when he gestures with his hands with pride at an advertisement that says, "Release Your Tensions, Our Springs Carry them."
"We have created more than 5,000 types of springs for all applications. At present, our share in the textile industry is about threw per cent, but seeing the potential, we can look forward to a fast-growing market," said Shah, during a visit of The ITJ Editor to his stall at the recently-concluded India-ITME 2016 in Mumbai.
Accurate Group, located at Vasai in Mumbai is an ISO 9001: 2008 company, established and started in 1969. Famous for its import substitute springs, which find application from a switch to aircraft manufacturing, it has two well-equipped plants of Indian and imported CNC machinery and unmatched testing facilities to meet its uncompromising testing standards.
You say, your company has developed over 5,000 types of springs. Can you trace the development over the years since the beginning of your company?
The company started activities in 1969, but within a few years, we received good orders from giants including HAL and L&T. The breakthrough happened within a decade since its inception. We have a complete track of the springs that we have been developing over the years. We have updated all the customers drawings, inspection reports in our system and we have a strong back-up.
In earlier days, all the springs were made manually. As the technology enhanced with time, a new era of automatic manufacturing of springs started with automated CNC (Computer Numeric Control) machines. We keep record of all the customers' drawings, and with the introduction of computers, it is very easy for us to save and extract the data. We have special software called "U Square & PSCS" where we save all the data.
How much of your springs go to the textile industry (percentage wise)? What are their USPs & benefits? How do you see the future & importance of springs for the textile industry?
Around three per cent of our springs are supplied for textile industry currently. We see a good future for textile industry in the upcoming years. When comes to the springs, mostly it is considered as C or a D class item. But it functions as the heart of any machinery.
You cannot imagine your life without springs as it touches you everywhere in almost all day-to-day activity. We not only supply springs but also help in development activities and support our customers to bring out the best products to the market. We are not only focusing on the sales but also providing possible solutions to the customers and releasing their tensions. Our tagline "release your tensions, our springs carry them" explains this. This is how we have stood among the competition and established a strong brand name in the line of springs. We see a good future for textile industry in the upcoming future. And for the same reason, we have taken part in the ITME show for the first time and had a very positive response.
Our product basket includes compression springs, extension springs/tension springs, torsion springs, wire form springs, copper coils/induction coils, retaining ring, garter springs, spiral springs, induction coils, springs assemblies, valve springs, etc.
What are the infrastructures you have built in your factory? How do the working forces follow and achieve international standards?
We have a well-equipped plant in Vasai, with all the facilities. We operate as per the standards of ISO 9001: 2008. Our factory is of around 6,500 sq ft area, which is sufficient for our future goals. We have a separate sales office in Vasai, where all the sales operations are done from there. We have recently imported three new CNC machines to meet our future production requirement.
We currently have the capabilities of producing around five crore springs in a year and it could be more based on the demand of the customer requirements. We have taken all safety measures required satisfying all international standards as we serve not only in the domestic market but also serving internationally.
The latest technologies help us make our targets.
The most important focus is on quality standards, which have kept us ahead of competition. There are 600 to 700 manufacturers of springs in India, and we are very strict on quality.
Will you please give some details about the R&D activities and also the skills of your workforce in various departments?
We have a special team for new developments and our quality team consists of well qualified engineer's team who possesses all the necessary skills to give best quality products to our customers. We have a separate team of marketing for both export and domestic markets. All departments have HODs who take care of their respective departments. The CNC machines we use provide greater flexibilities in manufacturing springs, and they reduce great degree of human errors.
How is your company spread out in the domestic market? What are your future strategies?
We got our first order from top MNC like Larsen & Turbo, Mahindra & Mahindra in earlier 1970s and still they are our top major clients. As every company grows, we have grown by increasing our client database. Currently, we have around 190 customers out of which 180 are domestic customers. As exhibitions are our major platform for client generation, our future strategy will be taking part in more exhibitions.
Please provide us with information on the beginning and growth of export market for your current products?
At the initial stages we have focused on domestic market and by seeing a great opportunity of business in outer part of India we have focused on export market from 1990s. Now we export springs to many countries like Brazil, Morocco, Sri Lanka, Middle East Countries, China, United Kingdom, USA etc.
You say your aim is to ultimately become a `500-crore diversified giant. What are the plans for the future? Share with us details of any inorganic (diversified) growth and new products plans you have in mind. Our goal is to become Rs 200-crore diversified group by 2020 and for the same we are implementing various strategies to meet our goals. We are also focusing on the products in the line of springs which we do not manufacture and at the same time which have a good market both domestically & internationally. We want to start trade line business, act as the distributors & collaborate with some companies which do not have offices in India.