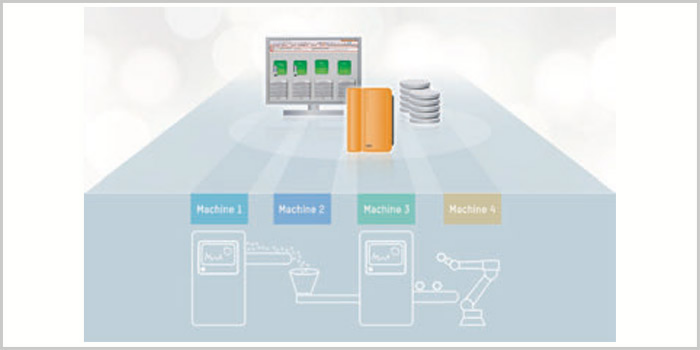 Accelerating sustainable textile manufacturing
With the focus on green manufacturing gaining momentum, textile industry has major part to contribute towards sustainable ecosystem.
With the focus on green manufacturing gaining momentum, textile industry has major part to contribute towards sustainable ecosystem.
The rise of digitalisation across globe is making textile industry become intensely competitive than ever before. Textile industries are looking to adopt techniques and measures to strengthen their core values and find a winning spot in competitive world. Improving manufacturing productivity, raising standards of product quality, increasing machine uptime, efficient inventory management and rapid service support are focussed strongly as part of core values. However, there is need to address new challenges in terms of meeting dynamic customer demands, efficient utilisation of resources, integrating machines from shop floor to IT and judicious data handling. It is time that textile industry responds to new challenges and lead way to sustainable manufacturing practices.
Energy optimisation as a low hanging fruit
With the focus on green manufacturing gaining momentum, textile industry has major part to contribute towards sustainable ecosystem. Industry is evaluating various operational parameters to control, optimise and create efficient working environment. Energy parameters have special mention in the list. The series of operation involved in pre-process such as cleaning, mixing, carding draws energy during fibre preparation. There are generally several types of energy usage in textile factories in form of compressed air, steam, heating or cooling, gas and electric sources.
In addition to regular machines, auxiliary systems integrated for operations such as weaving, dyeing and coating conceals to additional usage of energy. Understanding the significant usage of energy helps to identify issues affecting operational and environmental quality and improve production efficiency. Primary focus of industry is to measure energy consumption across machines and entire shop floor.
APROL, a powerful factory automation solution from B&R makes it possible to have complete command over textile process chain. With APROL EnMon (Energy Monitoring) solution, it enables factories to measure, record and evaluate all relevant energy parameters across textile process in real time to provide optimal support for continuous improvement of process. End user can use existing automation controller to process measured values eliminating need of a dedicated controller that usually adds complexities in factories.
APROL energy monitoring solution is equipped with libraries and function blocks that are used for processing and analysing measured values in real time. The historical records indicates usage pattern and helps to identify any surge in energy consumption. This assists end user to take necessary measures in optimising energy usage and making way for efficient manufacturing in textile industry.
Efficient condition-based maintenance
Textile industry is moving forward along the path to sustainability by improving performance and reducing their resource footprint. Machine efficiencies can be accelerated by reducing production waste caused due to machine vibrations, Understanding current state of processes helps predict achievable product quality and production quantities. With high-speed machines consisting of many rotating and moving components, textile machines are prone to experiencing friction, vibration, wear and tear. For operations such as combing, maximum nipping speed needs to be maintained to ensure precise gripper function and optimised comb movement.
Due to high-speed operation, vibration affects system comb movement. This may lead to improper functioning of machines, resulting in wastage and mostly might end in component breakage bringing production to a standstill. Even few minutes of machine downtime may cost heavily in textile business. Therefore, it demands for an effective monitoring solution that predicts in advance anomalies providing apt inputs for planned maintenance stoppages.
Machines coupled with modern instrumentation makes it possible to record, determine and assess the condition of critical parts continuously with a high degree of precision. With APROL ConMon, B&R offers a pre-installed and pre-configured package that makes implementing condition-based maintenance more straightforward than ever.It helps identify potential sources of malfunction and damage in advance so that maintenance team schedules corrective action. It also reduces breakdown issues for process such as knitting and finishing by optimally controlling its process.
With effective monitoring, the complete spinning process becomes more efficient with added precision. The mean time for maintenance can be reduced to considerable length and improve health of overall textile factories. With condition-based monitoring, not only is the downtime of machines reduced but also supports to maximise product quality by reducing wastes and thereby supporting sustainable manufacturing.
Data at heart of digitalisation
To achieve a competitive level of production efficiency, there is need to monitor performance at the factory level. From delivery of raw materials to production, inspection to packaging and shipping, data plays an important part in performance metrics. Data not only helps in control functions but also in correcting flaws on the go. It plays vital role in process of automatic yarn break correction and automated spool change and transport during spinning. In addition, integrated tension control of finishing process is managed with feedback received in real time. Data from machines adds a transparency to the process. It is significant need to handle rapidly growing volumes of data to keep pace with demands of modern textile production.
Integrated PDA (Process Data Acquisition) features from APROL make it easy to manage operational and production data for machinery and plants seamlessly in a central location. It supports acquisition of raw data directly from production level in real time. The solution offers scalability to textile factories by adding possibilities for data acquisition across wide range of machines coupled with energy and condition monitoring. APROL PDA has a number of core components that provide an ideal foundation for data management.
The powerful business intelligence suite offers a reporting system in a most convenient mode for the user to have a holistic view of production process. The user-friendly tool maintains archive of historic data that aids decision-making. By adding maximum transparency to the process, it helps factory managers to analyse, optimise and take necessary corrective action to improve productivity and efficiency.
Industrial interoperability standard
As textile industry is streaming towards integration of IT solutions with their machines and process, it becomes evident to exchange data from machines with IT systems seamlessly. Complete networking of entire factory plays an indispensable role. However, various challenge arise such as possibility of collecting data from machines supplied by different vendor that might be using different control system, accessing machine data in secured way and handling compliances of IT network,
This has called for an openness in textile process chain. With open communication protocol such as OPC UA and MQTT, it becomes possible to connect and share data mutually with IT systems in unified and easier way. OPC UA being a renowned open protocol gives an edge to machines and process to exchange data independent of vendor.
The protocol is platform-independent and features built-in security mechanisms. With seamless connectivity from Operational Technology (OT) to Information Technology (IT), across machines and supply chain, it enables factories achieve a gainful business model. APROL offers OPC UA, MQTT and AMQP as standard communication protocols for horizontal and vertical connectivity. Thus, factories benefit from a complete networked textile factory together with possibilities of energy and condition monitoring in the same system at no added costs.
Collaboration for sustainable future
The future of textile industry is poised to undergo rapid transformation. In addition, with the industry preparing themselves with latest technologies and practices, it becomes obvious that they do not want to stay behind in the race. One thing is apparent; textile industry is working on strategies for sustainable manufacturing by optimising resources and reducing ecological imbalance. It is essential to integrate best practices in industry with innovations to stay competitive. By embracing technologies, factories can have deeper insights on resources utilised, improving production techniques, lowering energy consumption, reducing downtime, refining product quality and reducing waste. It brings significant economic benefits to end user and allow them to focus on long-term business. B&R helps textile factory with its scalable hardware and powerful software in this transformation. With APROL, B&R enable factories to become efficient, smarter and sustainable.