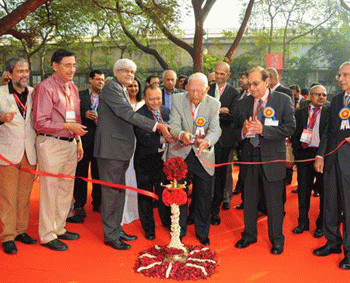 A new catalyst for textile engineering industry
Global Textile Technology & Engineering Show(GTTES) -2015 by India ITME Society created a landmark event for textile engineering industry in India and overseas. The event, which focused on post spinning sectors, attracted exhibitors from 12 countries and visitors from 21 countries with visitor flow continuing late into evening on third day even after closing time of the exhibitio
Global Textile Technology Engineering Show (GTTES) -2015 by India ITME Society created a landmark event for textile engineering industry in India and overseas. The event, which focused on post spinning sectors, attracted exhibitors from 12 countries and visitors from 21 countries with visitor flow continuing late into evening on third day even after closing time of the exhibition.
The event was opened by Narendra L Shah, Past Chairman Hon. Life member, GT Dembla, Past Chairman Hon. Life Member, Bachkaniwala, Past Chairman Hon. Life Member of India ITME Society.
Many first time products were displayed new technology launched at GTTES-2015.
A.T.E. Enterprises Private Limited showcased the latest electronic terry rapier weaving machine (model GA738-I equipped with electronic dobby). This machine has excellent features needed for the production of terry fabric with high quality and provides excellent ?Value for money?.
With 282 Indian and foreign exhibitors, GTTES expo covered an area of 11,500 sq. m earning the distinction of being the largest textile technology event in India after India ITME Expo series.
This event was visited by high level government delegation, delegates from Sri Lanka, Ethiopia, Korea and from textile dept., Heavy Industry, Govt. of India and industrial delegation from India and overseas creating wide spread excitement and anticipation amongst exhibitors and industry members.
Sunil Porwal, Additional Chief Secretary (Textile) Govt. of Maharashtra, visited GTTES interacted with exhibitors. Porwal said, ?I am happy to see that GTTES 2015 visitors representing all segments of the manufacturing chain from India China many other have converged here creating new opportunities for the state country.?
Vishvajit Sahay, Joint Secretary, Department of Heavy Industry, Govt. of India, visited the show and took keen interest in the exhibits from across India and globe.
Ambassadors and Consul General from 17 countries visited the exhibition highlighting importance of India in textile sector and interest GTTES generated internationally.
Day 2 of the event presented the ?opportunities in Ethiopia? held interactive session on the topic with Sileshi Lemma, Director General, Textile Industry Development Institute, Govt. of Ethiopia. These efforts generated business for exhibitors business visitors from African countries placed orders for multiple machinery.
GTTES 2015 welcomed Hon. Minister Ramdas Kadam, Cabinet Minister of Environment. Kadam personally visited each exhibitor and appreciated the display of each machinery technology. He also encouraged and assured to boost the textile sector and its various requirements wherever applicable. Many exhibitors expressed satisfaction at the quality of exhibition, event management level of business visitors.
Vallabh Thumar, Chairman MD of Alidhra Weavetech Group observed that ?The objective of this special series event is not only to showcase technology and machinery but also to address the needs of quality, variety, allied services and access to both regional markets and clientele, especially for small medium enterprises.?
GV Aras, Director, Textile Engineering Group quoted, ?GTTES 2015 was a wise move by the organisers for focusing more on weaving processing machines, which automatically targets boost the small medium scale textile manufacturers in India. A.T.E. has gained several unexpected business proposals from tier II tier III cities manufacturers and we are happy to be here at the right time and right place.?
Fritz Legler, VP?Marketing/Sales Services, Staubli, expressed his views that though the economic slowdown has affected India?s textile industry, we are surprised to see very encouraging footfalls at GTTES the participation of Chinese exhibitors.
Seema Srivastava, Executive Director, India ITME Society,shared that the first edition