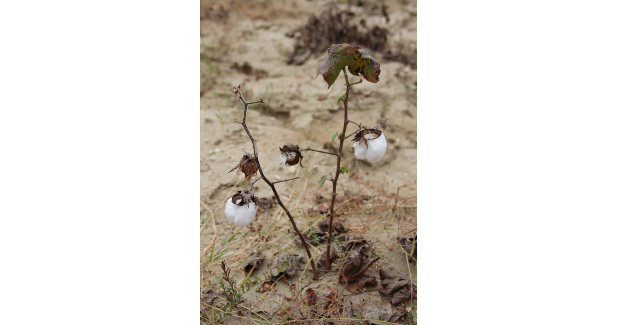 A COTTON OF CRISIS
All is not well on the cotton front! Fall in production and acreage, and wild fluctuations in the prices beginning late last year have dampened the spirit of the industry. On the farm front, ravages of bollworm have added to the woes of the suppliers.
All is not well on the cotton front! Fall in production and acreage, and wild fluctuations in the prices beginning late last year have dampened the spirit of the industry. On the farm front, ravages of bollworm have added to the
woes of the suppliers.
India?s crop this year may well be the lowest in
a decade, says Seshadri Ramkumar, Texas Tech University, USA, a close observer of the Indian textile industry. ?Earlier in the season in October 2018, the estimate was about 34.8 million bales. Within a three-month duration, the estimate has been downsized by 13 lakh (1.3 million) bales. Deficient rainfall has been attributed to be the main reason, which has been evident in the plant sizes even in October. Plant sizes were observed to be not more than four feet in the period, when 5-6 feet growth would have been observed,? says Ramkumar.
Dr K Selvaraju, Secretary General, The Southern India Mills? Association, had this to say: ?The cotton price has been fluctuating in tandem with international price unlike earlier cotton seasons. The global cotton price ruled high during the last cotton season which continued till the beginning of the new season. Normally, the domestic cotton prices rule much lower during the peak season. During the last season, the cotton price ruled between Rs 108 and Rs 110 per kg during the peak arrivals, which increased to Rs 134 during the end of the season. After a gap of five years, the Government steeply increased the Minimum Support Price (MSP) for cotton by 26 to 28 per cent as against the normal increase of
2 to 4 per cent. This is one of the reasons for higher cotton price during the current season. Though there is
a drop in the price, still Indian cotton price rules below the international cotton by 10 per cent and the kapas prices also rule higher than the MSP.?
Dr Selvaraju added, ?The international volatility in cotton price affects all the major textile manufacturing countries including China and India. Therefore, the demand from China fluctuates. In the recent years, Chinese cotton yarn traders have been importing more volume of yarn whenever Indian yarn prices are on lower side and defer the imports till they exhaust the stock.
Therefore, there is inconsistency in the month-wise imports from China that affects Indian yarn exports. However, the yarn import by China has increased by
59.8 per cent during April to November 2018 in volume term and by 66.4 per cent in Dollar term when compared to the same period in 2017.?
?The cotton price has been falling since the last few months. The New York cotton market was 95 cents, which is today only 73 cents. In the foreign market, cotton prices have fallen by Rs 6,500 per candy and Indian prices have been reduced from Rs 47,000 per candy to Rs 43,000 per candy. The expectation for 2019
is unpredictable because the finance market is very tight. Due to the China-US trade war, the New York market is not supporting. At present, the Indian mills are running with 30 days inventory of cotton stock and markets are steady at Rs 43,011 per candy,? said Atul Ganatra, President, Cotton Association of India.
?As per CAI, we are expecting export of 51 lakh bales for the season 2018-19 as compared to last year?s export of 68 lakh bales. This reduction in export is due to high rate in India and due to smaller crop,? adds Ganatra.
Bad times for the Indian cotton began during the peak of rainy season, which was highly disappointing, as early as June 2018. ?The rainfall situation has made sure that there is no scope for 3rd and 4th pickings and hence farmers have uprooted the plant.? stated Atul Ganatra, President of CAI. Some State governments have advised farmers to uproot cotton plants by the end of December 2018, to give room for Rabi crops such as pulses, as well as a precautionary measure against pink bollworms.
Says Currently, there is no cotton plant on the ground in Gujarat, stated a cotton expert from Rajkot, Gujarat. The source added that those with irrigation have already planted pulses. The Mumbai-based Cotton Association of India (CAI) has come out with an estimate of 33.5 million bales (170 kg each) for this year?s (October 2018-September 2019) crop.
While the significant reduction estimate has been based on rainfall situation, spinners feel that reliable production estimate is needed in a timely manner according to S Velmurugan, General Manager of Aruppukottai, India-based Jayalakshmi Textiles, which has about 70,000 ring spindles. Velmurugan who has been in the spinning industry for 28 years stated that wide range data fluctuations affect the spinning sector, particularly in making decisions about cotton purchasing and stocking.
Today, seed cotton (Kapas) prices in India are ruling above the minimum support price, which is positive for the farmers. Other factor that influence cotton planting in the next season is the excess global availability of
palm and soybean oils. This situation may not encourage Indian cotton farmers to divert to other options in the next season. However, views from the spinning sector show that yarn demand is not that high, which may influence cotton pricing and post-harvest sectors.
Just as a historical note, India?s 2010-11 crop was 34.5 million bales (170 kg each) and the highest since that time has been 40.2 million bales in the 2013-14 crop year.
There is bad news on the global front too. For the first time since 2015/16, global cotton production is expected to decrease in 2018/19, after consecutive increases of
7 per cent and 16 per cent in the two prior seasons.
A number of producers are expected to show increases ?including China, Brazil, West Africa, Turkey and Uzbekistan?but it likely will not be enough to
offset decreases in the United States, India, Australia
and Pakistan.
In its latest estimate, the International Cotton Advisory Committee (ICAC), has projected the world cotton production for 2018-19 season at 26.12 million tonne which is lower by 0.63 million tons, compared to the previous season, due to a reduction in planting area, water availability and limited improvement in yields.
The world cotton consumption estimated by ICAC at 26.8 million tonnes is likely to outpace production. Stock levels in China and elsewhere in the world are expected to decrease from 18.8 million tonne to 18.2 million tonne, due to the huge decrease in stocks held by China.
Consumption, which managed to post a 9 per cent increase to 26.8 million tonnes in 2017/18, is forecast to drop slightly to 26.7 million tonnes in the coming year. The tariffs imposed in the much-publicised trade war between the USA and China are not expected to
influence consumption directly, although they could affect textile demand if they have a slowing effect on economic growth.
With consumption projected to exceed production
in 2018/19, the drawdown of stocks continues. Globally, stocks are expected to decrease from 18.8 million tonnes to 18.2 million tonnes, due almost exclusively to big decreases in China?s warehouses. The world outside
of China actually will see a minor gain in stocks, but
not enough to offset the declines in China, where the projected total of 7.6 million tonnes would represent
the country?s lowest levels since 2011-12.
The domestic cotton price has been witnessing fluctuations, with some time prices shooting up to unreasonable levels. There were reports that due to
very high procurement prices, exporters even when Pakistan scrapped its import duty on cotton, were
unable to capitalise on the condition. Meanwhile, with
a confidence interval of 95 per cent, the Secretariat of
the International Cotton Advisory Committee (ICAC) has set its 2018-19 price forecast for cotton fibre at 86.45 cents per pound, down from 89 cents in December 2018.
Cotton is an important cash crop in India which provides employment to over 60 million farmers and other connected with the production, processing and marketing of cotton in India. India is playing an
ever-important role in the world cotton market.
It is the world leader in terms of the acreage under cotton. Over one-third of the total cotton acreage in the world is in India. India is the largest cotton producer,
the second largest exporter next only to USA and the second largest consumer next only to China. India also has a huge textile industry which is mainly cotton
based and we have huge opportunity of value addition. India also has a large import market.
Productivity of cotton in India had largely increased over the years but it is not increasing now during the
last few years. As against the world average productivity mark of over 770 kg per hectare, productivity of cotton
in India is still at the low level of only about 500 kg
per hectare.
On the global level, continued trade tension between the United States and China is impacting the global cotton and textile sectors, says Ramkumar. ?Back and forth on tariff discussions is problematic and it results
in the slowdown of global cotton demand,? stated
Dr Gary Adams, President and CEO of Memphis-based National Cotton Council, USA. On January 16th, Adams spoke at the Lubbock-based Plains Cotton Growers? meeting highlighting the impact of trade tensions between the world?s largest cotton user, China and the largest cotton exporter, the United States of America.
China?s 25 per cent tariff on US cotton affects the whole supply chain. China was expected to import about 3 million bales this marketing season, from the United States. The continued trade tensions have affected the cotton trade. Because of this situation, China may import less than one million bales from the United States,
stated Adams.
Tariffs affect the general economy and it certainly impacts cotton and textile consumption stated Professor John Robinson, Cotton Economist at Texas A & M University. Cotton?s demand slows down during recessions and in uncertain trade scenarios, unlike
food grains, added Robinson.
In the light of the current trade tensions between China and the United States, to a query from Ramkumar on the 2019 cotton season, Steve Verett, Executive Vice President of Plains Cotton Growers, Inc stated, ?Trade tensions certainly are casting some uncertainty as to
the exact planting mix for farmers on the High Plains
of Texas. There continues to be great interest in cotton production and some increase of plantings in our northern panhandle area, especially given the very successful growing season of 2018. Currently we expect some increase in cotton plantings for 2019, but relative prices for crops at planting time will ultimately dictate how much that increase might be.?
Certainly, cotton growers are hoping that
a forthcoming visit by the Chinese delegation to the United States may find a favourable solution to the ongoing trade tensions between the two countries. There are no winners with retaliatory tariffs as they affect consumers? interest in textile goods.
Says Ramkumar, Comprehensive and Progressive Agreement for Trans-Pacific Partnership, popularly known as TPP-11 came into force in seven countries out of
11 participating countries. The treaty came into effect
in Vietnam. The treaty was signed by 11 countries on March 8th in Santiago, Chile, which had to be subsequently ratified by respective national assemblies. Vietnam?s entry into the pack on January 14, 2019 has created an interesting dynamic in the cotton trade,
says Ramkumar, and adds that Vietnam?s textile sector
is burgeoning and is in good need of cotton.
In the last three seasons, Vietnam is the number one importer of Unites States? cotton. In the 2017/18 season, about 2.98 million bales (480 lbs. each) were exported
to Vietnam from the United States, says Ramkumar.
The export has more than doubled since 2013/14, when the export from the United States was about one million bales. Vietnam is followed by China in terms of US exports, while other major importing countries are Turkey, Indonesia and Pakistan. Interestingly, Bangladesh is marching closely with Mexico in importing US cotton. According to Ramkumar, the free trade between Australia and Vietnam as part of the TPP-11 treaty, will boost agricultural exports from Australia to Vietnam. This agreement eliminates 98 per cent of tariffs in the TPP-11 region, whose collective GDP is about $13.5 trillion.
According to Australian Department of Foreign Affairs and Trade, all tariffs on cotton exports will be eliminated under the treaty. Exporting of cotton to Vietnam gives additional advantage to Australian cotton sector. Japan has given more market access to Australian cotton via Vietnam. Tariffs on clothing made from Australian cotton in Vietnam have been eliminated in Japan giving more market entry for Australian cotton. In 2017, Australia?s 15 per cent of total cotton exports were to TPP-11 countries. Market access and common rules are expected to enhance the export chances of agricultural products from Australia.
Grady Martin, Director of Sales for Lubbock-based Plains Cotton Cooperative Association stated, ?Vietnam
is a very important market for US cotton. As yarn and garment operations are shifting to Vietnam, the country has growing importance.? To a question from Ramkumar on the impact of the new TPP-11 treaty on exports to Vietnam, Martin replied that it may have an impact, but Vietnam needs cotton. In the long run, what the impact will be is hard to judge right now, added Martin, who has been in the cotton industry for 36-years.
Will the non-participation of United States in the TPP-11 impact agricultural exports and particularly cotton, as 80 per cent of US cotton gets shipped abroad
is a question that needs careful investigation.