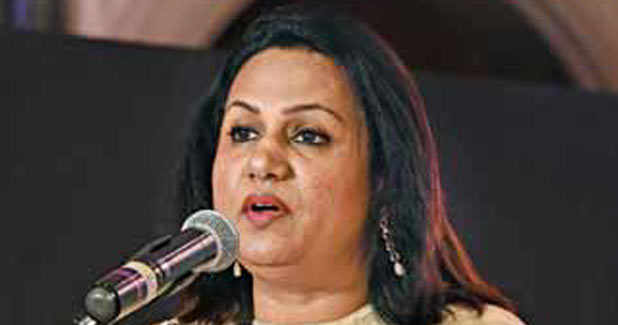 170+ exhibitors from 15 countries
ITME AFRICA 2020, organised by India ITME Society from February 14-16, 2020 in Addis Ababa, Ethiopia, shall become the focal point and catalyst for economic growth, employment generation and technology upgradation in Ethiopia and other countries in Africa.
ITME AFRICA 2020, organised by India ITME Society from February 14-16, 2020 in Addis Ababa, Ethiopia, shall become the focal point and catalyst for economic growth, employment generation and technology upgradation in Ethiopia and other countries in Africa. This business shall showcase complete range of textile and textile engineering with a total of 27 chapters. Four broad categories are covered textile, textile engineering, financial institutions and allied segment. Seema Srivastava, Executive Director of India ITME Society, speaks on the expectations from exhibitors, and concurrent events being held during ITME AFRICA.
What is the final tally of exhibitors, and total space with halls?
ITME AFRICA has over 172 exhibitors from 15 countries and five country pavilions covering an area of over 2,000 sq m making ever such a business exhibition held in the continent of Africa.
What according to you will be the differentiating factor of ITME Africa from all the other textile machinery exhibitions?
The African continent has become an emerging sourcing destination for apparel. Preferential market access to key markets such as the United States and Europe as well as competitive production costs are pull factors for international companies to set up garment manufacturing units across the continent. The potential for investment in backwards integration remains untapped – the number of integrated textile mills producing high-quality volumes of textile items for the export-oriented garment factories is limited. And yet, there is huge potential, and demand. A 2019 ITC study shows that the majority of East African textiles and apparel manufacturing companies are interested in upgrading technology.
ITME AFRICA 2020 is deemed to be more than an event or an exhibition and proposes to bring to table complete solutions to textile industry development in the continent through affordable technology, International exposure, learning and experience, confluence of business houses, investment opportunities, joint ventures, access to finance, networking with technocrats, educators.
ITME AFRICA 2020 is designed to serve as a gateway to all of Africa. This event shall bring multiple growth effects for not only to the textile industry but also the airlines, hotels, transport, tourism etc. and shall contribute to the development of the region in many ways.
From India ITME 2020 to ITME Africa 2020 India, ITME Society has crossed certain milestones and shall do all those activities to sail to all such shores that will open new opportunities for the Indian manufacturers.
What are the expectations—exhibitors & visitors—for ITME AFRICA?
Every participating exhibitor expects good service and return of investment to participate in exhibition and ITME AFRICA 2020 shall deliver both. India ITME Society is committed to deliver the best and excel as it goes forward.
ITME AFRICA shall witness business delegations from seven African countries (Botswana, Ethiopia, Ghana, Kenya, Rwanda, Tanzania, Uganda), country pavilions, exhibitors from 15 countries and visitors from 32 across the globe, which is very good response for the first edition.
Can you please say something about the concurrent events being held during ITME AFRICA?
ITME AFRICA shall provide providing 360 degrees business solutions with B2B, B2G, B2F meetings, financial and technical seminars over the three days of the exhibition.
A tentative programme schedule is given below:
Day 1: February 14, 2020:
Technical seminar on how to increase cotton productivity in Ethiopia? Best practice and innovative technologies from India.
11.30 am to 11.45 am: Investment and technology upgradation in Africa's Textiles and Apparel sector – Opportunities and Challenges by Navdeep Sodhi, Partner, Gherzi Textile Organization, Switzerland.
11.45 am to 12.40 pm: Panel discussion
Moderator: Govind Venuprasad, Coordinator – SITA, ITC Panellists:
Sudatta Mandal, Chief General Manager, Lines of Credit Group, Exim Bank of India
Antje Steiner, DEG Invest, Regional Office East Africa (tbc)
Nasser Yakubu, Project Management Specialist, Islamic Dev Bank (tbc)
Hadiza Shuaib, Senior Manager, Bank of Industry, Nigeria (tbc)
Haileyesus Bekele, President, Development Bank of Ethiopia (tbc)
Japhet Justine, Managing Director, Tanzania Agricultural Development Bank (tbc)
NN, foreign investor
12.40 pm to 12.55 pm: Questions and answers
12.55 pm to 13.00 pm: Conclusion and way forward
B2F meetings for financial solutions
B2G meetings with Govt officials from African nations
Meetings with legal consultants for business visitors
Day 2: February 15, 2020: B2B meetings with delegations
Day 3: February 16, 2020:
Investment seminar on Africa's textiles and apparel sector – opportunities for investment and technology upgradation and related financial solutions
09:30 am – 10:00 am: Cotton value chain in India – key learning for Ethiopia – B Lakshminarayana, Southern India Mills Association–Cotton Development & Research Association (SIMA-CDRA)
10:00 am – 10:30 am: Development, multiplication and distribution of seed varieties in Southern India – best practice from CDRA – Dr Asha Rani, Chief Cotton Breeder, SIMA-CDRA
10:30 am – 11:00 am: AgriCopter – a technological solution that automates the entire pesticide spraying process and eliminates human contact with toxic chemicals – Rishabh Verma, IIT Madras, 4th Year Undergraduate, Project Head
11:00 am – 11:30 am: Q&A
This year has seen ITM in Turkey, followed by ITMA Asia in Shanghai and then India ITME in Noida. Will this have any effect on the number of international visitors?
Each country has its own market potential and unique business opportunities. India ITME 2020 is expecting more visitors than ever creating a large opportunity for networking from new developing markets never explored before for business, trade and investment across the globe.
How does Indian textile machinery and parts and accessories manufacturer look at the African market for their products?
Africa is the last frontier especially for textile industry with most of the African nations promoting and reviving their textile Industry. In this scenario, machinery manufacturers have a good potential and ITME AFRICA 2020 is the right time and right place for them. The fact that 100+ Indian companies are exhibiting in this first edition of the business event, says something about opportunities of textile engineering industry in Africa. It is not just Indian manufacturers, who has recognised the possibilities but also most of the key European manufacturers are utilising the platform of ITME AFRICA 2020 to explore Africa as a business destination.
How has been the response to ITME AFRICA in India? How do you look at taking the concept to the future editions?
The response to ITME AFRICA is tremendous with over 172 exhibitors, five country pavilions and 26 exhibiting and visiting countries. ITME AFRICA is a brand to stay and grow strong with each edition. This first edition itself today is the largest ever such held exhibition in all of Africa with so many countries participating. India and Africa trade partnership is expected to grow, especially designed South South Trade Promotion and investment programme.
What are the various new infrastructural efforts undertaken that would make things easy for exhibitors and visitors alike?
Most of the African nations are developing ports, roads and improving infrastructure facilities to attract investments. Various industrial parks and investment schemes are being put out by Government to encourage global business to do business in Africa.
Innovation and research is getting a boost. How will this be reflected at this ITME Africa?
SIMA-CDRA and other key industry bodies from India are participating in the event along with their members. Twenty three chapters in textile technology shall be covered in this exhibition. To enable Ethiopia achieve self-sufficiency in cotton production through modern technology, a technical seminar, sharing the experiences of India and also showcasing the latest award winning technology by Indian Institute of Technology, a premium technology and engineering institute of India also be showcased in the technical seminar during ITME AFRICA 2020 on February 16, 2020. During this exhibition, weaving machine manufactured in India shall also be displayed and then shall be donated to Bahir Dar University for Student Lab & Research Study. The event will be a catalyst not only for the textile and manufacturing industry of Ethiopia, but also for education and research institutes.