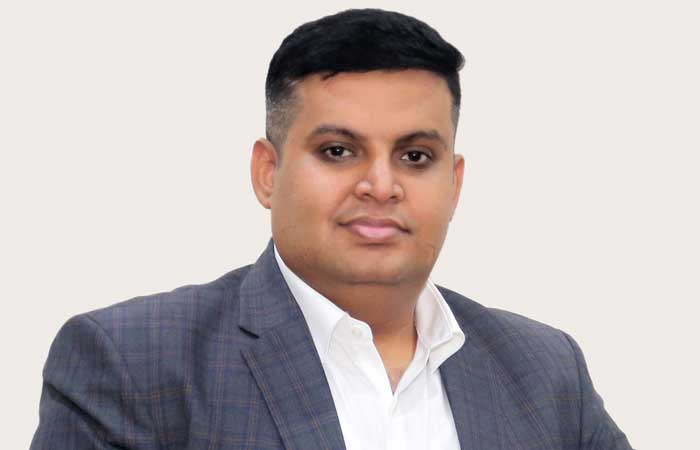 We're aiming for a top line of at least 1800 crore this year
Vishal Fabrics stands for a denim revolution, that brings equality back to fashion, and change the market trend, forever. The company is known for dyeing, printing and processing of denim, and other wide range of fabrics.
The fabric composition consists of 100% cotton, cotton spandex, cotton-poly, cotton poly spandex, cotton modal, and cotton tencel. Along with that, Vishal Fabrics is a premier supplier of top quality stretch denim fabric which is very popular among people of all ages. Vinay Thadani, CEO, Vishal Fabrics, outlines the denim revolution in India and the company's contribution in it in this conversation with Divya Shetty.
Vishal fabrics has almost three decades of experience in the industry, what has evolved in the company's manufacturing footprint throughout the years.
Vishal Fabrics was established in 1985, at that time, we were merely a process house. We increased capacity in the process house itself over the first two decades.
However, in 2014-15, we decided to expand our denim production line. We started a project in 2016 with eight denim lines, two of which were commercialised in 2016, and the entire project was commercialised by 2018. As a result, Vishal Fabric has progressed from just being a process house to the diverse range of textiles we now offer.
What has changed in the denim industry, in terms of quality and demand, over time?
Denim has a long history, when we look back two decades, we used to have certain hard denims that were tough in nature, over time, we have seen that the product itself has grown so much that denim is now referred to as a comfortable and casual wear. We've seen that stretchable and soft denims are now available in the market, which can be worn for 18-20 hours and still be comfortable, which was previously not the case.
So, the denim itself has evolved a lot, and it's a continuous process, and then our facilities are constantly focused on new product developments and innovations, which we're doing by making new blends available to us and using the raw materials that we have to create products that are more comfortable and have a longer life cycle.
How is Vishal Fabrics working towards sustainability, given that you mentioned longer life cycle products?
In the denim industry, we see a significant quantity of water used in the manufacturing process. As a result, Vishal Fabric is a zero-discharge water plant. We have a whole set of processes available, including ATP and HTP in the plant, which process the water and reuse it in the manufacturing facilities.
Aside from that, the production facilities we've built in Dholi feature a massive green cover. This fiscal year, we are also planning to build a solar power plant.
What plans does the company have to expand its global presence?
If I simply give you a quick rundown of Vishal Fabrics' history two years ago, before COVID, we were only focusing on the domestic market. However, during the pandemic, we learned a lot and diversified our portfolio from domestic to global areas.
So, in the previous two years, we've added over 15 nations to our portfolio, and we're still working on adding new geographies, such as European countries and Latin America.
What are the current challenges for denim manufacturers in India?
The current challenge is the variable cost of raw materials. We are seeing changes in the cost of raw materials, and one of the most important things to keep in mind when taking orders is to be aware of your hedging policy and to be transparent about it. And that's what we've been good at handling in the last yea, and this has been reflected in the figures as well. And we're hoping that in the following years we'll be able to maintain the same. Cotton prices have nearly tripled since the COVID years, yet despite the difficult market, we've been able to maintain solid margins.
Is it all cotton or a mix of synthetic fibres that the company produce?
It's a bit of both. We had about 5-6 percent mix products in our whole product portfolio last year, but that number has climbed to 10 to 12 percent this year due to the cost increase in cotton prices. We expect this trend to continue this year as well. So we're hoping that by the end of the year, the percentage of blended products in overall output will have risen to 15 to 20%.
In addition, when it comes to government backing for this industry, See, I believe the government has taken notice of how the industry has been disrupted by the rise in raw material prices. So, the government has taken a few steps. They recently removed anti-dumping duties from cotton that should be imported from other geographies, and now the cabinet is considering extending that relaxation, which was granted until September 30th.
What other new areas does the company want to explore, and what are your long-term plans?
We're focusing more on the export market now that we've established ourselves as a mature player in the domestic market. We will to continue to support our domestic players while also expanding our portfolio into new geographies.
In the immediate term, we are adding two more denim lines to our existing facilities, as we indicated last year. As a result, we have eight denim lines at the moment. And now we're adding two more denim lines to our existing line, one of which launched in April of this year and the other of which will launch later this fiscal year.
What is Vishal Fabrics' present manufacturing capacity, and what are your future goals?
It's 90 million metres in the denim unit and 105 million metres in the process house, and as I indicated, one more line will be added, bringing the denim unit's total to 100 millimetres.
Although textile is a traditional business, there are some challenges that we must overcome, but I am optimistic that I will be able to expand dry growth in the coming years. So we're aiming for a top line of at least 1800 crores this year. So that's how we'll be looking at Vishal Fabrics' future.