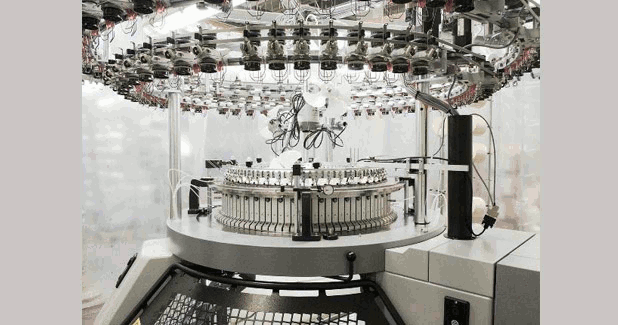 Weft knitting meets circular knitting
Mayer & Cie. (MCT) recently introduced a weft knit machine study that will demonstrate a new technique of manufacturing textile fabrics.
Mayer & Cie. (MCT) recently introduced a weft knit machine study that will demonstrate a new technique of manufacturing textile fabrics. The long-established German firm is taking a fresh look at a proven procedure, weft knitting, and combining it with circular knitting. Especially in view of the bearded needle technology used the new procedure offers benefits in terms of needle service life and gentle yarn processing.
The company sees further potential in the higher working speed that bearded needle technology makes possible. "Our focus at this year's ITMA was on sport and thus targets the very latest market requirements," says Marcus Mayer, Managing Director in charge of technology at Mayer & Cie. "But our philosophy also involves developing new processes irrespective of shorter-lived trends. 'Success by Innovation: Traditionally a Step Ahead' is our company's motto and we aim to do it justice yet again with our Weftnit 3.2. We last succeeded in doing so with spinit systems."
Circular knitting meets weft knit
The most striking difference between a conventional circular knitting machine and the Weftnit 3.2 is the needles it uses. In the past, all Mayer circular knitting machines have used latch needles; the Weftnit 3.2 relies on bearded needles. That has several advantages for the user. As the head of a bearded needle is thinner than that of a latch needle, stitch formation is especially gentle. This effect is enhanced if the stitch forming is based on the weft knitting principle using only two steps and requiring a lower yarn tension than circular knitting does. Bearded needles can be expected to have a longer service life – an effect that will be reflected in production costs. The same is true of the fact that a machine with bearded needles is easier to use overall. With a conventional circular knitting machine the operator must open the needle latches after sack removal and before knitting on again, which calls for some experience. With the Weftnit 3.2 that is no longer required.
Another key feature of the Weftnit 3.2 is its product. Single jersey fabric manufactured on this machine differs in look and feel from fabric produced on a circular knitting machine: "The knitted fabric is a little firmer overall than what we are used to; you can feel and see that," says Marcus Mayer.
In addition, the Weftnit 3.2, working with four needle tracks, produces all of the popular single jersey structures, such as piqué and double piqué, terry cloth, two-thread fleece and single jersey plated. Due to its distinctively gentle stitch formation the Weftnit 3.2 also scores points for processing critical yarns, as extensive tests by the circular knitting technology leader have shown.
"The purpose of and uses to which the Weftnit 3.2 are put is something we would like to discuss at ITMA with existing and prospective customers," says Marcus Mayer. "We see potential in all areas in which our existing single jersey machines are used, be it for nightwear and underwear, casual outerwear or carrier materials for technical textiles."
"The inspiration for the Weftnit 3.2 lies in our corporate history," Marcus Mayer explains. "In the first30 years of our existence, Mayer & Cie. manufactured sinker wheel machines. We gave them up in favour of circular knitting machines in the late 1950s."
For decades, the then senior partner Johannes Mayer continuously improved sinker wheel machines, thereby ensuring the company's success. Yet their productivity lagged way behind that of circular knitting machines, which led ultimately to their demise. In combining circular knitting and bearded needle technology Mayer & Cie. has now more than offset this shortcoming. "In principle," Marcus Mayer says, "even higher rev counts can be reached with spring bearded needles than with latch needles. That is another reason why we feel the Weftnit 3.2 has great potential for the future."
Digitisation as a challenge and an opportunity
The experts are agreed that every company, regardless of its size, must deal with the subject of digitisation and find its own approach to it. Mayer & Cie. sees in smart solutions a opportunity to continue to be a step ahead of the competition. The circular knitting machine manufacturer is tackling the resulting tasks successively and with clear priorities. Its customers are to benefit first and foremost. That is why Mayer & Cie. is working on collecting and bundling machine- and quality-relevant process data. At the same time a continuous data flow must be ensured across all interfaces. Initial measures are already being implemented.
Sebastian Mayer, a member of the Mayer & Cie. management, is in charge of corporate development at the circular knitting machine company. Digitisation is an important part of his remit, but Mayer is reluctant to leave it at that. "There is no such thing as digitisation per se," he says. "There are different areas in which it can be of relevance for us as an engineering company. They include, for example, digitisation of production and the value chain, better known as Industry 4.0, digitisation of the organisation and of collaboration, and digitisation of the product itself. Each angle has different challenges and benefits. Within this framework every company must decide for itself what makes sense and when."
A key concern at Mayer & Cie. is to take a closer look at existing processes and see how they can be mapped more efficiently and at less expense. There is nothing new about this approach as such. Regularly undertaking a critical appraisal and improving existing processes has always been firmly embedded in Mayer & Cie.'s DNA. "We would otherwise not be where we are today," Mayer says.
Digital specifics: measures & challenges
Mayer & Cie. has laid the technical groundwork for change by introducing a new ERP system. It is the indispensable basis for all other services that the company would like to provide. Sebastian Mayer describes it as the company's "digital spinal cord", the central hub for all data and information flows.
Mayer & Cie.'s next target is specific measures to improve customer satisfaction. They include ways to provide remote technical support, better known as Remote Services. Knitting machines from Mayer & Cie. are all over the world. Even though the circular knitting machine manufacturer has about 80 agencies around the world it can take days for the nearest service engineer to call on the customer. That is too long and is often not necessary. "We are working inter alia on solutions that involve mixed-reality glasses," Mayer explains. "They enable us to see what the customer sees without the need for protracted explanations. Everyone who has ever described a technical problem over the telephone knows just how arduous that can be." Using these glasses, customers can be shown remotely how to carry out regular maintenance work and even simple repairs. A Web shop from which customers can order consumables and spare parts irrespective of opening hours or language barriers is also about to be launched.
In future, all these measures will lead to a comprehensive customer portal where customers can access centrally anything they need to know about their machines and communicate with Mayer & Cie. or its representatives. Maintenance might also be managed via this portal, with predictive maintenance as the keyword.