Weaving a success story
India has one of the world's major textile industries, estimated to be worth more than $209 billion by 2029. However, there are a few challenges that the sector and government must overcome in order to reach the estimated target, and Divya Shetty takes a look at it.x
The weaving industry in India has been one of the most promising sources of large-scale employment. The success of India's weaving industry can be attributed to the abundance of raw materials and the continuous supply of inexpensive labour.
India has the most looms installed for weaving fabrics, accounting for 64 percent of all looms worldwide. In many sections of rural India, the weaving business has served as both a source of employment and a vehicle for preserving cultural history. The weaving industry in India has long been one of the most important sources of mass employment, second only to agriculture as a source of labour. There is a plenty of raw materials, a steady supply of economically viable labour, and a large domestic market to serve. However, the liberalisation of foreign commerce, combined with changes in domestic economic reforms, had a severe impact on India's weaving sector.
Karan Suratwala, Managing Director, Key Textile Accessories, says, "Weaving in India has enormous potential; all we need to do is provide innovative solutions and rely less on other countries."
On the other hand, Jay Panchal, Proprietor, Apple Engineering expresses concern about demand and adds, "Indian weaving industry is moving towards innovative manufacturing practices. There is currently a lot of manufacturing capacity, but there isn't enough fabric demand."
During the Union Budget 2022-23, the government indicated to increase capital expenditure by 35 percent to help the economy recover from three waves of the COVID-19 pandemic. The Ministry of Textiles is eager to mobilise any activities that continue to focus on the sector's and industry's overall development. In comparison to the amended budget allocation for FY22, the textile industry allocation increased by 8.1 percent in FY23. Although the government is trying to fulfil the demand of the textile industry, but there are still some factors that the industry experts are concerned about.
Challenges
The manufacturers are making every effort to produce the finest machines and fabrics in India, but buyers still prefer the products from other countries. Suratwala adds, "Customers in India do not want to pay more. Chinese items are cheaper; hence they have a greater share in the market. We cannot compete because our raw material prices are higher."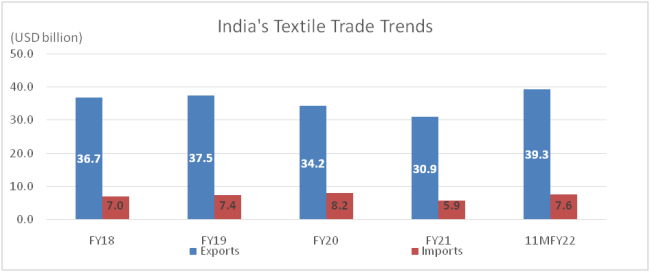 The highly decentralised system is one of the causes that has worried textile experts and the government. The government is unable to keep track of anything since there are so many small units and factories. Prof Ashwin Thakkar, Vice President, The Textile Association (India) Ahmedabad Unit,says, "The weaving industry in India is highly decentralised and fragmented. More than 80% of total fabric production comes from small units. This affects our export of fabric and in turn garment export. So instead of selling value added garment, the country is selling low value yarn and in turn suffers loss of foreign exchange and employment." Apart from this Prof. Thakkar, also highlights other challenges like ever changing product portfolio, changing market demands, shorter fashion runs, customer preferences and shortage of skilled labours.
Even Panchal raised concern on shortage of labour by saying , "Skilled manpower is the main challenge industry is facing currently. We need people who understand fabrics as well as technology."
Since establishing a factory or making machinery requires a lot of electricity, the manufacturers have been demanding a reduction in the bills or at the very least a subsidy. "The largest issue for weavers is access to energy; some states provide subsidies while others do not. As a result, the recipient of the subsidy always has the upper hand. Cities such as Bilwara and others are focusing on job creation. All of the companies provide employment in these cities, and we cannot match up to them, " continues Suratwala.
Government Support
The government is investing extensively in the textile industry and introducing regulations to assist it become self-sufficient. Prof Thakkar praises the government's initiative and adds, "The whole textile sector, including weaving, has benefited from the GoI's TUFS scheme over the last two decades. A huge number of shuttleless looms were converted from older technology looms. This improved the income of weavers."
On the contrary, Panchal says, "We have not received much benefit from the government till date. A weekly informative seminar is required for knowledge sharing purpose. Knowledge should be transferred related to fabric demands in international markets."
Even Suratwala expects some support from the government as he states, "We have to make our own machineries because there are no readymade machines on the market. The government provides us with a small capital subsidy which is negligible." He further adds, "The majority of the heald are from Japan and Europe. The government is assisting us in research, but there must be productivity and output, and research must be conducted aggressively. There is a lot of technology component that has to be investigated."
Solutions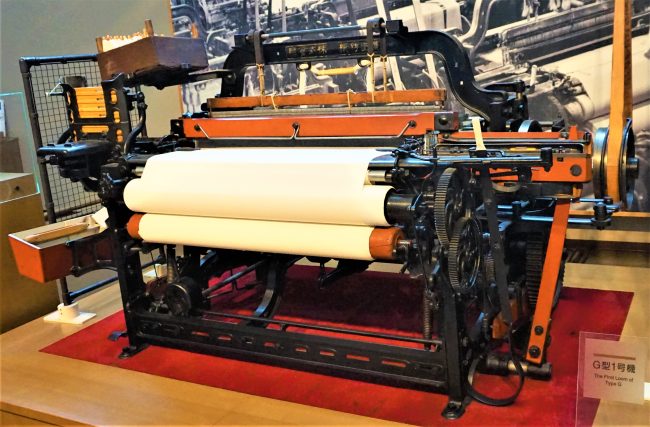 Although the Indian weaving industry has a number of challenges, the solutions are simple and structural. The sector is predicted to maintain a healthy growth rate in the next years, and to support this growth, the industry must focus on structural investments and economies of scale. In addition, the sector should focus on technological advancements and system optimization. Adoption of current approaches such as manufacturing excellence could give such attention. Manufacturing excellence is the key to success for both incumbent players and new businesses looking to produce world-class quality at a low cost.
Considering India has a limited number of textile manufacturers, Suratwala suggests that they all band together to form a superpower. He says, "In India, there are only 4-5 manufacturers our field. Instead of partnering, we are attempting to pull each other's legs. Hence, we must study how Chinese manufacturers assist one another and share knowledge and profits equally."
Jay Panchal indicates that the Indian textile industry should be dispersed with knowledge to compete with the global market . A weekly informative seminar is required for knowledge sharing purpose. Knowledge should be transferred related to fabric demands in international markets.
What's next?
By 2029, India's textile industry is anticipated to be worth more than US$ 209 billion. India is taking enormous steps to expand its textile industry especially technical textiles. The need for technical textiles in the form of PPE suits and equipment is increasing as a result of the epidemic. The government is assisting the industry by providing financing and machinery sponsorship. As per Suratwala, 'if the technical textiles industry receives government support, we can soon be the market leader."
Also, Panchal concludes by saying that, "Airjet weaving is the future of India's weaving industry."
Prof Ashwin has a positive outlook for the Indian weaving industry as he says, "the weaving industry of India is very strong. Weaving is hereditary. So with aggressive government policies and widening markets globally, India is poised for exponential growth of weaving. Weavers will have to adapt to flexible manufacturing methods."