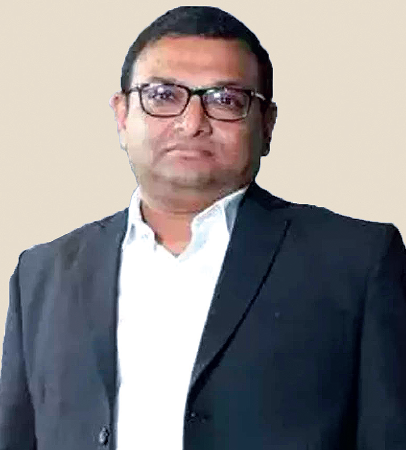 We will be coming up with developments in wellness & functional range
Incepted in 1925, Raymond has strong fibre to fabric manufacturing capabilities and is a textile powerhouse with state of the art modern infrastructure. Raymond offers an exquisite range of shirting and suiting fabrics across a plethora of options such as Worsted fabrics, Cotton, Wool blends, Linen and Denim. With over 1500 stores spread across 600 towns and an expansive network of over 20,000 points-of-sale in India, Raymond and its brands are also available in tier IV & V cities. Amit Agarwal, Chief Financial Officer, confides Raymond's present focus, performance results, and future projections.
How was your company's performance in FY21-22?
Raymond closed FY21-22 on a high note, recording the highest EBITDA Rs 881crore in the history of the company, and highest net profit of Rs 260 crore in the decade on a consolidated basis. The pandemic gave us an opportunity to recalibrate all aspects of business including product & retail portfolio while revaluating our cost structure. Management's continued focus on maintaining a healthy working capital to ensure free cash-flows while reducing debt substantially. Our NWC requirement came down from peak level of 98 days pre-covid to 45 days by end of FY22. Aggressive focus on deleveraging led to net debt reduction of Rs 1,290 crore which translates to 50% reduction from peak levels. Despite the headwinds caused by the pandemic, we were able to generate a free cash flow of Rs 380 crore in the financial year. Further, our continued focus on cost optimisation enabled reduction in operating costs and interest in FY22 by Rs 528 crore (lower by 21%) as compared to pre-covid levels of FY20.
Towards, the end of the financial year, we witnessed swift recovery in consumer sentiments, leading to significant improvement in store footfalls and healthy traction in secondary sales across channels. Our performance was also supported by buoyant demand from our international customers from US, UK & Japan within the garmenting segment – this was despite various supply-chain issues that persisted during the year. Furthermore, our performance in the Real-Estate & Engineering segments were robust, supported by healthy fundamental demand.
As a result, we were able to record stellar performance in Q4 – with highest ever quarterly revenue, EBITDA & PAT.
Raymond has once again achieved numerous milestones leading to a stellar performance driven by strong focus on execution. It is a testimony to the fact that as a 97 year old strong brand loved by millions of consumers and a pan India presence across businesses, we are a resilient organisation that has showcased immense resilience.
How is the textile market at present (in India as well as globally)?
India's textile industry holds great prominence as our country is the second-largest producer of textiles & garments globally – and is also the fifth-largest exporter to the world. Textile companies have recovered from the pandemic challenges, supported by buoyant consumer demand. With many leading names adapting China plus one policy, textile industry has benefitted immensely. India has recorded its highest-ever textiles and apparel exports at $ 44.4 billion in FY22, which is 26% higher compared to FY20. Today, we see increasingly leading brands are consolidating their vendor base, and are showing growing preference for integrated suppliers. Freight costs and congestion are normalising now and demand revival will contribute steadily with revival.
Domestically, as a result of emergence of hybrid work culture, we are witnessing increasing trend of casualisation and imbibing comfort in formalwear clothing, especially in the menswear. In menswear we have witnessed experimentation with consumers willingness to shift in designs, prints and fabrics such as poly-blends & linens. As physical workspaces have also opened up, today there is a demand for premium and occasion wear. In terms of customer engagement, leading players are investing in enhancing their omni-channel presence, since we have seen that consumers are now comfortable using both online & brick & mortar channels in their shopping experience.
Overall, the industry is expected to benefit from various Government initiatives including the Rs10,683 crore (US$1.44billion) PLI scheme is expected to be a major boost for the textile manufacturers. The scheme proposes to incentivize man-made fiber and technical textiles products.
However, one major headwind has been the surge in cotton prices that were record high in 1QFY23, but have cooled significantly since then. We expect prices to stabilise with the onset of the new cotton season in Oct'22, and are hopeful that the pressure should soften in later part of the financial year.
What are your plans to grow your business further in 2023?
In the new normal we've witnessed a growing trend of casualisation and premiumisation – hence, our product portfolio would be reflecting the same. Having rejigged our product portfolio along with store rationalisation, in FY23, we look forward for growth through opening new stores and unleash opportunities in the ethnic wear/ occasion wear, linen blends. Our brand Ethnix by Raymond has been well received in the market. Raymond has launched new age innovative fabrics, including: SPANAX (most comfortable travel friendly fabric) & Techno smart (intelligent combination of technology with fashion), Monarch (party-wear), Vibez (versatile print collection) amongst others to suit the evolving palette of our consumers. We would be coming up with new product developments in wellness & functional range as well (such as anti-crease); Ultimoblack – the deepest black range of superior fabric that can be adorned for any occasion.
With growing prominence of omni-channel experience, we continue to make investments in building digital enabled ecosystem. Given the equity of 'Raymond brand' we would also be enhancing our presence in the home furnishing business known as 'Raymond Home', which has been showcasing good performance.
In terms of exports, we have a robust orderbook in our Garmenting (prominently export business)- which is a reflection of the China+1 and vendor consolidation trend. We intend to capitalize on this opportunity – and being an integrated player, Raymond is at an advantage. Despite looming concerns of slowdown and supply-chain issues we are witnessing healthy orders from US, UK & Japan.
Outlook for 2023
We expect demand to be significantly better with improving consumer sentiments and store footfalls reaching pre-covid levels. The resumption of celebrations and marriages is good news for the industry. Overall, there would be pressure felt on margin due to cotton prices, which are likely to soften in the second half of the year. FY23 overall is expected to be positive year for the industry with consumers resuming their normal lives to a great extent and textile exports looking up.
As highlighted earlier, GoI has extended PLI scheme to many textile manufacturers, and is also looking into signing FTAs with large export partners – including the recently signed FTA with Australia. GoI has been aggressively pushing textile exports, as they have a target of attaining a value of USD 100 bn in the next 5 years. The effects of these tailwinds is getting reflected in strong orderbooks in leading garmenting players, most of whom have been investing in capacity expansion.