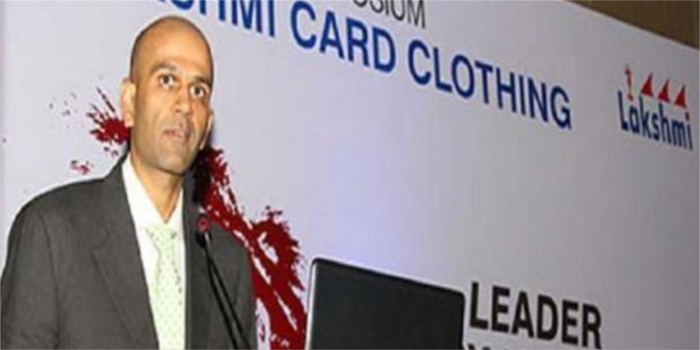 We are leaders in card clothing
S Hari Shankar, Joint Managing Director, Lakshmi Card Clothing, Coimbatore, shares information on what makes their product unique from those of the competitors
Lakshmi Card Clothing is a global leader in providing complete card room solutions. Since its inception in 1960, LCC continued to maintain its market leadership with a wide range of products that is uniquely developed through innovation and commitment. LCC has always led the market globally with the power of technology to deliver world-class carding accessories. Over the years, the company displayed its courage and strength to withstand challenges amidst the growing market. Like a true leader, LCC reinforces its market visibility with cutting-edge solutions in card room technology.
S Hari Shankar, Joint Managing Director, Lakshmi Card Clothing, Coimbatore, shares information on what makes their product unique from those of the competitors.
Excerpts from the video interview…
Take us through the journey of LCC over the years.
It has been over 60 years wherein we have been part of the textile industry. For over 60 years, we have focused on constant innovation, consistency and commitment. We have created new ways to offer cutting-edge solutions to refine our existing products. So, this is the method to achieve accuracy today, better results, and, most importantly, to redefine card clothing.
Through this history, we have learnt and adapted ourselves to our current state of affairs so that we don't repeat the same mistakes going forward. It's all part of the learning experience that they've taken into context along the way.
LCC is one the leaders in card clothing. What makes your product unique from those of the competitors?
I think that through the 60 years being in this field, we specialised in the entire cognitive technology, which is the heart of spending. What makes our product unique is that we work hand-in-hand with our customer base, tailor our products according to the requirements of the markets, and innovate to see what new changes are ongoing in the field. And then we come out with specialised products along the way.
We offer one-stop solution for all the capital requirements. That's part of our spend. In the spinning industry, you can count on us to fall into one day climate.
How much would be the market share of LLC for card clothing in India? Also let us know more about important export markets.
I can proudly say that we are the leaders in this segment. In fact, all of our competitors, including the European brands, which have come into the market over the last 15 to 20 years, have looked upon as as a benchmark.
The market share is constantly changing all the time. It should be somewhere between 40 to 55 per cent of the domestic market. We have good presence in markets like Indonesia, Bangladesh, and a little bit in some of the African countries. Even the US markets, and South American markets like Mexico are important for us.
Performance-wise, how was the year so far for LCC?
The business during the initial months after the lockdown was a little bit slow due to production shutdown and all the lockdown restrictions. After the lockdown, we didn't open at least for the next six weeks. Our production was completely shut. Not just LCC, the entire supply chain was hampered due to logistical issues around the world.
Surprisingly, for the last few months [since July onwards], we've seen of fairly quick turnaround. Spinning industry is making a comeback.
Most of the companies are focusing on digitalisation and Industry 4.0 technologies. How do you see the future of this in Asia, and particularly in India?
I think optimisation and digitisation help to increase the overall productivity. It's all about tax and labour saving. Digitisation helps you to get instant, reliable data. It also helps to run a very smart factory to manage things internally. It also enables effective material tracking. All of these are required today more than ever before. Everything is available online, and everything is moving towards a new platform. This is not just in Asia, but the trend can be seen all over.
Does your company have any future plans to expand or diversify into other related products? Give some details, if so.
No. You really need to look at things from a microscope to specialise in your areas and ensure that your customer base gets everything. Card clothing is a very specialised field, which is itself a continuous process of innovation. Your clients are full-time, dedicated input from all sources. We would really need this going forward upon social media.
We have diversified in other areas outside of textiles. For example, we have radio frequency time machine. We've taken it one step further because we found a lot of requirement in the food processing industry.
The overall demand from home textiles and knitting industry is very well up. The orders are up for textiles. We hope things continue to stay on track going forward.
Since most the exhibitions are cancelled due to COVID-19, what are the new strategies your company may be exploring to boost their investment and collaborations in India in the near future?
Yes. Most of the large exhibitions are either postponed or cancelled. Even India, ITME which was suppose to take place in December, has been shifted to December 2021. All this while, we have maintained in touch with our customer base. Even during lockdown, we have been touch with our service and sales team.
We still have strong face-to-face connects with our customer base, but I think they're also doing a lot of webinars.
Check video interview on: www.IndianTextileJournal.com