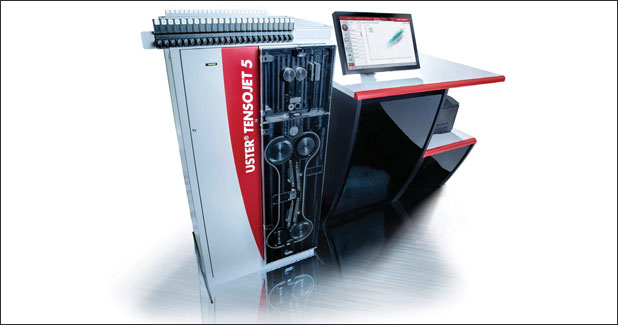 VDMA members to invest more in India: Rajesh
Rajesh Nath, Managing Director, VDMA India, speaks on the areas and segments in textiles in which German technology has proved its mighty influence in India.

Rajesh Nath, Managing Director, VDMA India, speaks on the areas and segments in textiles in which German technology has proved its mighty influence in India.
How has been the German collaborations with Indian textile companies faring in the last few years? What has been the role VDMA been playing all these years?
India is traditionally one of the top markets of the VDMA member companies. Many VDMA companies can proudly point back to decades of close customer relationships which are based on mutual trust.
But India is not just an export market, it is also a production and sourcing hub. Well-known VDMA members are producing directly in India, feeding the demand of the Indian domestic market as well as of other Asian countries.
VDMA identified the potential of the Indian market way back in the 1990s. That time the export of the German machinery to India was to the tune of only Euro 400 Million, not large by any standard. However VDMA saw a big future in the market and decided to open its own office in India. Presently more than 550 VDMA member companies are engaged with their own business in the Indian market.
In order to become successful in India, companies need to know the characteristics and peculiarities of the Indian market. Here, the VDMA offices in India support the companies based on the needs of the members. These support activities include the provision of information on taxation and the Indian market, such as market entry barriers, future market developments or the current legal situation. In addition, the VDMA India office represents the interests of the members, including support for promotion actions, for example through participation in fairs and the organization of symposia, meetings or similar presentation platforms for companies. With four offices in India, VDMA is geared to cater to the needs of the members and acts as an important bridge-head between the German and Indian industry.
India is developing at slower pace but the market players expect further improvement in 2018 due to the funding programme ATUFS and the new VAT regulations. VDMA India office is assisting the member companies for interaction with the Textile Commissioner?s office for the enlistment for being eligible for the ATUFS.
Which are the areas and segments in textiles in which German technology has proved its mighty influence in India?
The Indian technical textiles sector is growing. The demands placed on machine builders are just as stringent. Nearly all member companies of the association have, among other products, machinery and / or components for the production of technical textiles in their portfolio. Some of them are doing a substantial part of their sales with these technologies. For others the contribution of this machinery to the overall sales is small at the moment. Some key figures to give an overview:
? Machinery sold in the Spinning Sector Euros 207 million
? Machinery sold in the Weaving Sector Euros 8.1 million
? Machinery sold in the Garment Sector Euros 13.2 million
Can you briefly recount a few Indo-German projects in textiles, which have made it big in India?
Karly Mayer has been in India since the past 60 years with ATE and with the boom in the warp knitting industry decided to have an independent presence with an office six years ago. They have an office within ATE premises in Mumbai, an independent factory in Ahmedabad and a Karly Mayer Academy ie. after Germany and China in India since four years in Surat. The Academy helps them train their customers and also caters to training students and professors from Textile institues.
In some sectors such as direct beaming and sizing machines, they have a market share of more than 90 per cent and roughly 80 per cent of all tricot and raschel machines in India are manufactured by them. They hope to ramp up production until mid of 2018. Machineries assembled in India is catered to the neighbouring countries like Bangladesh, Pakistan and Sri Lanka.
Truetzschler India Private Limited is present in India since 1977. In November 2017, they completed their 40 years celebrations. Their factory was built in 1979 and started producing machinery since 1981. They produce 800 ? 900 cards per year though they have a capacity up to 1000 cards (total market size is 2000 cards in India). They presently have 55 per cent of the market share. Sales in India is still through ATE and they only handle the production and service.
?Make in India? has been making strides, and how have the German technology providers responded to this call?
Recently, India ranked 4th among 190 economies for protecting minority investors in the Ease of Doing Business rankings released by World Bank. The country jumped 30 positions compared to last year to speed its way to the 100th overall spot. However, there is more to it than just the three figure mark. The indicators used for devising the index are: starting a business, dealing with construction permits, getting electricity, registering property, getting credit, protecting minority investors, paying taxes, trading across borders, enforcing contracts and resolving insolvency.
Many German companies have set up and are setting up manufacturing in India in addition to the sale and service office. Several German companies and VDMA members are planning towards more investments in India. German companies like Siemens, Bosch, Schaeffler Group, Pheonix Conveyors, Liebherr, Schwing Stetter, KSB, Wirtgen, ZF, Thyssenkrupp, Vulkan, Nord Drives to name a few have invested substantially in the last five years.
More than 80 per cent of textile industry is in medium and small-scale sectors? How have the German collaborations contributed to their growth and developments?
VDMA members create machines specific to the needs of the Indian sub-continent that have been developed over the years to be sold in India at lower costs and keeping the Indian diaspora in mind. A large part of VDMA members are also part of family owned business and hence fall under the Mittlestand ie. small and medium sized companies. These companies understand the concerns of the different markets they cater to and are flexible to work towards the industry requirements as per specific market conditions.
Technical textiles is emerging as a segment with big growth potential. How do you think that Germany and India can collaborate on this, and what are the developments so far?
Technical textiles being a niche programme, the contribution have still been restricted to certain machinery which has been bought across India, The major impetus came via the Technology Mission on Technical Textiles Program (TMTT) where the German machinery manufacturers shared some of the latest process machines for the manufacture of technical textiles in India. Collaboration of ATIRA with HERZOG Maschinenfabrik GmbH and the 176 Bobbin braiding machine is a remarkable example. German producers of nonwoven machinery have contributed to the technical textile domain in India.
Sustainability and eco-system preservation are the buzzwords of today. How do you think German industry has been contributing and what are the pointers and scope in these for the future?
The German Initiative of the Blue Competence could be elaborated here in detail as a case study on sustainability. The VDMA Textile Machinery Association and its members appreciate the ambitious energy and climate policy objectives that many countries introduced for the conservation of resources. The resulting challenges for textile companies offer additional opportunities to increase energy efficiency, reduce costs and boost competitiveness. The Sustainability Guidelines of the Mechanical Engineering Industry are mandatory for all companies participating in the VDMA sustainability initiative Blue Competence. With its market-leading technologies and machinery, many German textile machinery manufacturers are successfully offering environmentally-friendly energy and resource-efficient solutions around the entire world: a prerequisite for energy savings. In a complex textile process, however, the proper use of machines is equally important for achieving the expected total energy saving. The textile manufacturer can exert a decisive influence on the energy efficiency of his production technology even through the choice of spare parts and service intervals. Lack of maintenance of textile machinery and the use of inferior wearing parts reduce the efficiency of machinery and increase energy consumption.
In the entire textile value chain in India, what are the weak spots and how are the potential and scope for the German industry to participate to strengthen them?
Some of the areas which need attention are:
? Establishing value chains for technical textiles components manufacturing
? Industry 4.0 – Automation in textile industry
? Use of genuine textile machinery spare parts in German machinery
? Enabling Make in India for high value added machinery (having technical textile machinery manufacture in India under Make in India programme)
VDMA hosting B2B conference in Mumbai
The VDMA Textile Machinery Association (Germany), in association with VDMA West India Office, media partners and Indian textile associations such as Confederation of Indian Textile Industry (CITI), will host a two-day B2B forum and conference in Mumbai on May 15-16, 2018.
The event, which will be themed ?German Technology meets Indian Textiles and Nonwovens?, will see practice-oriented technology topics along the entire textile chain ? from spinning to finishing and dyeing ? being discussed in two parallel sessions by the industry experts from around 30 VDMA member companies.
All the decision-makers of textile, nonwoven and carpet manufacturing firms in India have been requested to register by April 30, 2018 to make company presentations and conduct B2B meetings at the conference to enhance trade.
Further, key aspects such as energy- and material-efficiency, lifecycle costs and industrial internet (Industry 4.0) will enrich the programme with interactive discussions among the participants.
State-of-the-art technology will also be presented in three sessions: Textile machinery and components for the fibre and yarn industry; Textile machinery and components for the technical textiles and nonwovens industry; and Textile machinery and components for the apparel, home textile and carpet industry.