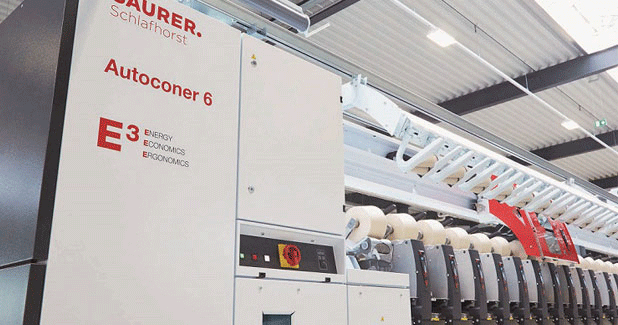 Van de Wiele's weaving innovations
Van de Wiele presented the world's first 3-metre (m) execution of the Velvet Smart Innovator VSi for plain and jacquard velvets.
Van de Wiele presented the world's first 3-metre (m) execution of the Velvet Smart Innovator VSi for plain and jacquard velvets. The main specs of the machine include parallel reed motion, reinforced cross members, single beams over the full width and up to 24 servo driven smart frames. The VSi 345-type is now available for plain velvets as well as jacquard velvets including light viscose carpets and prayer rugs.
The new showpiece in carpet weaving is the HCiX2 in reed 1,500 dents per m, eight colour frames (1500/8). This high density carpet weaving machine, available in 3 and 4 m width, is able to weave carpets with up to five million points per sq m, creating niche high end products. The same machine is able to weave carpets in reed 750 dents per m, with 16 colour frames.
HCiX2 is perfectly suited for picture weaving: instead of traditional labour-intensive designing of woven carpet, a photo-realistic picture is processed in real time and converted to a design that fits the weaving machine. HCiX2 is also available in the common configurations 1200/8, 1000/10, 1000/8.
An important development for the Cobble tufting machines is the Individual Pile Delivery (IPD) on Colortec, giving a better pile surface of the tufted carpet, resulting in less yarn consumption. The Colortec, in combination with the in-house developed software TuftLink, is able to produce carpet with multiple density and colour gradients. Also, it is perfectly suitable for imitation hand-tuft qualities up to 4.2 kg/m², even with combinations of different yarns.
With the Myriad, designs of 240 m² without repeat are possible for wall-to-wall side matching. The Myriad is available up to 1/12-inch gauge and can be equipped with double sliding needlebar. All Cobble tufting machines are available up to 5m width.
BONAS, trendsetter in jacquard weaving, is evidently presented at ITM Istanbul. The Si range, known as trailblazer in jacquard weaving due to the most compact design, lightweight, low energy consumption and high efficiency is now available up to 31.104 hooks in a single jacquard machine.
Ji range, already nested in many countries worldwide, is the ideal jacquard technology for the Turkish market. Based on the micro-selection technology and enriched with a state-of-the-art, maintenance-free drive mechanism with integrated dwell, Ji is the reference for double width weaving. Superior technology at the best price.
The Linux based BONAS Ci controller and software offers solutions for every weaving application. Use of icons on a 10.4-inch touchscreen is user friendly, self-learning and makes operation very easy and self-evident. The Ci controller is Industry 4.0 compliant and therefore ready for the future.
SUPERBA, world leader in heat-setting and space-dyeing for carpet yarn, and member of the Van de Wiele family of companies, is well established in Turkey with their agent SAMOTEKS in Istanbul, a permanent team of technicians in the field, and BILGE, their partner in Gaziantep, acting as the official distributor for spare parts with a large inventory immediately available.
With more than 150 TVP3 lines to heat-set carpet yarn and over 60 LV3 lines for acrylic running in Turkey, SUPERBA has established themselves as the benchmark in terms of quality for carpet yarn processing for all types of yarns (PET, PP, PA, PAN, wool and blends).
Recent developments have focused on space-dyeing with the latest version of the MCD/3 machine capable to handle a layer of 72 ends with exclusive dyeing effects such as the bi-color printing or the tone-on-tone effect. The MCD/3 can space-dye with up to 6 colors, polyester or polyamide in combination with the TVP3 heatsetting line, but also acrylic fibres with the new high capacity DL/5 fixation line. The synergy and co-working with Van de Wiele weaving or tufting machines offers now to the customers the possibility of new creations.