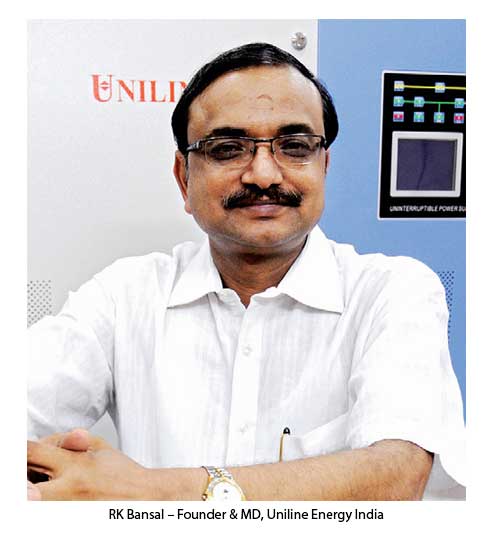 Uniline powers India's largest plastic insulation making plant
In a latest bid, India's UPS & power solution company Uniline Energy India has commissioned its state-of-the-art robust 500 KVA TriPower UPS equipped with 7th Gen IGBT technology powering one of the country's largest plastic insulation & packaging manufacturing plant located at Bahadurgarh, Haryana. The Uniline Tripower series is a robust & reliable giant UPS most suitable for industrial sectors with varying Indian power conditions.
Speaking to newsmen, Rajeev Teotia, Country Manager – Industrial Accounts, Uniline, said, "The UPS is the first of the total six UPS systems to be installed in this facility. This Tripower UPS was the preferred choice owing to its Indian power conditions specific customizations that have proven to be reliable in the such industrial setups. The UPS is engineered to strongly focus on safeguarding the processes against outages & other electronic adversities."
Uniline has lined up their latest UPS & power solution range around the company's mission of providing innovations for the Indian power conditions, engineered to global standards.
The organization has been catering to the customized & mission critical requirements at various establishments across India including the Defense, Air Force, Indian Navy and have recently commissioned a Triple Redundant 600 KVA installation with an European Aviation Company.
"Being a home-grown brand with experience spanning over 3 decades, Uniline Energy India possesses an expertise in the handling Indian power conditions like none other. We are one of only a handful number of companies that offer full advantage of customized power solutions based on the customer's requirements. This further allows our team to engineer tailor make products that suits the exact needs of customer. With our latest range of UPS, solar & servo solutions we expect a revenue of over Rs 200 crore in the coming fiscal," said RK Bansal, Founder & MD, Uniline Energy India.
Uniline's Pan India network of associates, system integrators, project consultants & channel partners finds the tailor made custom UPS backed by Uniline's in-house R&D wing advantage, as their edge, which no competition can match or deliver.