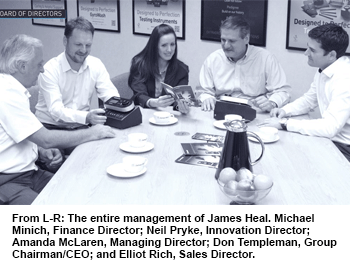 Two UK companies to focus on growth
UK-based JS Humidifiers has been rebranded to Condair plc, while another UK company James Heal has been acquired by Battery Ventures. From 15 October 2014, textile humidification specialist JS Humidifiers
UK-based JS Humidifiers has been rebranded to Condair plc, while another UK company James Heal has been acquired by Battery Ventures.
From 15 October 2014, textile humidification specialist JS Humidifiers has rebranded to Condair plc. In another event, James Heal, a 142-year old company that designs and manufactures test instrumentation and test materials for the global textile and garment industry, has been acquired by Battery Ventures.
JS Humidifiers has been humidifying the textile industry for over 30 years. Since being acquired by The Condair Group in 2011, the company has been offering the Condair range to its textile customers as well as developing and manufacturing humidification systems for distribution through Condair´s global sales network.
The Condair Group consists of wholly owned sales offices in 14 countries, including JS in the UK, and distribution partner companies in 45 more, all of which offer products designed and manufactured across the group´s six strategically located global production facilities.
Tim Scott, Head of Sales at Condair plc, comments, ¨Condair is the world´s leading manufacturer and supplier of humidification and evaporative cooling equipment. Since JS´ acquisition by Condair in 2011 we have become an active and valued part of the group, and enjoyed getting to know our partners, who all share our passion for humidification. We feel the time is now right for us to take on the global brand of Condair to allow us to streamline our local and international operations as well as communicate our role within the wider organisation.
At its factory in Littlehampton, UK, Condair plc, formerly known as JS Humidifiers, manufactures the recently launched Condair ME evaporative humidifier and cooler, the JetSpray compressed air and water spray humidifier and the PureFlo reverse osmosis water treatment system. It also offers the full Condair humidification range to its customers with a comprehensive service of advice, design, supply, installation, commissioning, maintenance and spares supply.
Boston-based Battery Ventures is an investment firm focused on technology and innovation worldwide with $4.7 billion in assets under management. In partnership with Battery, James Heal will continue its long-standing tradition of pursuing growth. Battery´s additional resources will support increased investment in technology and complementary acquisitions.
¨We are very proud to be associated with the James Heal brand and the team; they are universally recognized as the technology, quality and thought leaders in the textile testing market. Together, I believe we will achieve a new level of international success,¨ said Battery Ventures General Partner Jesse Feldman.
James Heal offers a comprehensive product line of test instruments, test materials, services and calibration to the textile market. The company tests a wide range of textile properties including strength, abrasion, colour-fastness, flammability, pilling, snagging and shrinking. The company will be continuing its proud tradition of high-quality manufacturing in the north of England that began in 1872.
From L-R: Tim Scott, Head of Sales, Condair plc, Silvan Meier, Owner, Condair Group; Oliver Zimmermann, CEO, Condair Group; and Tony Fleming, Technical & Operations Director, Condair plc.
From L-R: The entire management of James Heal. Michael Minich, Finance Director; Neil Pryke, Innovation Director; Amanda McLaren, Managing Director; Don Templeman, Group Chairman/CEO; and Elliot Rich, Sales Director.