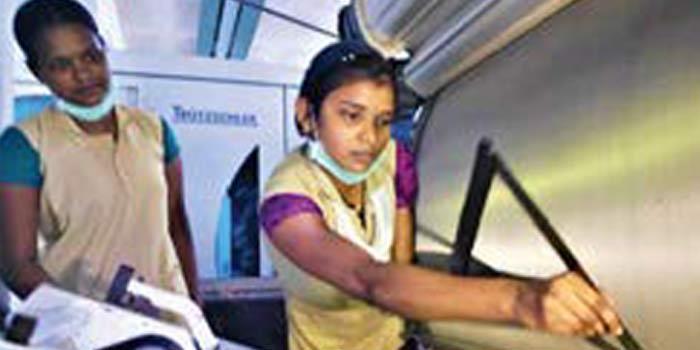 Truetzschler salutes Super Heroines
Women empowerment and gender equality are particularly important for industries as standing up against the malpractices and working towards equality is a win-win situation for every organisation.
Women empowerment and gender equality are particularly important for industries as standing up against the malpractices and working towards equality is a win-win situation for every organisation.
Women's day was first celebrated in 1909 in the USA where this observance was termed as National Women's Day. It was in 1975, when the UN officially proclaimed March 8 as International Women's Day. The hustle has continued for over 45 years. Women across the globe are still working towards establishing gender equality. Though this evolving international agreement of stopping discrimination on the basis of gender has become more acceptable, change has remained very slow to mark a significant difference in the lives of women who face the fiercest forms of suppression.
"The latest figures show the global gender gap narrowed slightly to 68.6%. But gender equality is still almost a century away at the current pace of change." – World Economic Forum.
Not to one's surprise, there is not even a single country that can claim to have achieved total gender equality. The laws are supportive for women, but there still are multiple obstacles, especially cultural and patriarchal that blocks the road to women empowerment.
A rising aspect of gender equality is equal pay for equal work. Women worldwide are underemployed and sadly they also have limited career options. Those who manage to break the shackles of narrow-mindedness and step out of the virtual barricade they're confined by, often struggle to gain respect and acknowledgement for their work.
Economic inclusion and education have helped women come a long way, yet there are not many women in positions of power. Women, even today, face multiple forms of violence at home and in public owing to the widespread misogyny.
The theme for International Women's Day (March 8) 2020 is – I am Generation Equality: Realising Women's Rights – aiming at bringing in different generations to collectively tackle the challenges to gender equality.
Women empowerment and gender equality are particularly important for industries as standing up against the malpractices and working towards equality is a win-win situation for every organisation. Still, there are not many business groups who are dedicated to bring about this change. Sitting on the fence and supporting the cause without taking action is support in no form. Now is the time to pick up the torch and march ahead.
As a company working with spinning industry – predominantly considered a men's only arena – we visited several spinning mills in India to find out where do we actually stand on the grounds of gender equality and we did find quite a few gems. We were also glad to know there are people who are earnestly willing and working to provide women the rights and respect they deserve.
KPR Mills, known for its superior quality yarns is located at 23 km east to the city of Coimbatore in South India. This unit has 84 high production Truetzschler cards. Well carded is half spun and the settings and maintenance of these cards surely contribute to the quality of yarn manufactured by KPR. A Elakkiya, a 22 years old cheerful young girl, is responsible for doing all the settings of these 84 cards. She is working at KPR mills for last four years and is very comfortable with Truetzschler carding machines owing to their ease of doing gauges and the safety aspects of the machines. She is ably assisted in the duties by K Chitra, who is also working in KPR since last four years. Coming from a very humble village back ground, both the girls have thoroughly mastered the latest German carding technology. KPR management also has a major role to play in their success by providing them good hostel facility, learning opportunities and a safe working environment. Elakkiya is the first and perhaps the only Forewomen of the Indian spinning industry. In a message to other women, both the girls said that they would continue to work even after their marriages and all women should develop their own skills to compete with men.
The Vardhman Group believes and strives to achieve excellence through a culture of innovation and continuous improvement and is committed to investing in the business with initiatives directed at long-term sustainability. Their unit Vardhman Yarns is located 30 km South of Bhopal in Central India with women forming a considerable part of the work force.
Vidhi Raghuvanshi completed B. Tech in Textiles Technology with Honours from Shri Vaishnav Institute of Technology and Science, Indore in 2015. She is working in the production department since the beginning of her career at Vardhman. Hitherto, it was a man's speciality to allocate labour, dedicate machines as per the spin plan, count pattern and the production requirements received from the management. It was challenging for her at first, to manage staff and machines besides achieving daily targets. However, with the support of seniors, now she not only performs her duties well, but also confidently works in the night shifts.
PriyaKumari, B.Tech in Textile Technology from NITRA Technical Campus, Ghaziabad, has recently joined the production department. She is well versed with Truetzschler's as also other machines including ring-frames. Priya and Vidhi dream to be a part of the higher management of Vardhman and lead a team independently in the coming years. Ms Priya expressed her opinion on gender equality by saying that "the efforts to empower women transform into an endeavour to develop the entire Nation". While Vidhi in her message on Women's day said that "An independent women raises empowered children who build an open-minded next generation dedicated to reform the society".
Shivani Agarwal, M.Tech from IIT Delhi, is working in the R&D department of Vardhman since July 2019. She studies the effect of changing parameters and settings on Truetzschler cards on the product quality including waste and the outcomes of maximum yarn realisation at best quality norms. Shivani very emphatically said that "Women who are in a position to bring about a change must act as a mentor to other women and try to change the stereo-type mentality prevalent in our country".
Aarti Bangde, B.Tech, associated with Vardhman from 2015 started her career in the production department after being selected via campus interview. She is working in the Learning and Development department and eagerly interacts with other women coming from rural backgrounds. She is also a part of the PACE (Personal Advancement and Career Enhancement) program wherein training is provided to females via different modules including communication skills, problem solving, decision making, stress management, financial literacy etc. About 200 female workers in the campus have undergone this specialised training that enhances skills, builds self-confidence and develops their personality. Aarti feels delighted as she can, even in the beginning years of her career, contribute to the society and help transform the lives of several women.
Purani Textile is a very small mill on the outskirts of Coimbatore city. N Poornima, B.E and MBA, is assisting her father in handling the day to day activities of the mill for last 1 year. She is confident that soon she will take the reins of the entire mill in her hand and be a role model as to how to successfully run a textile mill. In the same mill Subbulaxmi, B.E in Computer Sciences is working in the quality department. She aspires to be a Textile Technologist. Coming from an entirely different back ground, P Devi Priya works in the carding department as a tenter. She has done I.T.I. course in electrical. Her mother and father work as daily labourers at different places and she has two brothers and 1 sister in the family. In spite of this penurious situation Devi Priya wants to do higher studies and get a government job.
Shri Cheran Synthetics is part of the Pallavaa Group. Their units are at Veppadai, 120 km east of Coimbatore. The group is known for 40 years of reliability. Integrity and reverence in the spinning and weaving industry. Initially focussing on the high-end fashion fabric industry, now the same is made available to the masses which is a revolution created by modern day brands. S Deepika, 24 year young Diploma holder in Textile technology from the reputed SSM College is working in the Quality department since six years. Her father and mother work in a nearby weaving unit while her brother is pursuing costume designing course. One of her job is mainly to check the hank, CV%, Uster%, thick spots, trash and neps in the card sliver. Over the years she has so much confidence on the Truetzschler technology that the values shown on the card commander and the values shown on the latest MAG testing equipment's in their laboratory are same. She has a dream to start a business for her father. On asked that which cards would she prefer if she were to start a spinning mill, she smilingly replied "Obviously Truetzschler". For the women empowerment she remarked "All women are special and we should not compare working and non-working women. Every woman is a role model and contributes to the society in her own special way".
Truetzschler – With so many entities making an effort, how can Truetzschler lag behind in women empowerment. At the Truetzschler factory in Ahmedabad, the scenario is upbeat as the management has recruited many women candidates purely on their educational qualifications and thereby pushing aside the traditional gender bias.
Pooja Patel, B.E (Mechanical) , is working in the Truetzschler Training Centre, where she imparts training to young persons from rural backgrounds. The courses include CNC operator, Welding operator and Fitter mechanical assembly. The courses last for one year wherein they are also given training in soft skills development. This course is totally free and a stipend of Rs.6000/month is also given to the students. Till now about 30 students have been absorbed in the Truetzschler factory.
Ms Krishna Patel, B.T(Mechanical), started to work in the production department since 2017 and today works in the Quality assurance department. She is happy that she has proved her mettle in the manufacturing unit. She feels that women and men should not be compared as they are both individual entities. She is proud about the fact that her parents supported in all her ambitions.
Varsha Jamkhedkar, Masters in Textile Technology, mother of one child, is working in the Project Engineering department for last 2 years, She helps in preparing layouts for customers with various count patterns and multiple raw material components. She acknowledges the support given to all women employees by the Truetzschler management which help them in carrying out their duties in a safe and healthy environment. In their message on Women's Day the ladies said "Salute to all women who are a symbol of bravery and excellence."
Truetzschler's Coimbatore service station caters to about more than 1000 spinning mills in south India. All generations of carding machines are running in the region. An important activity of this service station is to repair the highly sophisticated PCB's in a short time and return to the customers to reduce downtime of the machines. The mother of a 4-year young daughter and a Diploma holder in Electronics. M Kabinaya, is responsible for this very important after sales activity. Proficiently trained at Truetzschler, Ahmedabad, she is well versed with all the PCB's and their servicing. She is working here since last seven years and has gained the confidence of many customers. On the occasion of Women's day, she said "All women should follow their passion and not leave it for any reason".
Since the beginning of mankind, or rather womankind, not withholding themselves by the constraints of poverty, deep-rooted social bias and stiff opposition from their own families, women have always pushed their limits and boundaries! The one quality women have passed down from generation to generation is – being persistent. Many of the women mentioned above may not be the "big" achievers, but for us they are the Super Heroines who directly or indirectly contribute to our success. We are certain there are many other unsung heroines out there whose voice is yet not heard, we applaud their contribution too. As a conscientious citizen of the corporate society, Truetzschler salutes all the Women and pledges to take honest efforts to make a gender balanced world on the planet Earth.