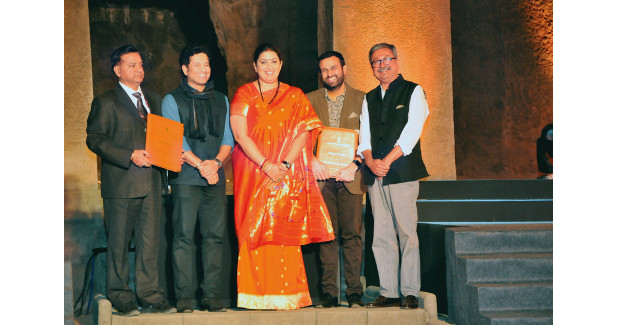 True Blue drive to uplift handlooms
True Blue Handcrafted collection will be developed by True Blue designers working closely with artisans practicing traditional Indian crafts across the country.
True Blue Handcrafted collection will be developed by True Blue designers working closely with artisans practicing traditional Indian crafts across the country.
In line with its vision to transform the way the world sees India, True Blue, a joint venture
between Arvind Fashions Limited and Sachin Tendulkar has signed a memorandum of understanding (MoU) with the Ministry of Textiles to create a new platform for Indian handlooms by giving them a modern contemporary expression. As per the MOU, True Blue will source handloom products directly from local artisans and weavers, with support from the government. The collection crafted using these products will be retailed as True Blue Handcrafted. These will be specialised products, which cannot be replicated by the power looms.
True Blue Handcrafted collection will be developed
by True Blue designers working closely with artisans practicing traditional Indian crafts across the country. This will bring contemporary renditions of traditional Indian crafts into a modern line of garments that the youth of today will desire. True Blue Handcrafted
will be available widely through the brand's extensive distribution network and will open new markets and avenues for Indian craftsmen by imparting a new aspirational value to traditional Indian craft.
The effort is expected to protect and revive several Indian crafts from across the country, including those from far flung areas, give them
a modern contemporary meaning and make them relevant for the current and future generations. At the same time, the artisan will benefit economically by elimination of middlemen.
The Union Minister for Textiles, Smriti Irani said, "Authentic handloom products have a special place in
the heart of many Indian and global consumers who wear it with pride. Our partnership with True Blue will allow weavers across India to satiate this demand and make their creations available to the masses. We are happy to share that True Blue will help the weaver's community earn the much-deserved recognition and economic value for their offerings through a direct procurement channel. The Ministry of Textiles will do
its due diligence with the weavers in quality management of the fabrics and adherence to SOPs."
Sachin Tendulkar said: "It's an honour to partner
the Ministry of Textiles in this initiative to reinterpret
the rich heritage of Indian craftsmanship and showcase
it to the world. This would also uplift the lives of handloom weavers. As a brand, True Blue represents the truest modern Indian who is rooted in Indian values. It is only appropriate that we take the most intricate of Indian craftsmanship under our fold and make them available to the entire market. I am looking forward to wear the pride of Indian artisans and craftsmanship on my sleeve."
Kulin Lalbhai, Executive Director – Arvind Limited said, "There are over 43 lakh handloom weavers in India and more than 23 lakh handlooms. The Ministry of Textiles is taking efforts for skilling weavers, providing design inputs, best in class raw materials and tools amongst other things. This empowers them so they continue to remain engaged in this craft. We at Arvind believe that our retail strength and understanding of consumer behavior can make a difference in bringing wide recognition and value to these gifted artisans and craftsmen. True Blue will continue to take all forms of Indianness to the world."
Recognising the contribution of artisans and their unique crafts to the economy and India's cultural heritage, the initiative seeks to empower artisans working in remote areas of the country, by ensuring
they get fair value for their produce, generate livelihood opportunities and income for themselves.
Arvind Fashions will identify and empanel quality artisans, liaise with them for samples and production, perform quality checks and manage post-production availability of the retail merchandise at outlets.
In parallel, the Ministry of Textiles will ascertain protocols, standards and processes to be adhered by
the weavers to ensure timely delivery.
The collaboration enables True Blue to partner with the adept weaver clusters of Kanchivaram from Tamil Nadu, Baluchari and Jamdani from West Bengal, Paithani from Maharashtra, Chanderi and Maheswari from Madhya Pradesh, Muga from Assam, Patola from Gujarat, Kani from Kashmir, Tie & Dye Vichitrapuri and Bomkai from Orissa, Brocades from Varanasi, Balrampuram from Kerala, Pochampally from Andhra Pradesh, etc.
The True Blue Handcrafted merchandise will be available across all True Blue stores starting March 2019.
Arvind Fashions Limited is India's largest fashion
and retail Company, home to over 28 national and international brands, with 1500 stand-alone stores and 5000 departmental & multi-brand stores across India.
The company's unique capabilities in making global brands relevant for Indian consumers through design, product development, sourcing, strong distribution footprint, retail capabilities, channel linkages and management teams have helped Arvind Fashions
become the most enduring platform to connect with fashion-loving Indian shoppers.
Arvind Fashions has brought to India some of the world's best loved fashion and beauty brands, having forged strong and long-lasting relationships with many of them. ARROW is the first international menswear brand in India that Arvind Fashions Limited brought to India in 1993, and today the company licenses several brands like GAP, GANT, Nautica, Aeropostale, Arrow,
US Polo Association, The Children's Place, Ed Hardy,
and Sephora among others. The company also houses
12 of its own leading brands like Flying Machine,
India's first iconic, home-grown youth denim brand, Unlimited, True Blue, among others.
Arvind Fashions is a trend setter across the fastest growing fashion segments – casualization, tweens, kids, beauty and athleisure – thus possessing the most robust and high potential portfolios in Indian retail. Prior to its demerger to become an independently listed entity in November 2018, Arvind Fashions operated under the aegis of its parent company Arvind Limited.
True Blue, a joint venture between Arvind
Fashions and Sachin Tendulkar is a premium menswear brand that captures the imagination of a nation that knows where it comes from and is proud of where it
is headed. With its modern silhouettes, unsurpassed
quality and attention to detail, every True Blue product
is created to meet the fashion choices of the progressive global Indian.