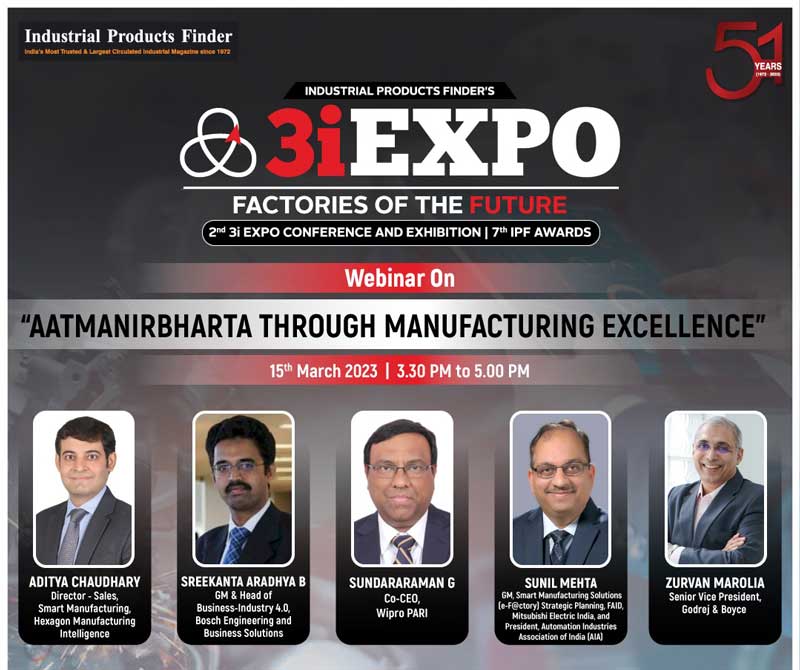 Tips to achieve Aatmanirbharta with automation in manufacturing
Industrial Products Finder (IPF) hosted a virtual panel discussion on the topic of 'Aatmanirbharta Through Manufacturing Excellence' as part of the 3i EXPO 2023 webinar series. The session discussed the challenges and potential of the Indian manufacturing sector to be self-reliant in coming years. 
AatmaNirbhar Bharat initiative, launched amid the Covid pandemic in 2020 by the government of India, aimed to create self-reliance in India's manufacturing sector. The government also unveiled the Rs 1.97 trillion Production Linked Incentives (PLI) scheme for 14 sectors as a part of this initiative. While this was happening on the domestic front, globally, in the aftermath of the Covid pandemic, countries were forced to look for alternatives to China to source products. As a result, China Plus One policy came with a lot of business possibilities for Indian manufacturers in the global market, while they have to compete with other emerging countries in Asia.
With digitisation and modernisation, the recent development in the field of manufacturing has taken a pace with Machine Learning, Artificial Intelligence and other contemporary techniques. To explore new opportunities for Indian companies resulting from the changed geopolitical scenario and highlight the importance of modern manufacturing technologies to become a truly global manufacturing hub, Industrial Products Finder (IPF) organised a virtual webinar – themed "Aatmanirbharta Through Manufacturing Excellence" on March 15, 2023. IPF is owned by Asapp Info Global Group, which also publishes The Indian Textile Journal (ITJ) magazine.
The panellists at the webinar were: Aditya Chaudhary, Director, Sales, Smart Manufacturing, Hexagon Manufacturing Intelligence; G Sundararaman, Co-CEO, Wipro Pari Pvt Ltd; Sreekanta Aradhya B, GM and Head of Business-Industry 4.0, Bosch Engineering and Business Solutions; Sunil Mehta, GM, e-F@ctory Strategic Planning in the Factory Automation and Industrial Division (FAID), Mitsubishi Electric India; and Zurvan Marolia, Senior Vice President, Godrej & Boyce. The session was moderated by Rakesh Rao, Executive Editor, IPF.
This virtual panel discussion is the second in the series of webinars that would be hosted by Industrial Products Finder as a part of 3i EXPO 2023, which will be organised by IPF on May 19-20, 2023 at Nehru Centre, Mumbai. The 2nd Edition of IPF's 3i EXPO 2023 – with the theme of "Factories on the Future" – aims to bring all the stakeholders who are involved in increasing "Productivity" and "Green Quotient" of factories on one platform.
The panellists started the conversation by outlining the current state of the Indian manufacturing sector before examining the problems and talking about potential solutions for the sector. Business professionals, SME traders, and manufacturers from many industries were among the audience members and received valuable insights from the discussion.
Indian manufacturing sector
Praising the country's growth potential and young engineering minds, Sunil Mehta, GM, FAID, Mitsubishi Electric India said, "India, as a country, is leaned towards agriculture. But the growth in manufacturing, automation, and automotive sectors has been quite phenomenal in past years. India is making progress towards Aatmanirbharta and a lot of Japanese and European companies are investing in India to make it a manufacturing hub."
Zurvan Marolia, Sr VP, Godrej & Boyce, stated the analogy between Aatmanirbhar Bharat and Make in India initiatives, "Aatmanirbharta is all about being self-reliance and Make in India (MII) focuses creating an environment for businesses to set up and manufacture products in the country. If we step back and look at it again, Atmanirbhar Bharat is just a building block towards MII."
Taking a shift from establishing an assembly line to developing a complete value chain within the country, is the true meaning of Aatmanirbharta. Elaborating on the same, G Sundararaman, Co-CEO, Wipro Pari said, "The ecosystem has completely changed now. Collecting parts, assembling them and boxing them up for sale, are not the manufacturing activities we are looking at now. We are looking to plan the entire value chain in the country, from designing, procuring, sub-assembling, and testing to delivering the product. This is a more sustainable and deep-rooted ecosystem."
Aditya Chaudhary, Director, Sales, Hexagon Manufacturing Intelligence, sharing some key achievements in manufacturing, said, "With one of the healthiest GDPs in the world, we are set to grow the fastest in the coming years. India is now exporting the BrahMos missile system, and there are numerous other examples in the field of defence production. India is very well poised in the global market to take advantage of China Plus One policy."
Commenting on the use of modern technology in the manufacturing sector, Sreekanta Aradhya B, GM and Head of Business-Industry 4.0, Bosch Engineering and Business Solutions, said, "Adaption of modern technology can have two aspects; one is competition and the other is survival. Today's Indian manufacturers are not competing with local partners, but they are exposed to international competition. The adoption of modern manufacturing technologies by first-world nations has increased productivity and efficiency in manufacturing. So, to remain competitive, you have to go with technologies. The second part is survival, and the pandemic serves as a good example to understand the importance of technology. Many businesses then survived because technology allowed to manage work even in extremely challenging conditions."
Bottlenecks of manufacturing
Despite India striding towards growth in manufacturing, there are still some obstacles to overcome. The speakers discussed them thoroughly during the session. Aditya Chaudhary, presenting the figures said, "The challenges can be looked upon in two categories, cost of capital and macroeconomic challenges. Manufacturing is a capital-intensive industry and it requires investment upfront. If compared with peer countries, competitors to India, the cost of capital is on the higher side. The later part can further be split into logistics and infrastructure, the scale of manufacturing, unskilled labour, quality of products etc."
He added, "Only 4.7 per cent of engineers in India are formally trained in manufacturing during their studies. This figure is very less compared to 60 per cent in the USA, 80 per cent in Japan and 24 per cent in China approximately. According to a few surveys by the UN Trade Statistics Organization, India exports less than 10 per cent of the highly engineered goods that the western world buys, which actually indicates huge untapped potential for Indian manufacturers."
Sunil Mehta, talking on the specifications, said, "In greenfield projects, there are a lot of new equipment and latest technologies being adopted. But brownfield factories are working on legacy equipment. Further, when we talk about smart manufacturing, Industry 4.0, etc, the small and the medium scale companies lacks skilled people to operate such techniques. The young generation is tech savvy, but there is a large operator base of people between the age group of 40 to 60 years, who will have to learn these upgraded skills."
Sreekanta Aradhya B stated to this, "What you cannot measure, you cannot improve. So, first, you need to measure what are your inefficiencies and then only you can understand where you are losing out and how you can improve it."
The way-forward
Giving an ending note to the session, the prominent speakers offered some advice to the new manufacturers. G Sundararaman, said "There are three growth sectors for India, the three 'E's – Electronic manufacturing, Electric vehicles, and Ecommerce. The global majors are looking to invest in India in these sectors. We have seen retail automation penetrating faster than any other country in India. It can significantly displace the manufacturing ecosystem globally as an emerging leader."
"Define your objectives clearly and choosing the right partner and right technology is very important. You need to do it step by step and the solutions should be scalable," mentioned Sunil Mehta.
Aditya Chaudhary suggests, "Companies should look at modernising their machines and equipment, and weeding out some of the internal efficiencies. The best way to weed out these internal efficiencies is to define a process and then codify that process in software."
Sreekanta Aradhya advised, "An experienced and reliable partner is going to help you a lot, so choose that wisely. Also, I would like to add that many times we compare the cost of solutions but instead, you should compare the cost of the total ownership which means today you pay something, how much you are going to pay for maintaining it and debugging it, a few years down the line."
Stating the vernacular lingo, 'Humari tankhwa kon deta hai (translates to where does our salary come from?)' Zurvan Marolia said, "Realising that the answer to this question is customer, we should always keep an eye on our customers' needs and try to find solutions for them. The world is moving fast, keep reviewing and keep evolving."