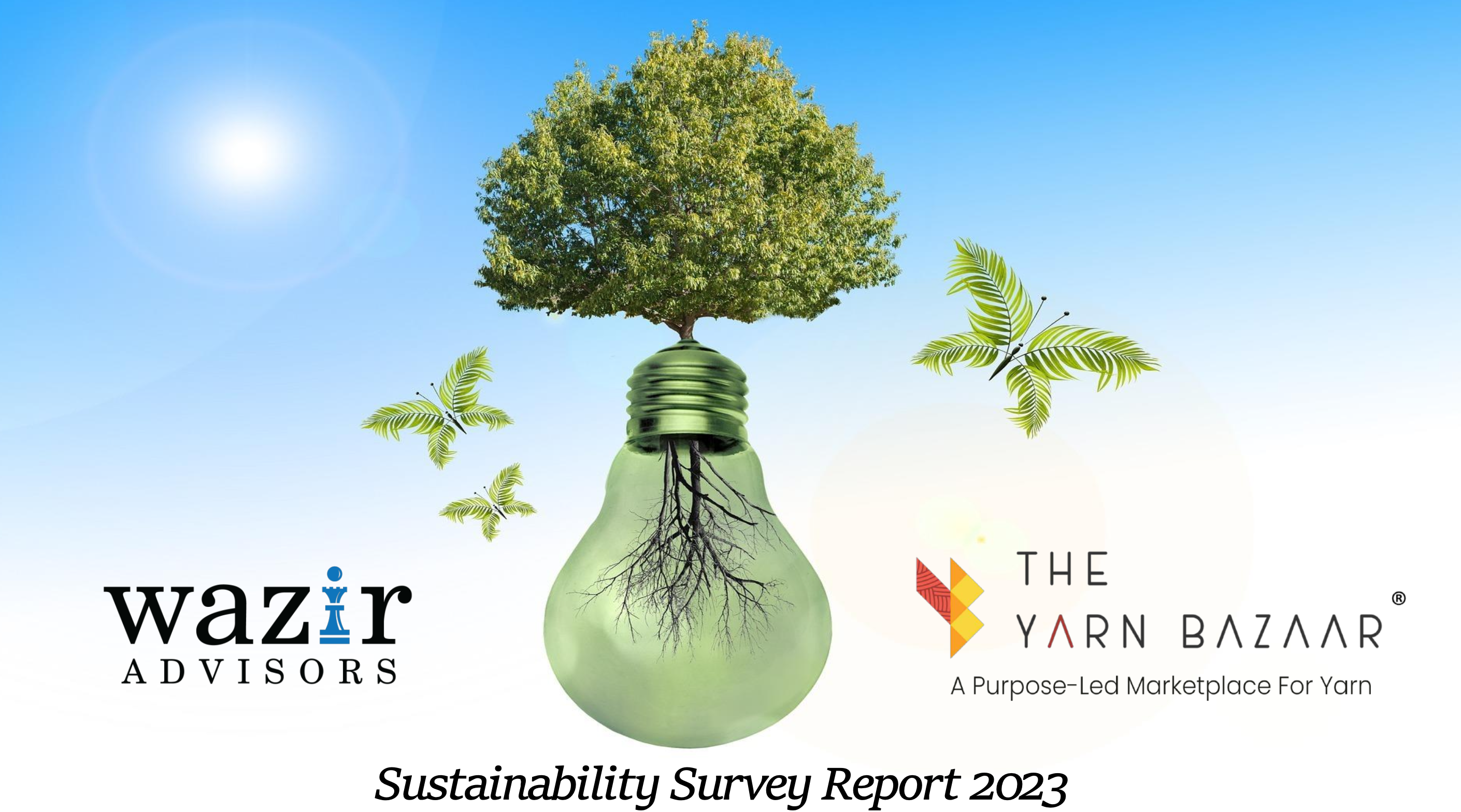 The Yarn Bazaar and Wazir Advisors unveil Yarn Industry Sustainability Survey 2023
Report reveals 80 per cent of key stakeholders in Indian textile industry already embrace sustainable manufacturing practices.
The Yarn Bazaar, a solution-oriented, B2B yarn marketplace revolutionising the textile industry, has partnered with renowned strategic consulting firm Wazir Advisors to release the Yarn Industry Sustainability Survey 2023. Timed to coincide with World Environment Day, the report showcases the significant momentum building among stakeholders across the textile value chain towards embracing sustainability. Notably, it reveals that 80% of key stakeholders in the Indian textile industry have already adopted some form of sustainable manufacturing practices, marking a fundamental shift in the industry's approach.
The subject of this report holds immense importance for India in its quest to become a global leader in manufacturing and excel in every sphere. The realisation that ramping up production alone is insufficient has led to a collective focus on adopting sustainable practices. This report reflects this paradigm shift in thinking and highlights the evolution taking place across the Indian textile industry, underscoring the following key findings:
Increase in sustainable products: A majority of the survey respondent companies reported a year-on-year increase in the share of sustainable products in their portfolios, along with an intent to continue this transition in the future. This demonstrates the growing momentum and commitment among stakeholders in the textile value chain towards embracing sustainability. For instance, 13% respondents currently have a 50% – 75% share of sustainable products in their portfolio, this number is set to increase to 17% by FY24. Similarly, 25% respondents currently offer more than 75% sustainable products, a number that is anticipated to increase to 33% by FY24.
Greater focus on circularity: The report highlights a significant upsurge in cotton recycling, alongside traditional polyester recycling, as the industry's approach towards circularity evolves. Integrated players and large-scale spinning mills are actively exploring ways to recycle waste for the production of circular textiles, contributing to a more sustainable and circular economy. For instance, JB Ecotex RSWM Limited and Dodhia Group recycle 400 crore, 216 crore and 160 crore bottles annually. Due to the efforts of these and other companies, the capacity for recycling polyester from bottles and converting it into textile materials in India is expected to reach or surpass 1600 kilotons per annum (KTPA) by the year 2030, at a CAGR of 4%. This indicates a significant increase in recycling infrastructure and capabilities in the country, again highlighting the growing focus on sustainable practices in the textile industry.
Improving to meet global benchmarks: The Sustainability Survey Report highlights major commitments towards sustainability, made by some of the largest global fashion brands. Brands like Zara, Walmart, Kohl's, Decathlon, and others have set ambitious goals, such as using 100% recycled polyester, phasing out virgin polyester, and incorporating sustainable materials into their products. This provides key benchmarks necessary for the Indian yarn / textile industry to adopt and adhere to, in order to support India's goal of achieving the export target of USD 100 billion by 2030.
Commenting on the release of the report, Pratik Gadia, Founder and CEO of The Yarn Bazaar, expressed the significance of the findings, stating, "This report serves as a compass for us to navigate the landscape of the textile industry, both on a global scale and within our own country. It allows us to understand where other major brands stand on sustainability, identify our own progress, and recognise the gaps that need to be bridged. The textile industry, being the second most polluting industry in the world, faces a crucial crossroads for its own long-term survival. We must take immediate action to infuse sustainability practices that align with the UN's Sustainable Development Goals (SDGs). Overall, we hope that this report serves as a powerful reminder of the urgency and importance of integrating sustainability into every aspect of our industry, ensuring a more responsible and prosperous future for all."
Sanjay Arora, Business Director from Wazir Advisorsalso commented on the release of the report and said,"The report showcases a fundamental shift in the approach of key stakeholders in the Indian textile industry. It is heartening to see that 80% of these stakeholders have already embraced sustainable manufacturing practices, reflecting the industry's commitment to environmental responsibility. Sustainability has become a critical factor for success in the global textile market, and the report highlights the increasing adoption of sustainable products, focusing on circularity, and alignment with global benchmarks. As India aims to become a global manufacturing leader, sustainable practices are crucial not only for meeting international standards but also for driving long-term growth and competitiveness. The findings of this report provide valuable insights and guidance for the Indian textile industry to continue its sustainable transformation and contribute to a greener future."
The Yarn Bazaar and Wazir Advisors are excited to release this comprehensive Yarn Industry Sustainability Survey 2023, commemorating World Environment Day, to inspire and encourage further action towards a greener and more sustainable future.