The Indian Textile Journal Presents | India's Top 50 Textile Companies
The Indian textile industry witnessed significant growth in 2021 compared to 2020, but it is still to reach the pre-Covid level highs. The Annual 2022 Edition of the Indian Textile Journal (ITJ) showcases India's Top 50 Performers of 2021 in the textiles industry who led the growth chart. This year, ITJ has ranked companies in two categories (with 25 companies in each category). While first group ("Large Category") comprises of companies registering sales of above Rs 500 crore, the second group ("Small Category") consists of companies having sales of Rs 100 crore to Rs 500 crore. Over 125 listed companies were reviewed and analysed during the process. Companies have been ranked using systematic, unbiased and process-oriented approach. Read on to know more about the top performers in the Indian textile industry.
Textile is one of the oldest industries and a lot has changed in the sector in terms of technological process and innovation. However, despite the innovations and technological advancement the Textile Industry has been capital as well as in many cases labour intensive. No wonder being a labour-intensive sector the manufacturing base has always been tilted towards the countries having cheaper labour cost.
India (key market with lower laborers cost), one of the key Textile & Apparel (T&A) production hubs, has always had the advantage of cheap raw material (cotton) availability. However, the textile sector has not produced any strong player as regulatory ambiguity has kept the sector's prospects limited.
It is true that with the changes in the fashion world the emergence of the domestic apparel industry has provided a fillip to the Indian T&A manufacturers in the last 5-6 years, but they are still not considered competitive in the global T&A trade market compared to Vietnam and Bangladesh. If we take a look at the reasons behind the same, one can observe that there are several industry-friendly measures adopted by the Bangladesh and Vietnam governments that provide textile manufacturers in those countries a costing edge. As a result, the Indian textile companies have been witnessing difficult scenarios like rising debt burden, shrinking margins and in some cases declining volumes as well. However, despite such a difficult environment few textile companies have managed to post strong performance.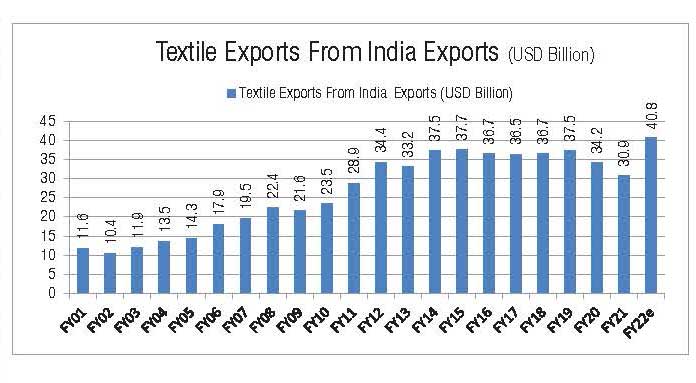 However, with the Government of India (GoI) taking few positive steps things are expected to change. And if the recent numbers in terms of exports and even domestic market are anything to go by – things seem to be moving towards betterment. Jut to put the numbers in perspective, the Indian T&A production market is USD 106 billion as of FY21 with around 70 percent of the demand being driven by the domestic market. India's T&A exports, which were steady at USD 36-38 bn since FY15, are anticipated to reach an all-time high of USD 42-43 billion in FY22 ̶ a source of excitement of late for the sector.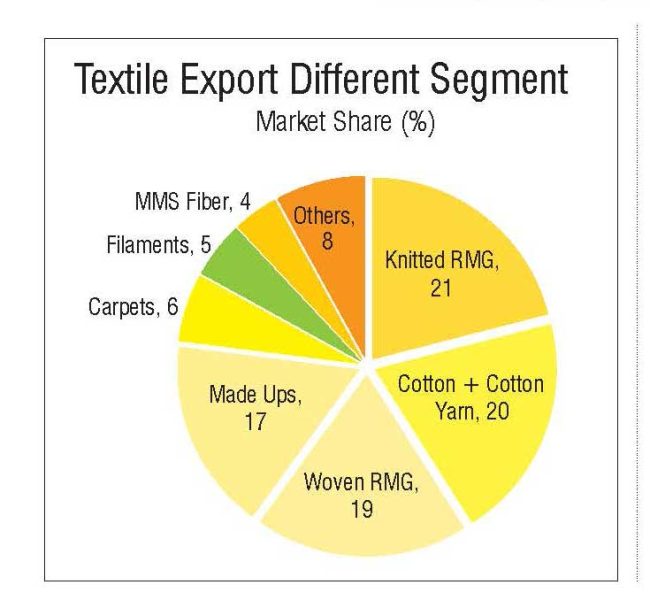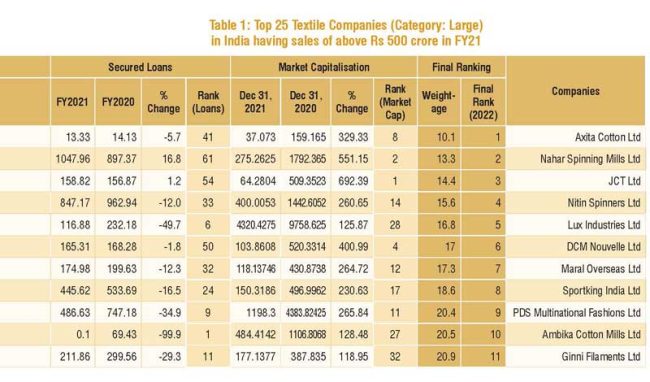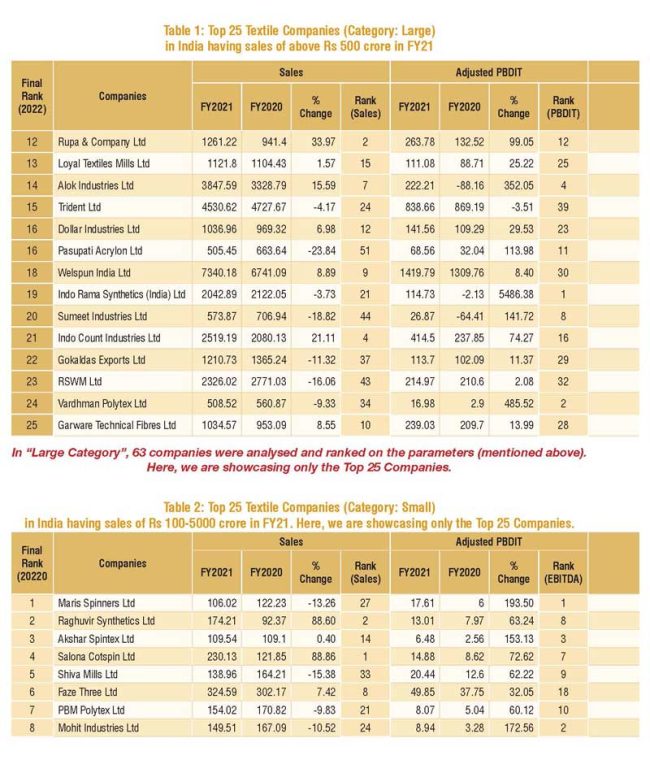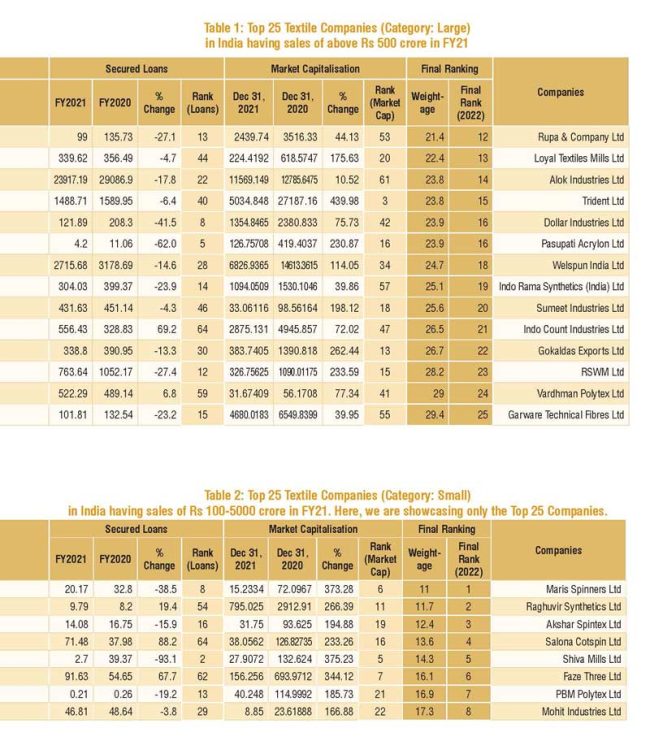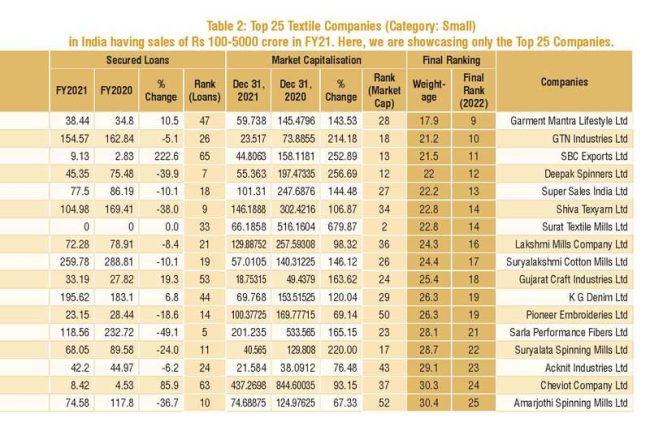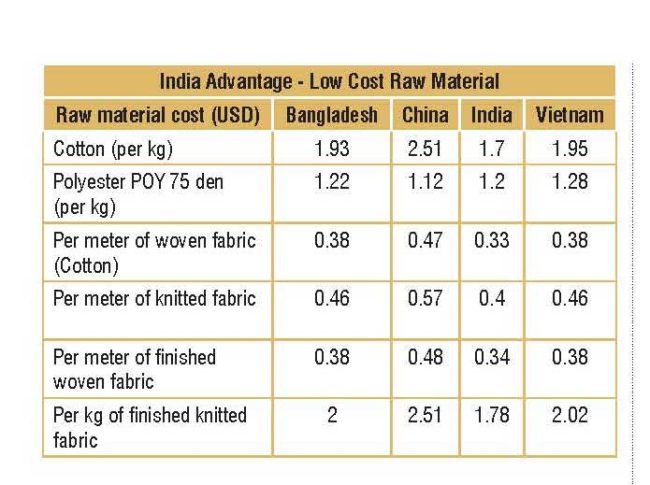 There are new opportunities like importers looking for more than one sourcing destinations and the US-China trade war and the subsequent imposition of additional duties on Chinese T&A imports have led to importers in the USA scouting for other destinations such as India. Additional optimism is emerging with the Government of India becoming benevolent towards the Textile industry. Several incentives such as Rebate of State & Central Taxes and Levies (RoSCTL), Mega Integrated Textile Region and Apparel (MITRA), and Performance Linked Incentives (PLI) for the Man-Made Fibre segment have been announced over the past 12 months.

The cost of production in India is competitive. However, the favourable treaties that Bangladesh and Vietnam (proposed) in the European Union market gives them a cost advantage making Indian RMGs uncompetitive.
In this scenario, the stance of the GoI on Free Trade Agreements (FTA's) is also a welcome policy change for the T&A players. The government since 2014 has been hesitant to sign any new meaningful FTAs, which resulted in the Indian T&A sector losing market share to Bangladesh and Vietnam. However, we see the government being more open to FTAs with the Textile Minister of GoI confirming that several of them could be signed in FY22.
With such opportunities in the global market and support from the GoI the long-term prospects for the Indian textiles industry looks promising. However, despite the all positives expected in the future, there were challenges faced by the textile Industry over the past few years. Even after facing all such challenges a lot of textile players have managed to showcase good growth. While few of the players were grounded (resulting in Consolidation in the Industry) due to such challenges, a few really managed to overcome the challenges shining bright. As a yearly exercise, we at The Indian Textile Journal (ITJ) are trying to find out such winners. As always, our approach has been very system oriented and process based. Let's first understand the process of selecting the winners. And our selection process is based on the challenges faced by the sector.
Ranking Methodology
We had categorically mentioned the textile sector is facing issues like slow sales growth, margins under pressure and increasing debt burden. No wonder considering all such factors even the investors were supposed to give a cold shoulder to such companies. Considering these challenges, we categorised our parameters in four types. We focused on sales growth (revenues), EBITDA growth, reduction in debt and increase in market capitalisation. Each parameter has been given a weightage and then ranking has been done. In simple terms sales growth, profitability and wealth creation are given higher weightages. And being a capital-intensive sector, weightage on debt has been kept lowest. While we have given 30 percent weightage to sales growth, 30 percent weightage on EBITDA growth and 30 percent on the market capitalisation growth. Only 10 percent weight is put on the debt reduction part.
Many would argue that a few of the companies have not shown growths in sales or EBITDA still are making it to the top 25. But as we mentioned it is a weighted ranking and hence if the company has not shown growth in selected parameters, it is ranked lowest in it. Like there are few companies that have not shown EBITDA growth but have shown sales growth and market cap has increased significantly (owing to factors like acquisition or other factors).
Further to make a right comparison, we have bifurcated the companies based on sales. Though the value chain is what matters in the textile sector while analyzing the company on a peer-to-peer basis, we feel sales growth is what keeps the engine running. Further we opine, a higher base would mean it would be difficult for the larger companies to show growth in absolute as well as percentage terms.
We have taken a comparison between FY21 and FY20 for sales, EBITDA and debt. And for change in market capitalization, we have taken the start as December 31, 2020 and end date as December 31, 2021. We have ranked the companies in two groups (with top 25 companies listed in each group). The first group (refer Table 1) comprises of companies having sales of above Rs 500 crore, while the second group (refer Table 2) consists of companies having sales of upto Rs 500 crore (but above Rs 100 crore). A few of the companies have been removed with human intervention (as few diversified groups had more income from realty or other non-core segments). Considering all the factors, here we provide a list of top textile companies in India. In some cases, we offered the right to veto (to the selection panel) by adhering to qualitative factors. The final list is an extensive one and the panel has taken into account almost all aspects that needed to be considered.
Top 10 Large Textile Companies
Given Below are India's top ten textile companies in Large Category (in the order of ranking as shown in Table 1) with sales of above Rs 500 crore in 2020-21.
1 Axita Cotton
Axita Cotton's main business of ginning and pressing of seed cotton. The company is producing cotton bales and cotton seeds. The company also engaged in the business of trading of cotton, cotton bales and cotton seeds. The production facility of the company is situated at Kadi in Mahesana District of Gujarat state. During Financial Year 2020-21, the company continued to achieve greater heights despite several hurdles created by the COVID-19 pandemic. The demand of the company's products was high in the international market as well as domestic market. The effect of which you can see on the annual result of the company. During the FY 2020-21, global demand was high. In FY21, revenue from operations stood at Rs 618.79 crore compared with Rs 484.41 crore in 2019-20. The company achieved Profit after Taxation of Rs 3.73 crore for the FY 2020-21 as compared to Rs 0.35 crore during the previous FY 2019-20. The overall profitability of the company, as compared to the previous year, has been grown due to international and domestic demand. The company sees opportunities in new products development, growing demand for cotton in international market, positive economic environment, policy support from the government, and improving farmer's techniques. Business scenario is undergoing a major change during recent times and, Axita Cotton believes, it is better equipped to use it to its advantage. The global economy is on a major turnaround, with many countries showing continued growth in production and consumption. The future, according to Axita Cotton, is optimistic.
2 Nahar Spinning Mills Ltd
Nahar Spinning Mills Limited is engaged in manufacture and export of cotton, synthetic and blended yarns and knitted garments. The company produces high-quality value-added yarn for exports and has put up spinning plants at Ludhiana, Sangrur (Punjab) and Madideep (Madhya Pradesh). The present spindlage capacity of the company is 5.38 Lakhs (approx.) spindles and 1080 Rotors. The Company is one of the largest integrated textile players in India. The year 2020-21 was a very difficult and challenging year for textiles industry (due to COVID-19) impacting Nahar Spinning Mills' normal business operations. The company achieved a total income from operations of Rs 2118.83 crores in 2020-21 as against Rs 2089.98 crores in the previous year. The exports at Rs 1146.34 crores have shown an increase of 3.55% over the previous year. On profitability front, the company substantially improved its performance and earned a profit before tax of Rs 53.53 crores as against loss of Rs. 78.06 crores in the previous year. With a massive level of production in the textile sector due to unprecedented boost by the Government, the textile industry is going to be the biggest beneficiary and will help the country in becoming a global textile hub. In line with the global trends and to remain competitive, Nahar Spinning Mills continues to modernise, upgrade and expand its capacities so that it remains globally competitive in terms of cost and quality. The management vision coupled with company's inherent strength in terms of cost and quality has enabled the company to become one of the largest Cotton Yarn manufacturer and exporter in India.
3 JCT Ltd
JCT Ltd is into manufacturing of cotton textiles, synthetic fabrics and nylon filament yarn. The plants of the company operated at sub-optimum levels during the first two quarters due to lock downs. JCT got the order from HLL Lifecare for manufacturing of PPE suits which enabled the company to run its synthetic and garment capacities at optimum levels during first quarter of 2020-21. From the third quarter, JCT got some momentum in the plants and was able to close the financial year in positive. Even with tight liquidity and disruption in tight chain coupled with company's policies on product mix rationalization of manpower and other initiatives, the company was able to a earn net profit of Rs 15.72 crores. The margins have been under strain due to tight liquidity high interest cost compared to the peer player in the industry. The company incurred higher finance cost of Rs 46.01 crores during the current financial year. JCT Ltd earned Operational EBIDTA of Rs 76.30 crores during the current financial year against Rs 28.80 crores of last year. For textile unit, the company is planning to increase garment capacities, weaving capacity of synthetic/polyester fabrics, stretch/structured fabrics and also increasing dyeing capacity to balance weaving and processing capacities of synthetic plant. The Filament Unit of the company is focusing on developing new products for catering different end-users, more production of conventional and dope dyed yarn for domestic and export markets. The Unit is also focusing on increasing production capacity of Mono, HOY/FDY & CRIMP/DYED to increase market share in domestic and international market. It has also been planned to launch IDY product in market.
4 Nitin Spinners Ltd
Nitin Spinners over the years has expanded its operations to include open-end yarns, ring-spun yarns, blended yarns, knitted fabrics, and finished woven fabrics. Established in Bhilwara (Rajasthan), the company is equipped with state-of-the-art technology from leading European and other global suppliers. Nitin Spinners has also installed a composite textile project at Chittorgarh (Rajasthan) to manufacture cotton, blended yarns, and grey & finished woven fabrics. It now has an installed capacity of 3,00,048 Spindles and 3,488 Rotors, producing 72,000 tons of yarn per annum. It also has an installed capacity of 63 Knitting Machines, producing 8,500 tons of knitted fabrics per annum and 168 looms and dyeing, printing, and finishing capacities to make approximately 300 lakh meters of fabrics per annum. Nitin Spinner reported a remarkable topline growth of 13% and bottomline growth of 189% in 2020-21, witnessed in the time of a global pandemic. The company's revenue from operations increased to Rs 1,624.41 crore in 2020-21 from Rs 1,438.06 crore in 2019-20. Profit for 2020-21 stood at Rs 68.87 crore (compared to Rs 23.82 in 2019-20). Remaining at the forefront in high-quality textile products manufacturing, Nitin Spinner aims to become an integrated textiles manufacturer by forward and vertical integration. In 2020-21, the company crossed Rs 1,000 crore turnover from exports; exporting more than 63% of turnover to over 50 countries. It is focusing on developing value-added and sustainable products for the exports market.
5 Lux Industries Ltd
Lux Industries is the largest mid-segment hosiery enterprise in India. Over the years, the company has established itself as a leader in the branded innerwear segment in India. The company possesses seven state-of-the-art manufacturing facilities across India with a cumulative capacity of 30 crore garment pieces a year. The company's manufacturing units are located in Dankuni, Srijan Logistic Park in Dhulagarh, Sankrail Industrial Park (West Bengal), Tiruppur and Avinashi (Tamil Nadu), Ludhiana (Punjab) and Ghaziabad (UP). Aggregate sales of Lux Industries stood at Rs 1964.86 crore in FY 2020-21 against Rs 1674.18 crore in FY 2019-20 following the impact of the merger and organic growth of the business. The company reported a 51.98% increase in its net profit in FY 2020-21 following superior capital efficiency, value-accretive merger and better performance. The Indian innerwear market is valued at Rs 32,000 crore, accounting for 9% of the total domestic fashion retail market. Innerwear has emerged as one of the fastest growing categories among all other fashion categories. During the last couple of years, the Company embarked on the unprecedented: it reinforced its premium brand presence with the launch of One8. premium segment contributed 11.73% to the overall revenues in FY 2020-21.
6 DCM Nouvelle Ltd
DCM Nouvelle Limited is a leading manufacturer & exporter of 100% cotton carded and combed yarns in single and two-ply forms of count range Ne 12s to 40s. The company has spindle capacity of 1,15,048 located at Hisar with approx 2500 MT of monthly production. State-of-art spinning machineries and quality assurance instruments from leading manufacturers have been installed for production of fault free 100 % cotton yarn. With the introduction of value-added products, premium brands & sustainability certifications, the company has moved ahead in positioning itself as supplier of quality yarn for fine clothing. The company has successfully engraved its name in domestic markets and exports to more than 30 countries. The company took all measures to withstand the Covid 19 challenges. Due to these steps, it was able to achieve better performance. Though DCM Nouvelle recorded a lower turnover at Rs 557.06 crores as against Rs 580.28 crores, as the financial year started with the national lockdown. The operating profit of the company improved significantly due to good market demand that emerged in the second half of the year with the receding Covid 19 impact. DCM Nouvelle recorded total profit after tax (including OCI) of Rs 30.53 crores in the current financial year against a profit of Rs 4.34 Crores in the previous year. During the year under review, the Profit Before Tax (PBT) increased to Rs 41.01 crore in the financial year 2020-21 from Rs 6.56 crore in 2019-20 on account of higher realization of cotton yarn and lower cotton consumption rate.
7 Maral Overseas Ltd
Maral Overseas Ltd (Maral), part of the LNJ Bhilwara Group, is one of India's largest vertically integrated textile companies that straddles across the textile value chain. Maral is engaged in manufacturing of cotton & blended yarn, knitted fabrics, processed fabrics and readymade garments and has a presence throughout the textile value chain. The company possesses a fully-integrated dye house with a yarn dying facility at Sarovar. Its two ultramodern units produce 1,700 tons of grey yarn, 250 tons of dyed yarn, 700 tons of knitted fabric and 500,000 pieces of garments every month even as they constantly innovate to diversify and upgrade their products. Supported by its captive power units, the Maral Sarovar plant is ideally located in Central India's cotton heartland 500 km from Mumbai, and its garment factories are in Noida near Delhi. Maral markets its products in the domestic as well as export market. The company exports its products majorly to Far East & South East Asian Countries, Europe, North America, Gulf and Middle East, Africa etc. There was a marginal dip in its Topline to Rs 632.02 crore in 2020-21 (due to lockdown in the initial stages of Covid-19 in Q1 of FY21) from Rs 632.02 crore in Rs 675.95 crore in FY20. However, its bottomline changed colour from loss of Rs 15.28 crore in FY20 to profit of Rs 12.53 crore in FY21. Now, Maral Overseas is investing Rs 10 crore in a new, state-of-the-art garmenting unit that is expected to commence operation in FY22. Going forward, it will emerge as the key growth driver for the company. In the current year, Maral is investing about Rs 50 Crore in its verticals. A new garmenting unit has commenced operations in FY22. It plans to modernise some of the aging equipment in its yarn and fabric verticals. Also, the company is investing in cutting automation solutions for its garment unit which should improve product quality and provide for considerable cost saving. For the fabric vertical, it plans to revamp our product development cell. This is critical for the company's success as it will allow Maral to customise products aligned to the requirements of key international customers.
8 Sportking India Ltd
Sportking India is engaged in manufacturing of cotton yarn, synthetic yarn and blended yarn at its manufacturing units at Ludhiana and Bathinda. With the demand of knitted/casual wear garments in the domestic market had increased with most of the working class doing work from home and the demand of the yarn had also increased in the export market with the restrictions on import of cotton yarn from China by many countries due to Human Rights Issue of Uyghurs community in their Xinjiang Province, the prices of yarn have improved. Sportking India achieved Earning before Depreciation, Interest, Tax and Amortization (EBIDTA) of Rs 230 crore with EBIDTA/Sales ratio of 17.61% during FY 2020-21 as compared to Rs 139.15 crore with EBIDTA/Sales ratio of 10.26% in the previous FY 2019-20 (an increase of 65.29%) which has increased substantially due to decrease in raw material cost and improvement in sales realization in H2 of FY 2020-21 with a part of the same off –set with the declines in sale realization in H1 of FY 2020-21. The cost of interest had come down to Rs 38.33 crore as compared to Rs 57.53 crore in the previous year due to lower availment of fund based working capital limits, repayment of term loans and decrease in benchmark Libor Interest Rates in respect of credit facilities being availed in Foreign Currency since March/April 2020 due to Covid-19. The company is in process of adding more capacity by 15% (brownfield expansion of Company's plant at Bathinda) for production of textile yarns, the cost of which will be met out of internal accruals and term debt in the acceptable range and a part of the same is likely to become operational in Q1 FY 2022-23.
9 PDS Multinational Fashions Ltd
PDS Multinational Fashions Limited (PDS) provides a global plug-and-play platform for fashion industry entrepreneurs. These entrepreneurs join PDS as collaborators and become an integral part of our unique business, leveraging the PDS brand name to supply to some of the biggest fashion brands and retailers. PDS Multinational Fashions is a design-led sourcing, manufacturing and supply chain platform with a unique business model. With a presence across 22 countries through 50 offices and served by a strong team of 3,000+ employees and 5,000+ associates and factory workers, PDS caters to 190+ leading global brands and retailers with c.1mn garments being shipped daily. Backed by around 130 production lines spread across Bangladesh, Sri Lanka, and India with an annual production capacity of ~36 million. Successful moderation of the COVID-19 impacted with income from operations of Rs 6,213 crores, maintaining gross margins at 16.5%. Additionally, achieved 13% y-o-y reduction in operating expenses and effective working capital management resulted in reduction in net working capital days to 5 days in March 2021 from 10 days in March 2020. Profit after tax increased by 83% from Rs 81 crores in FY 2019-20 to Rs 148 crores in FY 2020-21. Net profit margin improved to 2.4% in FY 2020-21 from 1.2% in FY 2019-20. Going forward, PDS will focus on geographic expansion and have already identified target markets and have its strategy in place. The US, being one of the top global apparel markets, is an important strategic market for PDS. It is strengthening the team in the US through its Group network for servicing customers. PDS is also looking to expand in Australia, New Zealand and the Scandinavian countries with new experience and professional teams, which will be focused on succeeding in these geographies. PDS has a strong presence in the apparel market and is deepening its engagement with its existing customers to expand into newer categories such as home fashion and active wear across all geographies.
10 Ambika Cotton Mills Ltd
Ambika Cotton Mills is engaged in manufacturing cotton yarn and knitted fabrics, which are generic products, the main input raw material is raw cotton, an agricultural produce. The company's total income and gross profit amounted to Rs 633.69 crore in 2020-21 (previous year Rs 623.85 crore) and Rs 119.33 crore in 2020-21 (previous year Rs 96.72 crore). This represents growth of 1.58% in total income as compared to 5.04% decline in 2019-20 and growth of 23.37% in Gross Profit as against decline of 16.39% in 2019-20. For 2020-21, Ambika Cotton Mills' direct export turnover amounted to Rs 420.87 crore as compared to Rs 437.34 crore in 2019-20 representing a decline of 0.04%. In terms of percentage the export turnover constituted 68.45% of the total turnover as against 71.97% in 2019-20. In 2020-21, Ambika Cotton Mills invested Rs 21.97 crore, out of internal accruals in factory building and plant & machinery. The company is not carrying any long-term debt. Ambika Cotton Mills, on account of manufacturing specialty cotton yarn, continues to have good demand and has created specific markets for its products. Further the company's wider range of products in its knitting segment has established the newer markets in knitting segment. This ensures more sustained profitable operations. The company continues to strengthen its production base by modernization and adding balancing equipment and improvising production process. New Stenter plant is established for knitting division to heat process the fabrics. These measures will continue to support the operations of the company.
Top 10 Small Textile Companies
Given Below are India's top ten textile companies in Small Category (in the order of ranking as shown in Table 2) with sales of Rs 100-Rs 500 crore in 2020-21.
1 Maris Spinners Ltd
The Chennai-headquartered Maris Spinners Limited is a leading spinning mill manufacturing high quality yarn for the domestic market with interests in Wind Energy Generation for captive use. The Gross Revenue from operations of the company stood at Rs 108.64 crore in 2020-21 compared with Rs 125.07 crore during the previous year. The Operating Profit/(loss) before tax stood at Rs 9.22 crore in 2020-21 as against Rs (3.17) crore during the Previous Year. The Net Profit/(Loss) for the year stood at Rs 6.57 crore against Rs (2.07) crore reported during 2019-20. Due to COVID 19 pandemic, there was slump in sales from the beginning of March 2020, which was further compounded due to country wide lockdown implemented from the second fortnight of March 2020 and till second quarter of 2020. This impacted the business operations of the Company significantly. The Indian textile and apparel industry is reeling under liquidity crisis and cost pressure, due to un-precedented damage caused by COVID-19. Cotton price is expected to remain volatile as this is evident from the trend during the last quarter of the financial year 2020-21. The company is making all efforts to reduce costs and rationalise operations to have a positive effect. Exports may partly get affected due to global sentiments and COVID-19. Higher inflation, cost of raw material viz cotton and price of finished product viz yarn would have adverse impact on profit margin of the company.
2 Raghuvir Synthetics Ltd
Raghuvir Synthetics Ltd – a part of Raghuvir Group – is a company processing 100% cotton, 100% polyester & blended fabrics, knitwear range of Home Textiles, etc. The company has all the processing machines such as singeing, mercerisation, sanforisation, calendar, Stenter, Jigger Bleaching, Jigger Dyeing, Kuster Padding continuous bleaching range (CBR), Pad Dry & Pad Steam, raising, peach machine, 16 color printing machine, etc. For 2020-21, the company reported net total income of Rs 179.70 crore (compared to Rs 94.09 crore in 2019-20) and profit before tax of Rs 5.89 crore (compared with Rs 2.48 crore in 2019-20). Raghuvir Synthetics is continuously trying to accomplish the desired results. Steps have been taken for cost diminution and manufacturing quality products by various installed machineries of the Company. Various aspects of working conditions of workers, health related issues, minimizing risk of accidents at work place etc. are being taken care of by the Company. The company will achieve more turnover by various marketing strategies, offering more quality products, etc. in coming years followed by increase in profit margin by way of various cost cutting techniques and optimum utilization of various resources of the company. The company has found export opportunities for the same line of textile products which they were doing job work presently.
3 Akshar Spintex Ltd
Akshar Spintex Limited, which is one of the leading producers of value-added yarns in India, has its manufacturing facility at Kalavad, Jamnagar (Gujarat). The manufacturing facility is located at distance of 250 km from kandla port and is in a Shankar – 6 cotton rich belt. It leads to easily availability of quality raw material at a least cost. Akshar Spintex has a facility of total 24,480 spindles with annual production 6000 MT in cotton yarn for the count range is 16's to 44's Ne contamination Controlled auto coned carded, semi comed and combed mill with all latest technology machineries. The second half of 2020-21 was a good period for Indian spinning mills because there was a huge shortage of cotton yarn due to last year's lockdown (to tackle Covid) and huge demand for yarn came from domestic and international markets. So, spinning mills performed well. Akshar Spintex performed well in FY 2020-21 despite the dynamic domestic and global macroeconomic challenges. The company achieved a 122% increase in profit after tax at Rs 1.24 crore compared to loss of Rs 5.73 crore in the previous year. Its revenue for 2020-21 stood at Rs 110.88 crore as against Rs 111.09 crore in the previous year recording an overall growth slightly decline. The company is continuously taking various initiatives to reduce the operational cost and exploring new markets. Akshar Spintex is aiming to achieve high growth through development of niche products to meet increasingly sophisticated demands of the industry and expected to grow on upward trend of performance in future.
4 Salona Cotspin Ltd
Salona Cotspin, which is one of the leading yarn manufacturers, uses spinning and knitted technology, and innovative process pattern. The company is into women's' casual trendy wear under the brand NEWRIE LONDON. Demand for yarn & fabrics both domestic and export (especially in the second half of 2020-21) enabled the company to show better performance during the year. During 2020-21, the production of cotton yarn was 31.93 Lakh Kgs as against 36.37 Lakhs Kgs in the preceding year. However, the sales turnover has increased to Rs 225.08 crore in 2020-21 as against Rs 119.85 crore in 2019-20. Exports stood at Rs 180.17 crore in 2020-21 compared with Rs 68.60 crore in the previous year. The revival of economy in the overseas market is adding stimulus to the industry. Salona Cotspin continues to upgrade the quality of yarn produced to ensure competitive advantage in marketing its products more through exports and sustain profitability. Considering the better performance of 2020-21, Salona Cotspin has installed two more Ring frame with compact equipment and Knitting Machine for manufacturing value added products. The company's niche products are well establishing in the overseas market, hence, Salona Cotspin is expecting more export orders from the overseas regular buyers during the forthcoming years.
5 Shiva Mills Ltd
Shiva Mills' principal line of business is manufacturing and marketing of cotton yarn. The company has a spinning unit near Dindigul (Tamil Nadu) with an installed capacity of 39072 spindles and 22 Windmills with an installed capacity of 10.65 MW. During 2020-21, the spinning unit produced 5692.36 tonnes (6598.19 tonnes) of cotton yarn. The unit sold 5881.65 tonnes (6948.65 tonnes) of cotton yarn out of which exports accounted for 57.69 tonnes (599.30 tonnes). Further, the company sold 1538.38 tonnes (1810.09 tonnes) of waste cotton. The overall sales turnover of the Shiva Mills aggregated to Rs 138.27 crore in 2020-21 of which exports amounted to Rs 1.12 crore, the exports contributing 8.08% of the overall yarn sales of the company. Budget has projected the GDP growth at 9.2% in 2021-22. The future for the Indian textiles industry looks promising, buoyed by strong domestic consumption as well as export demand. Ultimately spurt in demand is expected for cotton yarn both in domestic and export markets. Against this background, Shiva Mills is giving priority to the requirement of customer, creating new business opportunities and to focus on value maximisation.
6 Faze Three Ltd
Faze Three Limited (FTL) is engaged in manufacturing and export of superior quality high-end home textile products supplying to top retailers across the globe. It has a diversified product line, main products include bathmats, bath rugs, chairpads, blankets, rugs, throws, floor covering, bed spreads, etc. Majority of FTL's revenue (90%) is derived from exports to USA, UK and Europe region. The company has six facilities to manufacture home textiles situated at Dadra and Nagar Haveli, Vapi (Gujarat) and Panipat (Haryana) in India. During 2020-21, Faze Three achieved consolidated revenue from operations of Rs 324.59 crores as against Rs 302.17 crores in the previous year. The company earned Standalone Net Profit after Tax for 2020-21 at Rs 25.01 crores vs Rs 19.28 crores for 2019-20. Growth of ~29.7% y-o-y. The Consolidated Net Profit for 2020-21 was Rs 24.82 crores as against Net Profit of Rs 17.89 crores in 2019-20. Tangible shift of demand to India from China and transforming consumer spending trends have resulted into higher demand of home textile products. Diversified product portfolio coupled with established relationships with reputed clients ensures stable revenue visibility and growth opportunities. Further the company is long term debt free and has strong capital structure. Further, in order to take full advantage of visible inflow of business, the company is under process of expansion at two of its manufacturing locations (West and North) and double capacity at both locations. The additional capacity at west would be fully available by March 22 and North in later half of CY 22. The said expansion and capex shall enable the company to be fully prepared to meet the projected demand & achieve its goal to double its Total Income of FY 21 within 3 year period.
7 PBM Polytex Ltd
PBM Polytex Ltd has two cotton spinning units at Petlad (Gujarat) and at Borgaon (Madhya Pradesh). The companys main product is cotton yarn which is about 95% of total sales. Substantial quantity of yarn is exported by the company to various countries. Globally, India is one of the country having largest textile manufacturing capacity. The important factors which influences the companys operations are demand and supply conditions, availability of raw material at reasonable rate, the export market condition, availability of workers of required skills, Government regulations, tax laws, economic developments etc. Though PBM Polytex's sales for 2020-21 was down by 9.83% to Rs 154.02 crore in 2020-21 from Rs 170.82 crore in 2019-20, its adjusted PBDIT shoot up by 60% in 2020-21 to Rs 8.07 crore from Rs 5.04 crore in 2019-20.
8 Mohit Industries Ltd
Mohit Industries has 16 texturising machines, 150 high-speed shuttle-less water jet looms with a capacity to manufacture 18,000 tonnes of Draw Texturised Yarn (DTY) per annum and 14 million meters grey fabrics per annum respectively. The company exports DTY Yarn with a brand name to South Korea, Thailand, Czech Republic, Guatemala, Bulgaria, Indonesia, Japan, Vietnam, Malaysia, Mexico, Colombia, Sweden, Ethiopia, Bangladesh, UK and many more Countries. The company has recorded export turnover of Rs 56.99 crore in 2020-21. Mohit Industries has completed financial year 2020-21 with net profit after tax of Rs 67.74 lakhs. In 2020-21, the company recorded net revenue from operations of Rs 149.51 crore compared to Rs 175.01 crore in the previous year. For growth, the company is focusing on margin accretive products and exports.
9 Garment Mantra Lifestyle Ltd
Garment Mantra Lifestyle manufactures fashion night wears under brands like Hylex, Monk and Helicon. It stocks wide varieties of styles, which are manufactured at its production unit in Nethaji Apparael Park, Tirupur. Garment Mantra Lifestyle's revenue from operations increased by 11.81% from Rs 1,49.99 crore in FY2020 to Rs 167.70 crore in FY2021. EBITDA was up by 59.48% from Rs 9.54 crore in FY2020 to Rs 15.22 crore in FY2021. Net profit stood at Rs 7.85 crore in FY2021, compared to Rs 4.03 crore in FY2020. With consumerism and disposable income on the rise, the retail sector has experienced a rapid growth in the past decade with the entry of several international players into the Indian market. High economic growth has resulted in higher disposable income. This has led to rise in demand for products creating a huge domestic market. The domestic market for apparel and lifestyle products, currently estimated at $ 85 billion, is expected to reach $ 160 billion by 2025. Over the last three years, Garment Mantra has plugged in the gaps in its business strategy. The company's efforts have laid the foundation for its future as an innovation driven, quality-focused organisation. In the future, the company plans to focus on translating these efforts into high margins for the company. These efforts will also be aided by the momentum created by government-led awareness and subsequent demand creation for the sector. Garment Mantra believes it is now better equipped to make a sustainable foray into segments such as defence, housing, infrastructure etc.
10 GTN Industries Ltd
GTN Industries is mainly engaged in the business of manufacture and export of cotton yarn. Spinning units are highly capital intensive and has to maintain large raw material inventory levels due to its seasonality. GTN Industries is making all efforts to have efficient inventory management and constant efforts are being made to monitor the inventory levels keeping in view of interest costs. During 2020-21, the company has achieved turnover of Rs 310.24 crore compared with Rs 344.18 crore in the previous year. The company is an important player in the field of cotton yarn in medium and fine count segment yarns. There are good prospects for increasing exports of cotton yarn to Asian countries. The company is focusing on exploring new export destinations apart from current markets.
Table 1: Top 25 Textile Companies (Category: Large)
in India having sales of above Rs 500 crore in FY21