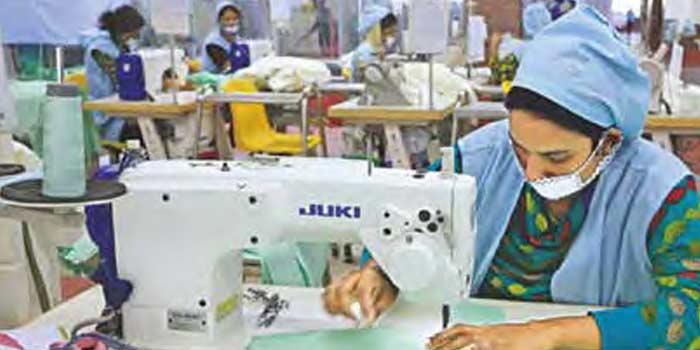 Textile Industry: Locked down
Covid-19 virus that has thrown the economic activity out of gear across the world has also halted the Indian textile industry to a grinding halt.
Covid-19 virus that has thrown the economic activity out of gear across the world has also halted the Indian textile industry to a grinding halt.
India's overall textile exports during FY 2017-18 stood at $39.2 billion in FY18 and expected to increase to $82.00 billion by 2021, according to Ministry of Exports' report. However, due to spread of Covid-19, all the estimated figures have gone for a toss. The pandemic came at a time when the sector was battling sluggish growth.
According to the Cotton Textiles Export Promotion Council (Texprocil), 11 countries buy 41 per cent of India's cotton yarn exports and these countries have reported Covid-19 cases. In value terms, yarn exports are down 30 percent in January-February against a year ago. Cotton yarn exports to China, Iran, Korea and Vietnam have seen a steep decline. The US and the Europe are the two largest markets for Indian textile exporters. Both are imploding with new cases everyday.
There could be as many as one crore job cuts in the textiles sector, which has been severely hit by the ongoing lockdown, if there is no support and revival package from the government, according to apparel industry body Clothing Manufacturers Association of India. With around 80 per cent of the garment industry mostly micro, small and medium enterprises, CMAI, which has around 3,700 members employing over 7 lakh people, said most of its members do not have the kind of reserves to see them through 3-6 months of this magnitude.
"The spread of the virus in China and which later got spread to EU and USA has majorly impacted us as they are huge markets for Indian textile products," said
T Rajkumar, Chairman, Confederation of Indian Textile Industry (CITI).
The government's directions to close all the malls and retail outlets to tackle the outbreak has resulted in the substantial reduction in the sales of the domestic textiles and clothing. Countries across the world have extended support packages to tide over the crisis. Germany has announced a financial package of half trillion Euros for companies impacted by the crisis to boost their liquidity.
Indian textile exporters, which employ about five million workers, have sought government aid to pay wages after cancelling about $4 billion in overseas orders amid a nationwide lockdown to combat the coronavirus. The Apparel Export Promotion Council (AEPC), representing about 8,500 exporters, urged the government to pay workers' wages for at least April and May from the social security fund, set up with contributions of workers
and employers.
"We are in a real crisis," said AEPC chairman A. Sakthivel, citing cancellation of orders by buyers from Europe and the US.
The ITMF Corona-Survey revealed that the companies are struggling with many issues. The two most important and pressing issues are, first, to keep the workforce safe, and second, to have enough liquidity to cover all the running expenses. Both issues are essential for the survival of each company. In the short-term, the safety and health of everyone working in a company is indispensable. In the medium-term, the availability of liquidity is crucial. In such a situation it is important that governments step in, if possible, with the support of international financial institutions like the International Monetary Fund or the World Bank to provide fibre, textile and apparel companies with financial assistance. "The ITMF is asking governments to provide banks with additional credit facilities backed by guarantees of states and/or international institutions, to suspend any taxes or any other forms of social levies and contributions, etc. with the objective to provide companies with enough liquidity to overcome this critical period", ITMF President, Kihak Sung noted.
At the same time the ITMF is asking all stakeholder in the supply chain to work closely together. Above all, ITMF is asking retailers and brands to refrain from making use of any 'force majeure clauses' in their contracts with suppliers. These would lead to a cascade of cancellations of orders that are ready for shipment or in the process of completion. Instead, brands and retailers as well as all other stakeholders in the supply chain should have dialogues and look for creative solutions that allow partners to survive this unprecedented period together.
According to a report from CARE Ratings, "The demand for textiles will face headwinds in both the markets, domestic and international. The closure of retail stores and malls on account of lockdown situation across the nation will affect the industry's sales. Even after the lockdown is lifted, demand for textiles will take time to pick up. This is because footfalls will be low in malls and retail stores as people will avoid visiting crowded markets."
On the international front, the outbreak of Covid-19 is expected to keep the textile demand under pressure in China thus hurting the Chinese cotton yarn and polyester markets. China is the largest export destination for India's cotton yarn outbound shipments. Therefore, muted demand from China is likely to affect India's total cotton yarn outbound shipments and the export unit realisations and the domestic prices. This, in turn, will soften the cotton prices in India to an extent.
Some relief
In a major step from the government, garment exporters will continue to get rebate on central and state taxes on their outward shipments as the government has decided to extend the RoSCTL scheme beyond March 2020 to enhance the competitiveness of the labour-intensive textiles sector.
The Ministry of Textiles has issued a notification extending the Scheme of Rebate of State and Central Taxes and Levies on Export of Garments and Made-ups (RoSCTL) which was in force up to March 31, 2020. The RoSCTL scheme provides rebate on all embedded taxes on exports. "The Government has decided to continue the said scheme w.e.f. April 1, 2020 until such time that the RoSCTL Scheme is merged with Remission of Duties and Taxes on Exported Products (RoDTEP) Scheme without any change in Scheme guidelines and rates as notified (earlier)," said the notification. Finance Minister Nirmala Sitharaman had in September last year approved the RoDTEP to incentivise exporters at an estimated cost of Rs 50,000 crore to
the exchequer.
She had said RoDTEP will replace the existing incentive schemes and "will more than adequately incentivise exporters than the existing schemes put together."
"The textile and apparel industry was of the opinion that government should not withdraw RoSCTL till RoDTEP comes into force effectively, as it will hurt the cost competitiveness of Indian apparels and made-ups in the international market where Indian products have to compete with cheap products of China, Bangladesh, Vietnam, etc," said the CITI Chairman.
He observed that the continuation of RoSCTL will make Indian apparels and made-ups cost competitive internationally by rebating all taxes and levies which are currently not being rebated under any other scheme.
"However, looking at the current pandemic of Covid-19, we request the government to extend support by covering the entire textile value chain under the RoSCTL scheme, which will help in increasing the exports of entire textiles value chain," Rajkumar suggested.
Under the RoSCTL scheme, maximum rate of rebate for apparel is 6.05 per cent, while for made-ups, this goes up to 8.2 per cent. The made-ups segment comprises home textiles products such as bed linen, curtains, pillows and carpets. Meanwhile, the Textile Ministry has also decided to ease norms under Amended Technology Upgradation Fund Scheme (ATUFS) during post lockdown period.
Kapil Pathare, Director, VIP Clothing, said, "The Covid-19 pandemic is primarily expected to adversely impact exports and with second order impact on the domestic markets with both exports as well as domestic sales falling. The pandemic has affected the majority of India's export market (the US and EU together constitute for approximately, 60 per cent of the total apparel exports from India in value terms), causing order cancellations/deferral of order leading to inventory build-up and expectation of slower realisation of export receivables leading to higher working capital requirements."
He added, "apparel exports are expected to fall due to drying up of order in the last quarter of FY20, working capital issues and lack of clarity on the duties and incentives especially when exporters from Bangladesh, Sri Lanka and Vietnam receive preferential access."
The losses for the retail industry alone have crossed $30 billion in the fortnight, and the number is only rising. Given the current scenario, the industry will take at least six months to get back on track in terms of cash inflows; but how many companies can actually survive this downfall for the next 6 months? Additionally, the losses over six months can cross a figure of about $700 billion (estimated from $30 billion fortnight) and the recovery period of these losses can be over a decade for some business.
Said Sanjay Vakharia, CEO, Spykar Lifestyles: "Retailers in the country at this point are not looking to make profits, but are rather looking for a way to stay afloat and provide for the employees and other stakeholders. At a time where the entire nation and world has to be on lockdown, industries and business owners are looking towards the government to provide support in order to sustain businesses and salaries of the employees. Globally, governments have announced multiple incentives for the businesses within the retail sector; however, no such announcements have been made in India so far."
Vakharia felt, "The government's effort of dealing with the Covid-19 crisis by promptly enforcing a lockdown is highly appreciated, keeping in mind that even developed nations have not dealt with this as effectively. However, on the other hand, businesses and industries cannot be ignored for much longer. Policies, exemptions, and support from the government is an urgent requirement. The whole economy is standing at the edge of a major downfall; it's either going to be a full blown crash or a moderately safe crash landing."
According to Seshadri Ramkumar, Professor, Texas Tech University, "Textile sector needs to seriously focus on hygiene and healthcare related products. Particularly, focusing on "functional textiles," raw materials, machinery and processing aspects for advanced textiles will provide new opportunities. Currently, according to Morgan Stanley, China dominates the world in surgical masks with over 80 per cent global share. This situation has put stress on the supply of such health-related products during the current pandemic, which will result in market shifts."
Going forward, the textile industry scenario will depend on how the situation evolves in the domestic and international markets and faster return to normalcy will enable the industry to curtail the damages and improve on its growth prospects.
– KARTHIK MUTHUVEERAN