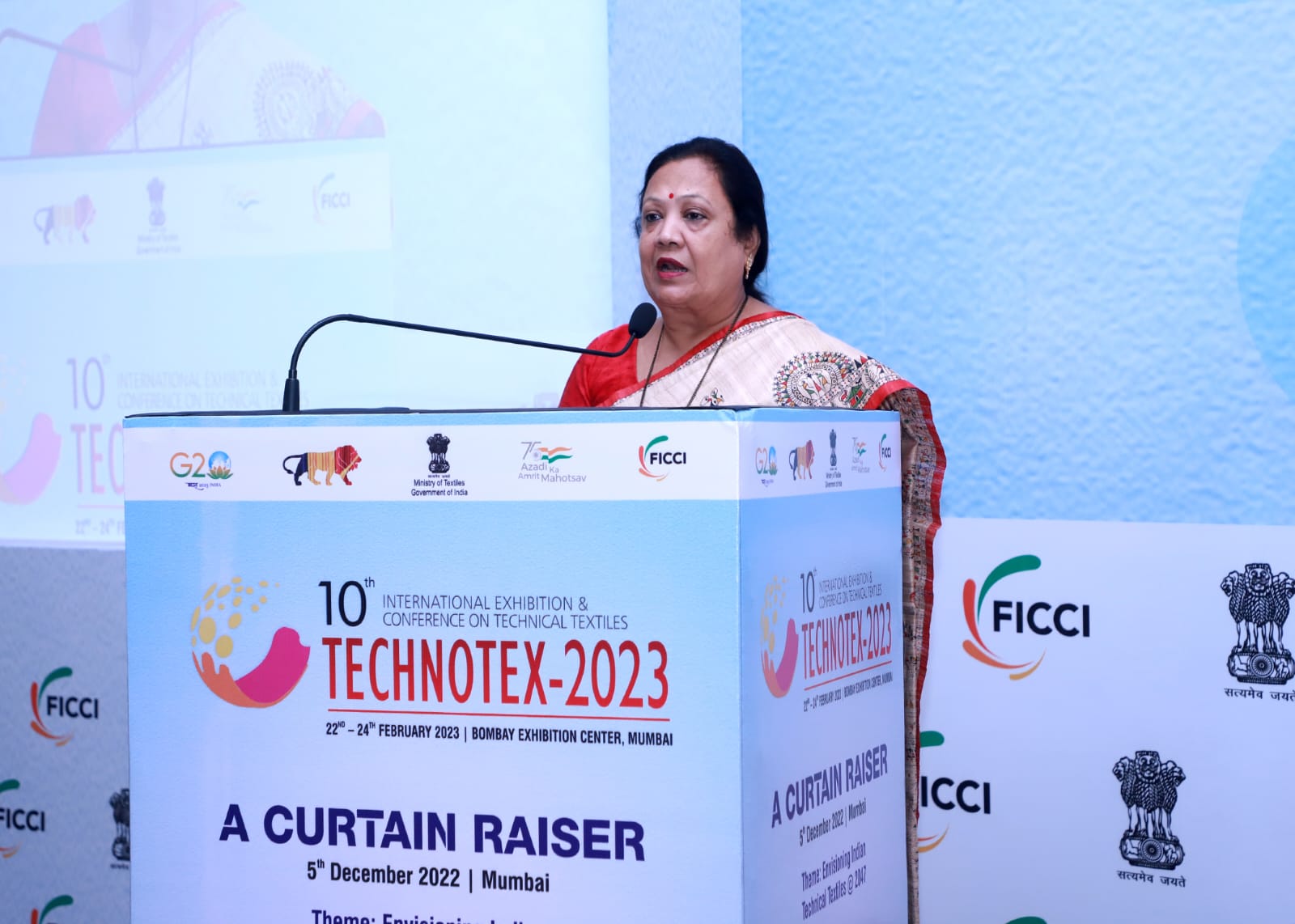 Technotex 2023 to be held from February 22-24 in Mumbai
Globally, the technical textile industry is a large, steadily growing market; this robust global market is waiting for the industry as both domestic consumption and export is expected to grow rapidly.
"Technical Textiles products cater to a wide array of industries, thereby exhibiting a plethora of opportunities as a high value sector in India," said Darshana Jardosh, Minister of State for Textiles, Government of India. The Government is making all efforts to promote Technical Textiles and undertaken various incentives in this direction, like the PLI scheme in technical textiles, creation of new HSN Codes amongst others, she added further.
Jardosh was speaking at the curtain raiser event for 'Technotex 2023', at Trident hotel, Mumbai.
The Ministry of Textiles, Government of India in collaboration with Federation of Indian Chambers of Commerce Industry is organising India's premier show on Technical Textiles- 'Technotex 2023' from February 22-24, 2023 in Mumbai, under National Technical TextilesMission (NTTM).
The curtain raiser was organised to brief the Foreign Missions in India, Media and the leading Technical Textile industry about the significance of the event, importance the ministry accords to the sector and to set the chord for meaningful deliberations in making the summit fruitful.
"Globally, the technical textile industry is a large, steadily growing market; this robust global market is waiting for the industry as both domestic consumption and export is expected to grow rapidly," said Jardosh.
She also mentioned that at this juncture, it is very important that we build a strong connection with the global industry, attract domestic & global investments as well as project India's strengths, initiatives & facilities in regard to Technical Textiles to the world.
Speaking at the event Chandrakant Patil, Minister of Textile, Higher & Technical Education, Parliamentary Affairs, Government of Maharashtra, said that the technical textile sector is one of the key constituents of the Indian economy and is also a focus of the Government towards AatmaNirbhar Bharat as one of the niche sunrise sectors of the economy.
"The textile industry in Maharashtra indeed holds strategic importance in India as it is the single largest employer, contributing around ~14% of India's total textile and apparel exports," mentioned Patil.
He also mentioned that Maharashtra's textile policy is aimed at generating 10 lakh new employment; attracting investments worth Rs 36,000 crore, and providing many benefits including competitive power tariff and increased capital subsidy etc.
Comparing the penetration of technical textile in Indian textile industries with global marketsRajeev Saxena, Joint Secretary, Ministry of Textiles, Govt of India said that at present technical textile penetration is only 8-9% of overall textile sector, where as in developed countries it goes up to 65% or so.
RoopRashi, Textile Commissioner, Ministry of Textiles, Government of India, said that Technotex 2023 vision is to look at India at 2047, how we grow from today to be the world leaders in all the segment, if possible, otherwise at least in some of niche segment in 25 years from now.
"We look forward to more than 15,000 business visitors in Feb 2023. We also look at a huge interaction with user industries within the Government of India as well as abroad all the diplomats and CEO's and so on," said Rashi.
Dhiraj Shah, Chairman, SRTEPC said that Technical Textiles are an advanced technology backed sunrise sector across the globe, which is steadily gaining ground in India.
He said that India has a low export share in the top 10 textile market, however, India exports Technical Textile of US $ 1 billion to USA, which shows the potential of Technical Textile export. "With adequate support from the government Technical Textile sector will grow and achieve its true potential," said Shah.
Mohan Kavrie, Chairman & Mentor, FICCI Technotex SME Organizing Committee & Chairman,welcomed Hon'ble Ministers and other dignitaries to the curtain raiser event.
Avinash Misar, Vice Chairman, Indian Technical Textile Association (ITTA), said that technical textile is currently in the most conducive environment and ecosystem. This is because of the continuous effort of the industry and indeed has a fantastic future ahead.
About TECHNOTEX 2023
TECHNOTEX 2023 is India's premier show on technical textiles. This spectacular flagship event comprises of an International exhibition, conference and seminars. A common platform for interaction amongst stakeholders from across the global technical textile value chain, TECHNOTEX 2023 exemplifies the immense potential for trade and investment between India and foreign countries in the technical textile sector.
The 10th edition of International Exhibition and conference on Technical Textiles i.e. TECHNOTEX 2023 is being organiSed jointly by the Ministry of Textiles, Govt of India and Federation of Indian Chambers of Commerce & Industry (FICCI) from 22 – 24 February, 2023 at Bombay Exhibition Centre, Goregaon, Mumbai – India. The event will serve as the right platform for interaction between the Indian and Foreign companies from the technical textile value chain.