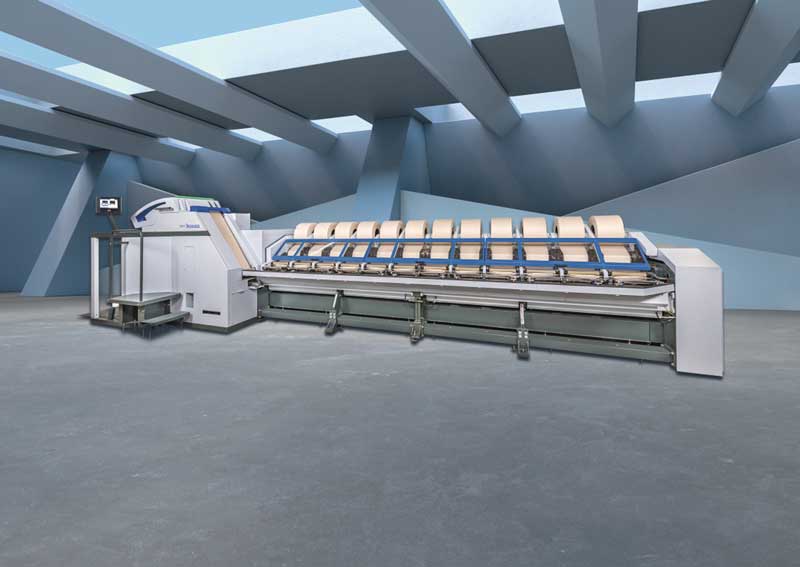 TCO 21XL: 12 heads boost production
The costs of running the machines are broken down into 12 instead of eight heads, making the machine more cost-effective over its entire operating life.
Trützschler is proud to present an exciting innovation for the textile machinery market: The high- performance comber TCO 21XL with 12 combing heads. For many decades, eight combing heads has been considered state-of-the-art in the spinning industry. Now, Trützschler's advanced technology and engineering proves that it is possible to build a heavy-duty comber that maximises productivity by 50 per cent and saves space – without compromising on quality.
They say two heads are better than one, so just imagine what 12 heads can do! That's the simple but effective idea behind the TCO 21XL. Increasing the number of combing heads by 50 per cent makes it possible to increase productivity by 50 per cent, enabling rates of up to 150 kg/h. As a result, two TCO 21XL combers offer the same production capacity as three conventional combers. And that means companies that buy and operate two machines instead of three can achieve significant benefits in terms of their price-performance- ratio (cost/kg). The costs of running the machines are broken down into 12 instead of eight heads, making the machine more cost-effective over its entire operating life.
50 per cent higher productivity is great – and it can be even greater if the machine is operated with JUMBO cans. The can changer needs to keep up with the extra performance, and JUMBO cans can easily collect the additional output of the TCO 21XL because they feature a 1200 mm diameter. This makes it possible to minimise non-productive time when changing cans. Anybody who is planning a new spinning mill knows that every square meter of space adds to the overall costs. The new TCO 21XL comber offers huge benefits in this regard because 25 per cent less floor space is required to operate same number of combing heads. This reduces the initial building costs, while also decreasing operating costs related to lighting, air conditioning and other overheads.
ONLINE NOIL MONITORING: New function solves a major challenge
As the world's leading manufacturer of spinning preparation equipment, Trützschler strives to produce reliable and high-quality machines – and it also place a strong focus on meeting their customers' needs and continuously improving the products. In this spirit, we have reinvented our tried-and-tested monitoring system by adding the unique ONLINE NOIL MONITORING function TCO 21XL. This means our COUNT CONTROL and ONLINE NOIL MONITORING functions are now working together to give customers full control over the combing process and the final yarn quality. Variations in the noil are detected automatically and operators receive a warning if a significant change occurs. In this way, the noil percentage and final yarn quality stay consistent. Material distinctions between different lots are also noticed in real-time, which empowers the operator to act quickly. This can enable big savings in material costs, while also reducing the workload of downstream process steps.
Trützschler opens a new chapter in the history of combing
Why is Trützschler able to build a comber with 12 heads, when eight heads have been considered cutting- edge for so many years? All their competitors have probably been trying to increase the number of combing heads too, but none of them have successfully overcome the challenges that come with this innovation project. Trützschler is the only manufacturer with the necessary technical expertise to open this new chapter in the history of large-scale combing processes. The double-sided drive concept of DUAL DRIVE and 2TWIN DRIVE ensures the synchronised movement of all machine parts over the entire increased shaft length. During the combing process, high-precision movements are essential to achieve high quality in the sliver. Conventional combers only provide one-sided drives, which lead to higher shaft torsion over the machine width. This might work when operating eight combing heads – but not if you add four more.
High-performance drafting system
12 combing heads produce 12 slivers, which is a lot more material for the drafting system to handle. Trützschler's high-performance drafting system delivers a decisive advantage in this respect because it is specifically designed for processing the increased production volumes. The lower deflection angle at the transition to the web guide protects the highly sensitive combed web, fibers are guided precisely and slivers with excellent levels of uniformity are produced. In the wide drafting system, the minimal bearing temperatures of the top rollers make an important positive contribution by enabling lower process temperatures during drafting, as well as optimal running behaviour.
About Trützschler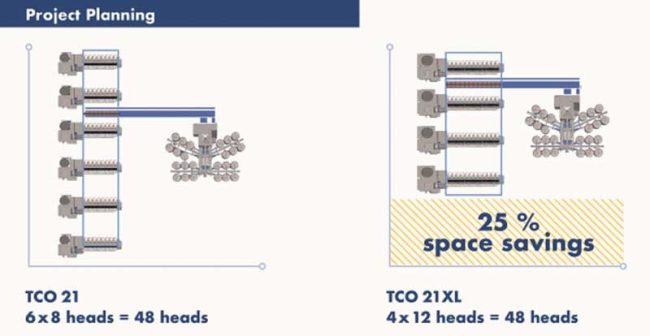 The Trützschler Group SE is a German textile machinery manufacturer headquartered in Mönchengladbach, Germany. The company is divided into four business units: Spinning, Nonwovens, Man- Made Fibers, and Card Clothing. Trützschler machines, installations and accessories are produced and developed in ten locations worldwide. This includes four factories in Germany (Dülmen, Egelsbach, Mönchengladbach, Neubulach), as well as sites in China (Jiaxing and Shanghai), India (Ahmedabad), the USA (Charlotte), Brazil (Curitiba) and Switzerland (Winterthur). Service companies in Türkiye, Mexico, Uzbekistan and Vietnam and service centers in Pakistan, Bangladesh and Indonesia provide customer proximity in key regions for the textile processing industry.