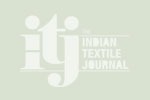 TC2, a boon to hand-weavers
For 35 years, Tronrud Engineering, Norway has been on the forefront of technological innovations and in 2012, its subsidiary Digital Weaving Norway (DWN), went a step further in pursuing the companys quest for excellence by rolling out the Thread
….Says Vibeke Vestby
For 35 years, Tronrud Engineering, Norway has been on the forefront of technological innovations and in 2012, its subsidiary Digital Weaving Norway (DWN), went a step further in pursuing the companys quest for excellence by rolling out the Thread Controller 2 (TC2). The TC2 is a digital weaving loom that overcomes the shortcomings of every other loom. Barely over a year old, the TC2 has participated in numerous exhibitions worldwide and received rave reviews from both industry experts and satisfied customers.
The foundation of DWN was laid in 1990, when Vibeke Vestby, then a weaving professor from Oslo, Norway, began toying with the idea of developing a weaving loom based on computer technology. Vibeke said that while teaching, several times she observed that talented students left weaving for printing or painting as they claimed that the meticulous preparation stages choked their creativity. She wanted creativity and craftsmanship alike to influence the interlacing of threads so that texture, structure and colours become embedded in the design. A loom, she believed, should ideally be like a sketchbook where you create woven hardcopies and with the Thread Controller, it was possible to do just that.
Vibeke Vestby partnered with Tronrud Engineering to develop the loom. It took four prototypes and five years of intensive research before the Thread Controller 1 was born. This was also when Digital Weaving Norway, a subsidiary of Tronrud Engineering, was set up.
In an email interaction, Vibeke Vestby, DWN Chief spoke to Samuel Joseph, Editor of The Indian Textile Journal, about DWNs breakthrough and potentials.
Excerpts:
SJ: From being a professor to an entrepreneur, can you tell us some details of your transformation & the journey?
VV: As an educator, I experienced that students lost interest in weaving because the processes were too cumbersome and slow. The TC1, and later, the TC2, were developed to remove the most time consuming tasks so that they could focus on the creative part of designing. I gradually realised that this was not only my dream as an educator – it was every weavers dream! To introduce a new product has many similarities to being an educator, so it was no big transition!:
SJ: What according to you are the unique features of DWN looms, which you have pioneered? How different are they from conventional looms?
VV: The unique feature is FREEDOM to create whatever you want without having to compromise! All traditional handlooms have a limitation to number of shafts and treadles. Jacquard looms have a limitation on the size of the jacquard head. The TC2 loom allows you to control every heddle individually. If you add more modules (heddles), you control these individually as well. Maximum is 10,560 warp ends!:
SJ: In the global weaving market, what is the reach of these looms?
VV: The TC2 is designed to facilitate what no other looms are built for: Total design freedom and flexibility! The loom is ideal for product development, prototyping, research and experimentation because you can start, stop and make modifications in seconds, and then proceed weaving. Likewise, the TC2 is ideal for high-end, exclusive production of limited amounts of designs for fashion, interior and historical textiles. Customisation can take place without stopping production looms!:
The TC2 cannot compete with industrial looms on weaving speed, but some qualities simply do not make it to production because they would require too many modifications to the looms, and disrupt the production flow. For such pr