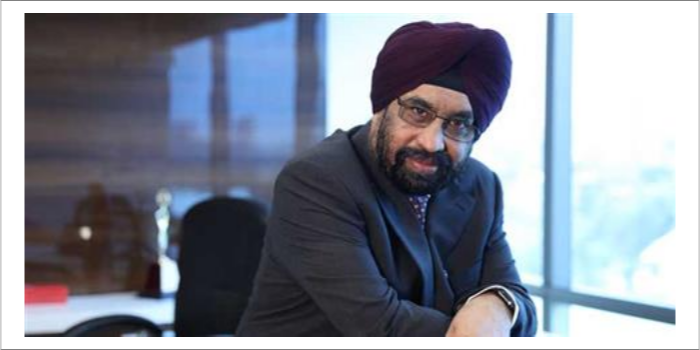 Sutlej Textiles aims to optimise eco-friendly operations
Sutlej Textiles and Industries Ltd - the flagship textiles company of the KK Birla Group whose roots date back to pre-Independence India - is a pioneer in superior spun yarns that have set industry benchmarks for innovation.
Sutlej Textiles and Industries Ltd – the flagship textiles company of the KK Birla Group whose roots date back to pre-Independence India – is a pioneer in superior spun yarns that have set industry benchmarks for innovation. The company is driven towards building a sustainable business with a prudent balance of financial robustness and social responsibilities. ESC (Environmental, Social, and Corporate Governance) is the heart of our business, says Updeep Singh Chatrath, who was elected as the President and CEO of Sutlej Textiles and Industries Ltd in April this year. During his prolific career spanning over 34 years, Singh has worked with well-known companies like Vardhaman Textiles, Welspun, ITEMA, etc. He comes with a diverse range of expertise in areas such as operations, HR, marketing, sourcing and distribution. In this interview with Rakesh Rao, Updeep Singh elucidates more of Sutlej Textiles passion for sustainability and innovation, and highlights on some of the major changes taking place in the Indian textile industry.
Sutlej Textiles has been in the industry since 1934. What has been its success mantra?
The core business of valued added yarn and spinning has been the strength of Sutlej Textiles and Industries Ltd. Since its inception, the company has shown consistent growth with a focus on the valued added yarns. The company produces a range of textile products that extends from yarns and fabrics to home furnishing. Sutlej today is considered to be one of the leading producers and exporters of value-added synthetic and blended dyed spun yarn in India. Equipped with state-of-the-art manufacturing equipment, Sutlej's Home Textiles division produces a wide product range in upholstery fabrics, drapery fabrics and made-ups. Sutlej has also built a strong global clientele with presence in over 65 countries, further setting its sights on becoming a global textile frontrunner.
In addition, the acquisition of American Silk Mills (ASM) in 2017 has helped in creating operational synergies between ASM and Sutlej; thus, enhancing the company's ability to create and produce an exquisite range of luxury performance fabrics for the residential, contract and hospitality markets.
Success of the company can be attributed to its financial robustness and effectively shouldering social responsibilities.
Early this year, Sutlej Textiles & Industries started production at its green fibre project. What is the significance of this project for the company?
Green fibre project was set up as part of backward integration plan and to fulfil the sustainability aspect of the growth. Sutlej Textiles aims to optimise environment-friendly operations to reduce carbon footprint, which prompted us to go for the green fibre plant to manufacture Polyester Staple Fibre (PSF) by recycling PET bottles. At peak capacity, the plant can produce 120 tonnes per day of fibre by recycling approximately 7 million PET bottles every day. Polyester fibre produced is predominately used in our own spinning operations across various locations. This project has helped the company in backward integration as well as to reduce carbon footprint.
What are your plans for décor brand Nesterra?
Nesterra is a premium home furnishings brand in the upholstery and drapery segment. Nesterra, which marks the foray of Sutlej Textiles into B2C space, is the company's first ever brand extension focusing on a consumer-first approach. Born from an amalgamation of nest (home) and terra (earth), Nesterra believes that our ethos lies in creating designs that bring You alive. Our story is completely immersed in the consumer we cater to, and hence we begin from the roots. Each piece that we create is inspired & intentional. Choosing the right colour, right design, which are then curated keeping in mind the varied personalities of each individual. Our collections range from minimal to uber audacious, because that's how we define You. Every individual is unique and at the same time multi focal and that is where our inspiration for the collection lies. Our collection boasts of creativity, colour, quality and technique coming together to weave the story of design superiority & inclusivity. With a strong retail presence across tier I & II markets, the brand will soon expand pan-India to cater to the tier III markets as well.
Are you seeing an increase in demand for eco-friendly, sustainable textile products (globally and in India)?
The demand for eco-friendly (sustainable) products and fibres is growing across the globe including India. Sutlej Textiles has the capability to spin almost all fibres and is ready as far as sustainable products are concerned. With respect to manufacturing, we have developed environmentally sustainable processes by adopting measuring such as water recycling, using solar energy, recycling raw materials, etc.
ESC (Environmental, Social, and Corporate Governance) is the heart of our business and the company is committed to this cause considering the fact that we produce products which consumes water and other natural resources. We are investing in modernisation processes which will help us achieve our sustainability goals and enhance profitability. Sutlej Textiles is one of the leading companies in India that is adhering to all ESC norms.
Why is the importance of ESC (Environmental, Social, and Corporate Governance) growing in the textile industry?
There is growing recognition about ESC in the Indian textile industry and most of the tier 1 companies are going for ESC as they see long term benefits in it. On the supplier side, machine manufacturers and chemical/dye suppliers are initiating steps towards ESC. We prefer to deal with companies who are ESC compliant across our value chain. With respect to raw material, the demand for organic cotton is on the rise and people at the grassroot levels are aware of this development. As a responsible buyer, we are creating awareness about environment-friendly processes and measures among our vendors & suppliers, and we are getting good traction among them.
Along with sustainability, automation is an area of focus for many companies. How is your company adopting to this trend?
Sutlej Textiles has been at the forefront in adopting latest technologies and modern processes. We are automating our machinery and looking for machines which are compliant with Industry 4.0. We are leveraging on digitalisation for predictive maintenance purposes and final products. Covid brought to the fore the importance of virtual (digital) presentation especially on the retail side of the business to be closer to the consumers. All these initiatives have been part of our digitalisation process across manufacturing and other business processes.
How is the market for value-added yarns and home textiles?
Value-added yarns market is driven by the fashion industry. Fashion cycles in the industry are reducing; earlier we used to have four seasons, now there are 6-8 seasons. Demand for value-added yarns (cotton as well as synthetic fibres) is growing because of fashion industry. In home textiles, consumers are increasingly looking for natural-looking, sustainable products.
During Covid period, the market for formal wear had declined, while demand for loungewear (which also uses value-added yarns) increased. At present, value-added yarns consumption is reaching pre-Covid levels.
Sutlej Textiles offers a range of premium home textile fabrics like upholstery, drapery (curtains), etc. As people had to stay back home due to Covid, these products witnessed a rise in consumption in the domestic and exports markets. Upholstery and drapery fabrics continue to gain traction even in the post Covid period.
What is contribution of exports to your business?
Sutlej Textiles has a strong brand reputation among textile manufacturers in key markets including Turkey, Bangladesh, USA, Poland, Egypt, Italy Portugal, Colombia, Africa, South Africa, Morocco, etc. Exports contribute about 40% to our top line. In the pre-Covid period, exports accounted for Rs 800-900 crores. Riding high on the pent-up demand, we showed good performance in the first quarter of this fiscal year and we expect the momentum to gain in the second quarter.
What are key challenges for growth at present?
Post Covid, the market is moving towards casual wear, active wear, knitwear, etc. However, we need to wait and see how sustainable this growth will be in the short-to-long term. Second, there is also an uncertainty in the industry with respect to the impact of the next wave or new variant of Covid on the market (domestic as well as global).
Another, challenge is the shortage of skilled workforce. Going forward, finding talent across functions – shopfloor, sales, business, etc – will be a major issue before the Indian textile industry.
Sutlej Textiles has been undertaking skilling and training programme for its employees to prepare them for the future. At the same time, we are engaging externally with education institutes to offer practical industrial training to students to equip them with required skills so that they can be easily employed in the industry after completing their academics.
How do you foresee the growth of Indian textile industry?
The performance of the Indian textile industry has been good; but could have been much better. In the global textile trade, India few years ago was distant second. Now, other countries like Bangladesh and Vietnam have overtaken us, while India's share in the global trade has remained stagnant at 4-5%.
India could not unleash its true potential due to its fragmented structure. We have a week link – i.e. weaving & processing – in the textile value chain, and India cannot grow in the value-added textile product segment globally unless the country strengthens its position in weaving. Today, India is known for its spinning capacity as we have access to high-quality machinery and technologies which are produced by domestic manufacturers. However, in weaving & processing, there is dearth of good locally produced machines and we are dependent on imports. The industry bodies have raised this issue with the government, which is actively working on the policy to promote weaving and processing machinery manufacturing in India.
The government has renewed its focus on increasing exports of textile products. It is targeting $44 billion of textile exports this year and aims to take it to $ 100 billion in the near future. Indian textile industry has all the ingredients to grow not only in exports but also in the domestic market. Given India's huge local consumption, the textile industry's $ 300 billion target should not be a distant dream.
What will be the impact of Production Linked Incentive (PLI) scheme on the industry?
PLI scheme shows the commitment of the Government of India and is an excellent example of collaboration between the policy makers and the industry. We should take this opportunity to explore new markets and focus on value-addition to strengthen India's standing in the global textile market. Indian textile industry is set for a robust growth in the next 3-4 years.
The PLI scheme for man-made fibre (MMF) and technical textiles with a budgetary outlay of Rs 10,683 crore will help to the industry to scale up and increase value-addition. This is a very good move by the government to provide impetus to the industry. It will help the industry to increase products in its export kitty especially of MMF products and technical textiles.
What are some of the emerging trends in the textiles industry?
There will be growing emphasis on sustainability and more demand for functional textiles. For example, demand for products like fire-retardant, coated products, etc is on the rise. Recycling is also gaining traction. Big brands are adopting the four R's policy – Reduce, Reuse, Recycle and Recover – and this stands true for the textile industry as well.