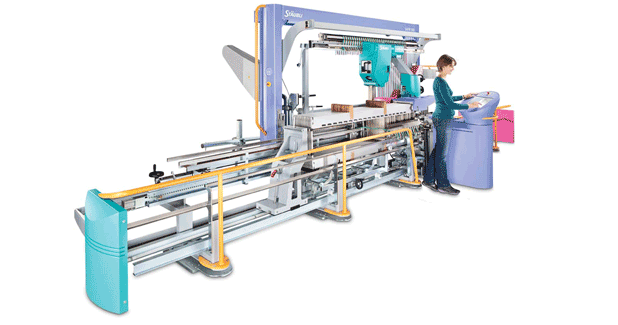 Staubli's weaving solutions at IGATEX
The machines feature state-of-the-art technologies developed through more than 125 years of experience and passion for continued research to bring even more advantages to every weaving mill.
The machines feature state-of-the-art technologies developed through more than 125 years of experience and passion for continued research to bring even more advantages to every weaving mill.
Stäubli, renowned global provider of weaving solutions, presented its current range of machinery at its agents' booth at IGATEX in Pakistan. Stäubli's broad product range includes solutions for automated weaving preparation, frame and Jacquard weaving, and carpet and technical textile weaving. The machines feature state-of-the-art technologies developed through more than 125 years of experience and passion for continued research to bring even more advantages to every weaving mill.
The Pakistan weaving industry is currently seeing growing demand for heavy and large-format Jacquard fabrics such as upholstery or terry cloth. Stäubli's range of Jacquard machines perfectly covers the requirements of these applications.
Stäubli Jacquard machines
Since the introduction of electronic Jacquard machines in the 1990s, Stäubli SX and LX series Jacquard machines have gained significant market share and are now recognized worldwide for their high performance, easy handling, and very long service life.
Whether weaving upholstery fabrics, terry cloth, or technical textiles, Stäubli Jacquard machines master every challenge. The recently re-engineered LX series features a lifting mechanism that allows high-speed weaving of even extremely heavy fabrics. With a coaxial drive shaft and a special chassis supporting the beams and bearings, the latest models can handle up to 26% greater loads than the previous models. Improved positioning of the fans in the LX housing optimizes internal airflow, ensuring that the machine interior remains clean and at a controlled temperature. LX Jacquard machines are available in sizes up to 6,144 hooks.
The latest models in the LX Series, the LXL and LXXL, are likewise built for high speed but also for even greater load capacity. These models can be equipped with a number of hooks ranging from 6,144 to 25,600. By combining two LXXL machines, formats up to 51,200 can be achieved.
Both the SX and LX series include special models for the production of all sorts of velvet fabrics: the SX V, the LX V, and the LXL V. Offering the possibility of flexible combination of the 3-position modules with the height-adjustable two-position modules, the pile and ground warp can be activated with the same machine.
A key feature of every Stäubli SX or LX Jacquard machine is the MX module, which controls the precise up-and-down movement of each and every hook. The MX module is made of optimized materials and delivers remarkable service live.
Weaving mills can enjoy choosing from a competitive product range of Stäubli Jacquard machines, enabling them to respond swiftly to changing market demands. And because a precisely matched Jacquard system gives mills even higher performance, Stäubli even offers high-end harnesses for any application.
Automated weaving preparation solutions
Weaving preparation, both warp tying and drawing in, requires skilled and experienced craftsmanship in order to assure perfectly prepared warps, which are necessary if the mill wants to work efficiently. But it has become more difficult to find reliable staff willing to execute monotonous tasks like warp tying or drawing in. What's more, quick style changes present a challenge to weaving mills in terms of high-quality requirements and efficiency, necessary in order to stay competitive.
Stäubli offers automatic warp-tying machines for reliable single- or double-knot formation at maximum tying speeds. The machinery ensures efficiency, and the warp threads are perfectly drawn through the weaving harness. At the booth, visitors can observe the TOPMATIC tying machine, a perfect workhorse for mills weaving cotton, wool, silk, blended yarns, filament yarn, monofilaments, or technical yarns in a count range from 0.8-500 tex (Nm 2 – 1,250 / Ne 1.2 – 740, depending on the material).
For frame weaving mills, Stäubli provides SAFIR automatic drawing-in machines, which have proven their capabilities in a very wide range of applications. The SAFIR S60 drawing-in machine for instance is particularly suited for premium shirting fabrics, men's outerwear, home fabrics, and technical textiles. The yarn is drawn directly from one warp beam into the drop wires, healds, and reed. State-of-the-art technologies like optical yarn recognition assure high quality of the finished drawn-in harness, in particular, precise colour repeats and no double yarns. For woollen applications, the installation can even recognise and manage S/Z-twisted yarns. The versatile range of drawing-in installations features modular design, so the machines can be exactly configured to any mill's specific requirements.
ALPHA weaving systems
Stäubli's ALPHA 500 series includes weaving systems for the creation of an extremely wide variety of rugs and wall-to-wall carpeting for the residential, contract, and transportation sectors. Many of the leading carpet weavers around the world use ALPHA machines in their mills to quickly respond to virtually any requirement. These carpet weaving systems can efficiently produce a large product range in excellent qualities, with impressive patterns up to 4 million points/sq m and weaving widths up to 5.3 m.
No matter how good a machine is, its full potential can be realised only through perfect operation. That's why customer support is a top priority at Stäubli. As a consultancy partner, the company analyses the mill's needs with the customer to choose the best machines and solutions to cost-effectively meet the stated goals. Stäubli's experts are there to assist – from initial planning all the way through to final handover of the equipment. And after overseeing installation, testing, and fine tuning of the machinery, Stäubli trains the operators and production planning staff so that the mill is sure to derive the fullest benefit from the high-performance equipment. Highly competent service technicians complete Stäubli's comprehensive service offer.
Stäubli provides innovative technological solutions in three dedicated fields of activity: connectors, robotics and textile. With a workforce of over 4,500, the company generates an annual turnover exceeding 1 billion Swiss francs. Founded in 1892, Stäubli is today an international Group with its head office in Pfäffikon, Switzerland. Stäubli is active on all major continents and manages 12 production sites. The Stäubli Group is present in 29 countries through its sales and customer service subsidiaries. The group's global network is completed by agents in 50 additional countries. Stäubli Textile has been developing and producing high-quality systems for the weaving industry for over a century. The company holds a strong market position in textile machinery.