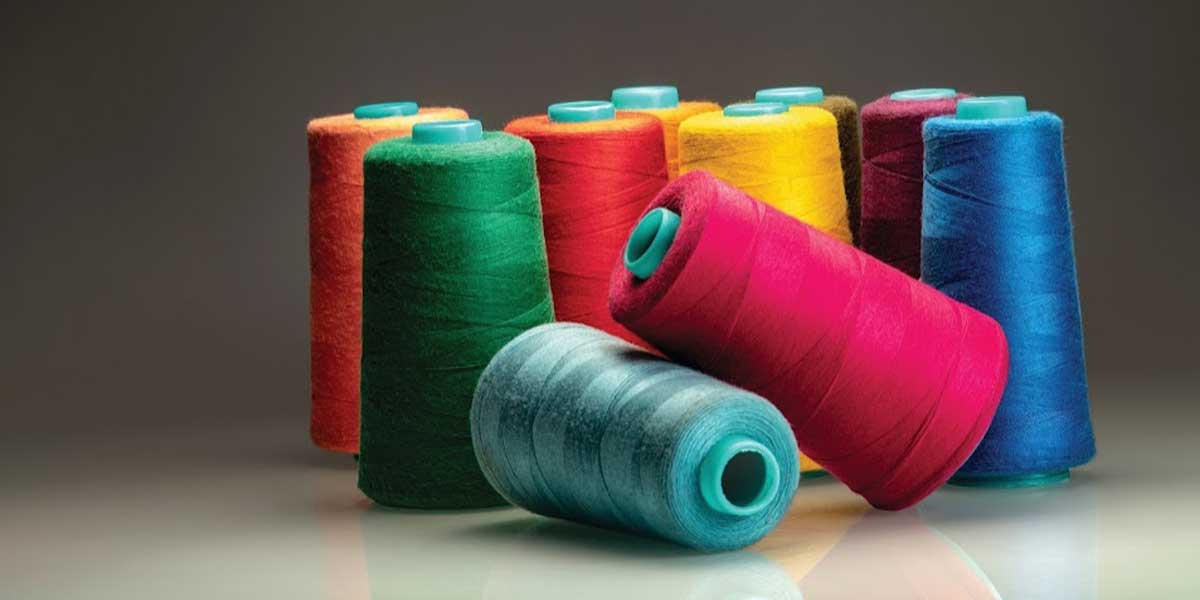 Spinning profit with MMF
As the industry is moving towards achieving the export target of $ 100 billion, government as well as the industry experts believe that Man made fibre will be the major contributor to this growth as India already stands 6th in exports of MMF textiles accounting for 16% of global market. Divya Shetty analyses the industry's readiness to take the lead in the global MMF textiles market as well as the problems that must be resolved in order to accomplish the objective.
Traditionally, the Indian textile industry has focused on cotton, but as manmade fibre (MMF) has gained popularity around the world, Indian brands and manufacturers are also expressing a keen interest in it.
Today, ratio between natural fibres and manmade fibre textiles is 60:40 per cent. Indian manmade fibre textile industry is the second largest industry in the world after China. Global, India contributes 8 per cent of MMF production. The reason behind high demand is limitations in production of natural fibres in India, because of the restriction of land usage. Presently, the production of manmade fibre is about 5.5 million tonne.
India produces all types of synthetic fibres like synthetic yarn, fabrics, made-ups, and home textiles. The MMF fabrics hold a majority share in export segment, followed by made-ups and yarn. India is completely self-dependent across the value chain, from the raw material to the garments.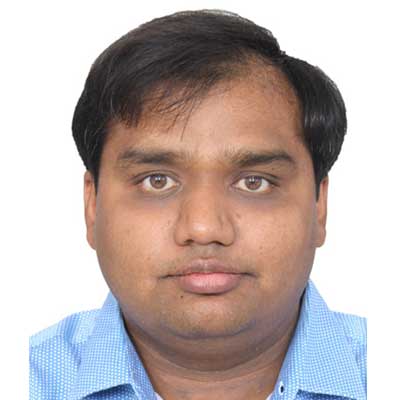 Sapan Majundar, Managing Director, Hemlon Synthetics, says"With introduction of different kind of filament yarns, the awareness of  MMF has increased in the customers (see Figure 1). They have started to replace the natural conventional fibre with manmade filament yarn."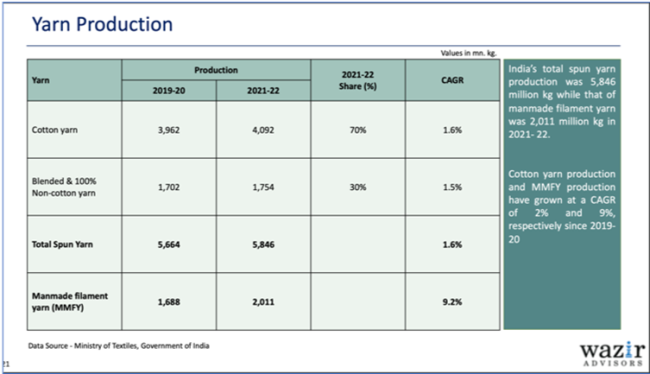 Image courtesy: Wazir Advisors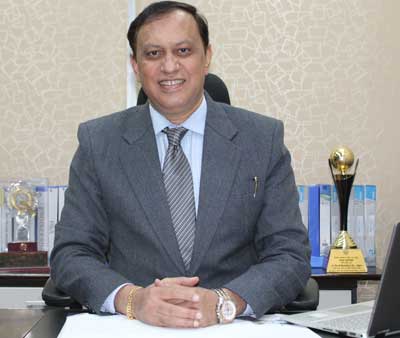 The Indian textile industry is currently facing a pivotal moment as it navigates through new opportunities and challenges brought about by geopolitical changes and shifting trends in the global market. Balkrishan Sharma, Joint President & Business Head, Ginni Filaments, suggests, "To become a leader in the industry, India must focus on achieving top-notch manufacturing capabilities and streamlining processes to improve customer service. The country stands to benefit from the growing demand for alternative sourcing locations beyond China, as India possesses a complete value chain, unlike other nations such as Bangladesh and Vietnam."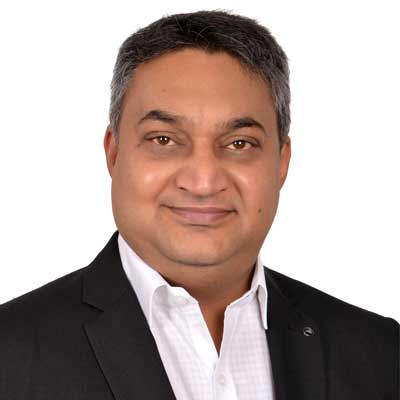 Talking about the benefits of MMF, Vikas Zaveri, Owner-Director Sales & Marketing, Karthikeya Spinning & Weaving Mills, shares, "MMF Spinning is slowly gaining traction and we expect it to grow by a CAGR of about 10 per cent a year because it is more durable and less expensive and one can make a lot of value-adds in MMF spinning."
Potential for MMF
Over the next ten years, demand for synthetic fibres is anticipated to surpass that of cotton fibres. Limited cotton output, rising demand for textile products due to population expansion, relatively high cotton pricing, and an increase in the use of synthetic fibres in industrial applications are some of the factors driving the growth in demand for MMF (see Figure 2).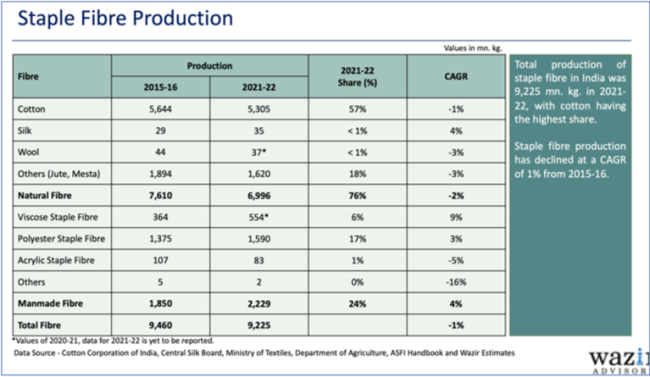 Image courtesy: Wazir Advisors
Since COVID, much development took place in the electronic segment leading to redesigning of chips for various use in electronic parts. Although this has disturbed the supply chain, delivery and manufacturing cost, this will be the scope of supply for new and future spinning machines hence adapting to the change and acknowledging the new design would actually improve the performance of the machine and its productivity.
Despite the challenges, the MMF industry in India is also being presented with new opportunities, such as a growing demand for sustainable and eco-friendly products. Additionally, innovation in MMF production allows for a range of different forms, such as microfibres and smart textiles, which can open up new markets for manufacturers. The durability of MMF fibres also makes them more attractive to consumers for certain uses, such as outdoor clothing. Furthermore, MMF fibres can be more environmentally friendly than cotton, as they require less water and land to produce and can be recycled more easily.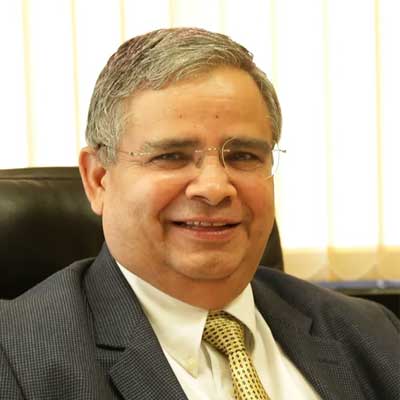 Nylon being the most important fabric under MMF, Pawan Kaushik, First generation entrepreneur, PNP Polytex, explains how the Indian market can grab the opportunity, "nylon was invented in 1939. And polyester was invented in 1943. It's been only 80 years and today the world is having 80 million tonne consumption of polyester. Knowing the potential of nylon, India can be thriving market for all the mid and small players if they give equal opportunity and offer us simple tax laws."
"In India, production of nylon is only 150,000 tonne a year whereas in China it is 5 million tonne. So we are nowhere in nylon. India has the manpower to meet the needs of this increasing demand. The government needs to provide a level playing field to the small players," adds Kaushik.
MMF's concerns
The Indian man-made fibres (MMF) industry is a major player in the global market, but it still faces various obstacles. These include higher production costs for materials such as polyester and nylon in comparison to cotton, as well as energy-intensive production processes. Additionally, imported products pose a significant threat in terms of competition, and a lack of technological innovation and consumer awareness about MMF products make it harder for manufacturers to market and sell them. "The Indian government has traditionally been more supportive of the cotton industry, making it even more challenging for MMF manufacturers to compete. Another issue is that MMF fibres are not as breathable and comfortable as cotton, which makes them less appealing to consumers," expresses Sharma.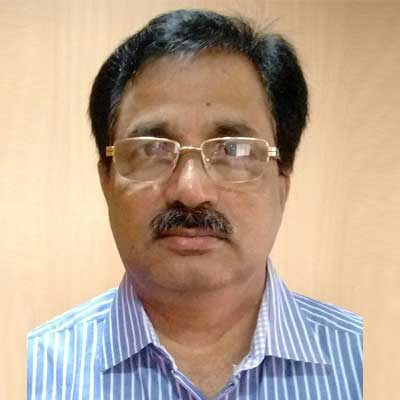 S Balaraju, Former Additional Textile Commissioner, states, "Coming to the strategies what government has to adopt, this is mostly capital intensive industry and high technology involved compared to cotton and the other value chain. And spinning particularly, manmade fibre spinning, they are all imported machinery for high value and we have some machinery in the downstream like weaving. Even weaving also, if you go for high tech and high quality production, you need to again import looms. Knitting industry machinery is also completely why imports though they are Indian machines, but quality wise production wise is not up to mark and then coming to garmenting, all machinery are imported. Production is a major link between fabric and garments. We don't have high tech weaving in India. And if you want to have high value fabric and a textile processing, people even now are sending abroad and getting it processed and bringing back to India for further valuation."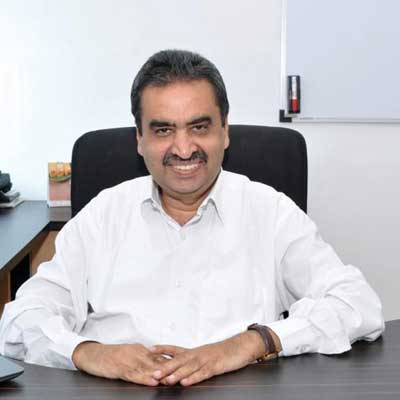 Supply chain disruptions is one of the biggest challenges which manufacturers still continues to face globally—adding costs and requiring businesses to adapt quickly. "The industry is facing a volatile supply-chains with increasingly higher demand, rising costs of raw materials and freight, thus leading to increase in parts cost, delay in delivery," reckons Ashok Juneja, Director-Sales, Saurer. 
The global shortage of semiconductors continued to haunt the manufacturer in 2022 leading to delay in the machine delivery and spare parts. Although the chip shortage and supply bottlenecks have begun to ease, semiconductor and supply chain issues are unlikely to be resolved in the near-term and are expected to continue to affect production in 2023.
Due to Covid scare and the Ukraine war, transportation is another challenge due to congestion at critical ports. As demand outpaces supply, higher costs are more likely to be passed on to customers.
"Due to steep increase in raw material price, the manufacturing cost of various spare part have increased to exorbitant amount thus increasing the cost of manufacturing machines," adds Juneja.
Also due to vague delivery time of electronic spare parts the manufacturing of machines are getting delayed which is a biggest stress to suppliers and customers.
Present exports of manmade fibre value chain is about $7 billion. And by 2030, the target is about $ 20 billion exports that are ready now, so there is a good potential. But we will have to address the bottlenecks in the value chain and also treatment like other natural fibres, policy parity should be there between all the fibres. "If you see the GST on manmade fibres, it is a completely inverted structure and the fibre it is 18 per cent GST, yarn 12 per cent and fabric 5 per cent. So, at every stage there are some input taxes that are being employed which is adding to the cost and if you want to compete in the international market, you need to address this uniform tax rate like cotton. Having similar structure is required for manmade fibres also," echoes Balaraju.
Why cotton consumption is dropping…
The cotton spinning industry in India is known for its low levels of productivity, making it challenging for manufacturers to compete with other countries. India's cotton yield per hectare is significantly lower than other countries such as China, Brazil, and Turkey. To improve this, India needs to adopt global best farming practices to increase production and productivity. This can be achieved by revolutionising seed development, improving fibre quality through advancements in ginning, and investing in research and development throughout the entire value chain.
Additionally, steps must be taken to protect crops from pests like pink bollworm, and promoting practices such as drip irrigation and high density planting. The cotton industry is also vulnerable to weather and pests, leading to fluctuations in availability and price. To mitigate this, India should explore the use of Artificial Intelligence (AI) based technology, rainwater harvesting, inter-cropping and other practices to increase cotton yield.
Retailers and brands have been reducing orders in the early months of fiscal year 23, leading to a 55 per cent decrease in exports of spun yarns from April to November of 2022, from 1184 million kgs to just 527 million kgs. If this trend continues, the exports of spun yarns will be the lowest in the past five years.
Sustainability in MMF
The environmental effects of textile manufacture have recently come to people's attention, especially in the MMF sector. As a result, there has been a move toward more environmentally friendly and long-lasting fibres, like recycled and regenerated fibres. These fibres are created by collecting, cleaning, and processing post-consumer or post-industrial waste, such as plastic bottles or textile scraps, in order to produce new yarns or textiles. This method lessens the amount of trash in landfills and the demand for fresh raw materials, lowering the environmental impact of textile production.
The cellulose found in wood pulp is one of the natural basic ingredients used to make regenerated fibres. The processing of these fibres to create new yarns or fabrics is also thought to be environmentally good because it uses fewer non-renewable resources, such as petroleum. Businesses in the MMF sector are concentrating on research and development to improve the functionality and characteristics of the fibres. "In order to manufacture fibres with enhanced properties including moisture management, UV protection, and durability, new production techniques are being developed. Additionally, they are looking into ways to make recycling and regeneration procedures more effective and environmentally beneficial. Overall, the transition to environmentally friendly and sustainable fibres is essential for minimising the negative effects of textile production on the environment and fostering a more sustainable future for the MMF sector," updates Sharma.
"In its role as market and innovation leader, Saurer has been offering comprehensive solutions for recycled fibres for decades. Our development focus is always on quality, energy saving and economic efficiency," informs Juneja.
Rajeev Tulshyan, Chairman, Kennigton Group adds, "All the brands are now asking for recycled fibres and yarns, hence we are making recycled yarn which is GRS certified."
Since sustainability is the industry's mantra, all businesses are making sure that they leave no stone unturned.
"We, as a company, are totally focusing towards sustainability. Our electricity is reused and our manufacturing facilities are sustainable and green," assures Zaveri.
Even Majundar says, "We are GRS certified and we are doing this since long time. Sustainability is the key of our business. We assure our customers that any yarn which they are buying, if today it is in a non-sustainable source, we are assuring them to replace with the sustainable ones."
Balaraju, on the other hand, expresses concern over the limited supply of PET bottles. He says, "India is quite competent in increasing the sustainable textiles capacity and particularly PET bottles recycling is taking good shape now, you have good units all over India. There are some problems in sourcing the PET bottles. Earlier they allowed importer of PET waste, and then fibre and all entire allosteric goes up to the augmenting it used to do at and now they're doing it but only thing is there are some problems in availability of PET bottles for the industry is doing very good value addition and it is the future for India okay."
Government action
While the industry is positioned to take the lead in MMF globally, the government is making every effort to support the sector by introducing policies and programmes.
Production Linked Incentive (PLI) Scheme for Textiles: PLI Scheme for Textiles is specially focused at high value and expanding MMF and Technical Textiles segments of Textiles Value Chain. Incentives will be provided over five years for manufacturing notified products of MMF Apparel, MMF Fabrics and segments/products of Technical Textiles in India.
National Technical Textile Mission: Technical textiles is one of the fastest growing sub-segments in India and has been recognised as a champion sub-segment under textiles. With a view to position the country as a global leader in technical textiles. The Mission is set up for a four-year implementation period from FY 2020-24.
Remission of Duties and Taxes on Exported Products (RoDTEP) Scheme: RoDTEP scheme will take under its ambit refund of GST taxes and import/customs duties for inputs along with VAT on fuel used in transportation, mandi tax, duty on electricity used during manufacturing.
Industry braces up for transformation
The relevance of MMF as a key growth engine and sector that generates employment must be acknowledged for the development of the Indian textile industry. The domestic industry is beginning to embrace MMF as a way of expansion, particularly in light of the recent spike in cotton costs. In order to enhance the production of synthetic fibre and filaments, it is necessary to improve the capacity for raw materials like PTA, MEG, and polyester staple fibre. Currently, raw materials like PTA and MEG are subject to an 18% GST, polyester filament and spun yarn are subject to a 12% GST, and cotton-dominant yarns are subject to a 5% GST.
There is a standard 5% GST at the fabric stage, regardless of whether it is cotton or polyester. Due to the fact that the duty on capital expenditure is sitting as a credit that cannot be returned or used, these inverted duty structures create significant input tax credits at various points throughout the supply chain. This is a major barrier to investment. These tax anomalies would be eliminated by a uniform GST, which will also promote the expansion of the textile and garment sector. In the end, the essential components of the Indian textile industry will continue to be sustainability, circular economic business models, transparency, traceability, digitisation, general competitiveness, scalability, and balance between MMF and cotton.