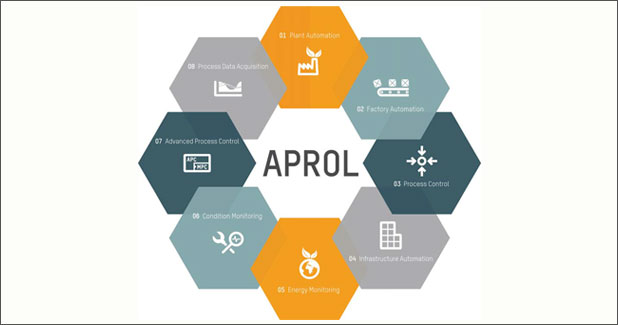 Smart technology for smart textile
APROL enables factories to implement energy monitoring, condition monitoring and process data acquisition in one system.
APROL enables factories to implement energy monitoring, condition monitoring and process data acquisition in one system.
With digitisation, the manufacturing industry in India is undergoing changes in all areas rights from machine development to factory shop floors. Companies have understood the importance of IT/OT convergence and many have already started taking steps in this direction. Automation has long changed manufacturing and digitisation is further changing the way factories operate. Textile industry [too] is looking at digitisation as an enabler for quality improvement and cost competitiveness. This has prompted the use of connected equipment, software and advanced automation technologies in various areas such as yarn production, fabric production, finishing, production management, inventory management and other areas.
Impact of trends and technology
The labour-intensive textile industry is using automation for many processes like cotton picking, ginning, spinning, weaving, processing, and even to some extent in garment making. Commonly attributed advantages of automation include higher productivity, more efficiency, better quality, more customised products, improved safety and reduced lead times.
A higher degree of automation lowers cost and increases quality at greater speed and higher output. However, human and machine safety, energy savings, less maintenance, self-diagnostics and predictive maintenance to increase machine and plant uptime are some of the challenges the textile industry is facing. Cutting-edge automation solutions and technologies help tackle these challenges, achieve excellent performance and stay ahead of the competition. New trends are not only reshaping manufacturing processes but also helping plants and factories become smarter, connected and more efficient.
Adoption of these developments in the textile industry ensures a high return on investments (RoI) and helps India leapfrog the global competition. Increasing emphasis on governments "Make in India" campaign coupled with the need of meeting global manufacturing standards makes it imminent for the Indian textile industry to adopt latest technologies and automation solutions.
Machine builders and end users are closely looking at leveraging next-generation technologies to control and monitor machines, factories and processes.
Textile being one of the oldest industry in India has its own challenges while adopting technology advancements. Many textile factories have decade old machines still running on the shop floor having legacy systems and networks and much of operations still being manual or semi-automatic.
Within this environment, existing equipment, machines, devices and sensors are not connected. Operators collect data manually from every machine about production output, raw material consumption, etc. to calculate RoIs and OEE. Disconnected machines is one of the challenge associated with brownfield textile factories. Unavailability of real-time data restricts and delays decision-making and thus hampers profitability. However, upgrading these machines for leveraging technology is not a solution as it involves huge capital investment. Textile factories are looking for solutions, which gives advantages of new trends with minimum investment and maximum RoI.
APROL: Adding smart to factories
Many textile mills running isolated legacy equipment are not able to monitor real-time data of energy usage, product quality and productivity. To get more out of digitally isolated legacy equipment and make manufacturing processes more transparent the solution is to make existing factories flexible and modular.
APROL system from B&R satisfies all the requirements of brownfield as well as greenfield sites with flexible and modular solutions without neglecting the high demands on availability and data consistency.
APROL enables factories to implement energy monitoring, condition monitoring and process data acquisition in one system. This is a cost effective solution for factories, as they do not need different systems for satisfying different needs. This can make new installation as well as existing installation smart and Industrial IoT ready. In a single, consistently easy-to-use platform, APROL unifies process automation, factory automation and infrastructure automation.
The B&R Edge Controller makes it possible to acquire data, evaluate it and then send it to the cloud. It also facilitates gathering data from various controllers on the field and moving it to the MES/ERP or the cloud. The powerful industrial PC can even be used for big data analysis and machine learning, while at the same time serving as a full-fledged industrial controller.
The enormous benefits of APROL – hardware, software, redundancy and out-of-the-box solutions coupled with open source communication standards such as OPC UA, Ethernet POWERLINK and openSAFETY enable factories to add value to their already available production processes by increasing profitability and reducing losses and wastage.
Data at your fingertips
Those associated with textile industry are very much familiar with the dilemma of improving product quality, increasing system availability while at the same time cutting back on maintenance costs. Equipment is a major investment for any company and keeping it up and running is critical. Predictive maintenance plays a vital role in monitoring the condition of equipment in the factories.
Equipment condition monitoring helps to reduce machine downtime and maintenance cost. APROL ConMon monitors the health of machinery making it ideal for implementing condition based predictive maintenance. APROL ConMon makes it possible to acquire, process and assess relevant condition parameters and can be set up with minimal efforts. It makes implementation of condition monitoring system and plant asset management solutions considerably easier.
Energy consumption in a textile mill is huge and with energy bills soaring, it makes monitoring energy consumption in factories the need of the hour for reducing operational expenses. APROL EnMon is an energy monitoring package allowing factories to measure, record and analyse energy consumption. Historical data allows detailed analysis of energy consumption, making it easy to identify cause and effect. By monitoring real time energy utilisation, companies can reduce operating costs and eventually improve their competitiveness in the market. Centralised acquisition of operating and process data from machines and equipment is much easier using B&R's APROL system. Centralised data acquisition with APROL PDA enables complete online performance monitoring and visual overviews.
Powerful and extremely reliable long-term archiving makes it possible to track quality for the entire manufacturing process.
Calculation of overall equipment effectiveness, line effectiveness and possibility to view reports and trends at the click of a button makes APROL PDA a highly sought for solutions in factories. Highly flexible reports and trends with integrated analysis functions provide support for production optimisation. The combined display of ongoing data, alarms and events in the trend viewer provides management with a holistic view of their machine and factories across the globe.
Smart manufacturing with B&R
To remain competitive in era of Industrial IoT, digital transformation is the need of the hour. B&R offers complete hardware and software solutions, comprehensive service and expertise in automation and digitalisation of textile machinery and factories.
With next generation technologies and open source communication standards such as OPC UA, POWERLINK and openSAFETY as well as the powerful Automation Studio software development environment, B&R is the right partner for implementing Industrial IoT solutions in both new and legacy equipment. With solutions for machine to factory automation, B&R serves as a perfect partner to textile industry for sustainability, flexibility, higher productivity and profitability.
"Edge architectures from B&R enable factories to become Industrial IoT ready providing real-time control, security, internet connectivity, data aggregation, data historian, business intelligence, machine learning and long-term storage. Edge controller enables factory operators to leverage the benefits of latest technologies even for legacy systems and brownfield installations."
– Mukund Patil, Head Sales & Applications – PFA
The article is authored by Pooja Patil, who is from Corporate Communications at B&R Industrial Automation. She can be contacted on: pooja.patil@br-automation.com