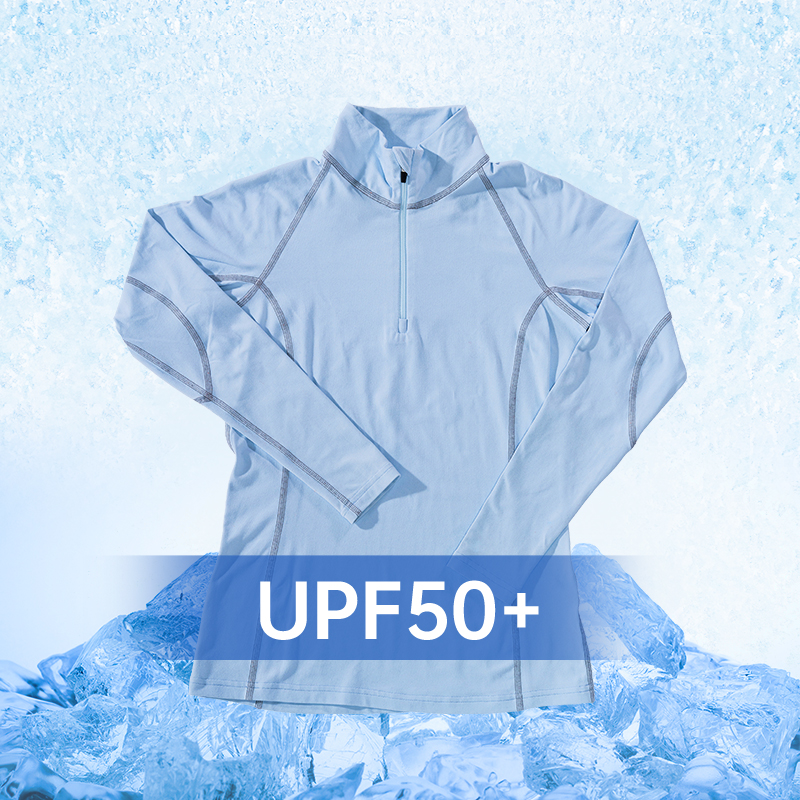 Skin protection the textile way
Warp-knitted sun protective clothing triggers HKS 2-SE boom.
People in China who protect their skin from harmful UV rays are not only doing something for their health, but also for their appearance. In the Middle Kingdom, fair skin is traditionally considered noble and aristocratic. In view of increasingly sunny summers, however, it is becoming increasingly difficult to conform to the ideal of beauty. Just this year, China experienced an extreme heat wave with temperatures of up to 52 °C locally.
Sunscreens protect against sunburn, but their application and the constant need to reapply them are cumbersome. In addition, many products are suspected of being harmful to health themselves due to their ingredients.
As a real alternative, UV clothing and accessories are gaining more and more acceptance and promise good business, especially in the wake of the growing trend of outdoor sports. According to statistics from China Insights Consultancy, their market reached a volume of around 67 billion yuan in 2022, and is expected to grow by 9.4 per cent annually until 2026, 3.5 per cent more than from 2016 to 2021.
In demand is clothing, as the most important product group, followed by hats, shoes and accessories, which include sunglasses, sleeves and gloves. This year's top sellers also included facekinis: masks that cover the entire face.
The top material for producing the UV-effective body coverings is an elastic warp-knitted fabric from the tricot machine HKS 2-SE. The demand for the smooth single tricot fabric has made the two-bar HKS one of Karl Mayer's best-selling machines in China this year.
Ulrike Schlenker, my Textile News editor, wanted to know more about the reasons for the boom and asked Liu Guantong, Textile and Applications Engineer at Karl Mayer (China).
US: What makes the HKS 2-SE product so attractive for use in sun protective clothing?
LG: The warp-knitted fabric convinces with its overall performance. It is UV effective, but in addition, smooth, thin and light with a fabric weight of 160 g/m², so just right to lie comfortably on the skin in the heat. For its production, the polyamide microfilament yarn and elastane are processed in two open short tricot lappings. The warp-knit structure provides enough openness for breathability and enough density for the desired protective effect. With 50 stitch courses/cm and 80 wales/inch, the warp-knitted fabric is finer than comparable circular knits. Its UV protection factor (UPF) is 50+. Other advantages are in processing and wearing, such as free-cut style, comfort stretch with high recovery, good shape retention and a nice drape. In addition, the short underlap ensures high snagging resistance.
US: Why did you decide to use a polyamide microfibre yarn?
LG: This yarn material offers several advantages due to its unique properties. The most important one for us was, of course, its UV resistance. Other benefits include a soft hand, a good feel against the skin and instant cooling on contact. In addition, polyamide microfiber yarns have long proven their worth in the mass production of knitted fabrics.
US: Sun protective clothing is not new. Previous textiles for this purpose were often woven. They were often made of natural fibres, e.g. linen. What advantages do the warp-knitted counterparts made of man-made fibres offer?
LG: In the past the majority of sun protective clothing was made of polyester woven fabrics. They are now being replaced by warp-knitted fabrics made of polyamide and elastane, for example, as these offer better comfort and breathability. Natural fibre yarns are less suitable. Linen, for example, feels rough, creases easily and can only be processed with reduced productivity. Cotton and wool have poor UV resistance compared to polyester and polyamide.
US: The yarns are processed on an HKS 2-SE. Why has this particular machine become established in the production of sun-protective clothing?
LG: The machine is specialised in the production of standard elastic goods. It perfectly combines efficiency and precision. At a rotational speed of 4,400 rpm, an output of around 85 m²/h finished fabric is possible, depending on the yarn selection, even with the high gauges of E 36 and E 40 used. The textile products are of the highest quality.