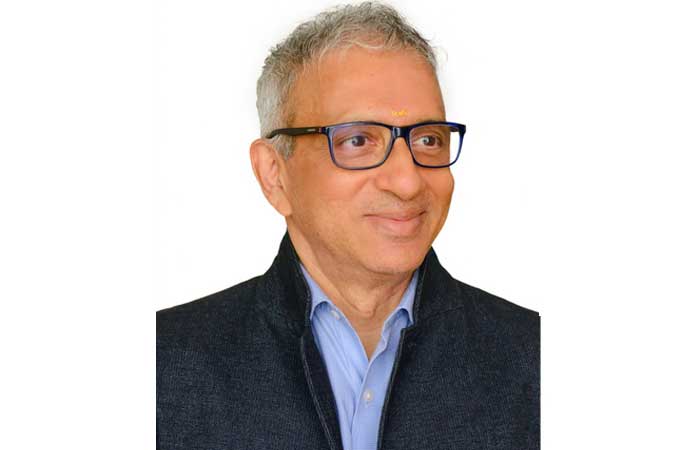 SIMA Chairman says India is the most favoured destination
There is plenty of opportunities for the Indian T&C industry arising globally as the majority of companies and customers are looking for market diversification and explicitly, India is the most favoured destination, says Ravi Sam.
Textile and Clothing industry plays a very important role in the Indian economy and is a key driver of economic growth. India is the 6thlargest apparel and textile exporter of the world. Indian textile industry is the second largest producer of textiles in the world with a massive raw material base. Industry accounts for almost 24 per cent of the world's spindle capacity and 8 per cent of global rotor capacity. India ranked 2nd in textile export with 7 per cent of global share. Indian textile industry is one of the largest contributors to the country's exports with around 10.17 per cent share in India's total export earnings for the fiscal ended 2021-22 valued at $ 44 billion. The textile sector is one of the oldest industries in India contributing 2 per cent of the GDP and 18 per cent of manufacturing.
Raw material availability is one of the key strengths of Indian textile sector. India is the second largest producer of cotton; largest producer and second largest exporter of jute; and second largest producer of silk. India has a large pool of manpower which is advantageous since textile and apparel is a labour-intensive sector. The national textile and apparel manufacturing is second largest in the world that spans the entire value chain from fibre to finished goods. All these factors promoted India as one of the leading manufacturers and a sourcing hub.
Textiles and Clothing (T&C) is a buyer-driven industry, its volume of trade and production is highly sensitive to the macroeconomic environment. Due to certain adverse factors including high inflation, energy cost, retrenchment of global supply chains, slowed world economy, etc, India's T&C markets are facing continuous fall in exports. Further, the World Trade Organisation (WTO) forecasts that the global trade growth is likely to lie low in the closing months of 2022 and well into 2023 as the global economy continues to be stricken by strong headwinds. This would undoubtedly impact T&C industry significantly and may face a weakened consumer demand in 2023.
Looking at the brighter side, there appears to be plenty of opportunities for the Indian T&C industry arising globally as the majority of companies and customers are looking for market diversification and explicitly, India is the most favoured destination. The country has the potential to grab the emerging demands and markets by making investments in sustainability, circularity and traceability, supported by the concluded/yet to be concluded FTAs.
Striving to achieve $100 billion target
In 2021, the Government set a lofty goal of $ 100 billion for textile and apparel exports for the next five years and has accordingly implemented series of policy measures to achieve the same. India scaled its highest ever exports tally at $ 44 billion in textiles and apparels, a substantial increase of 41 per cent and 26 per cent over corresponding figures in FY2020-21 and FY2019-20. The Indian textile industry has an inherent strength across the entire value chain from natural to man-made fibre to apparel to home textiles. To achieve the workable target of $ 100 billion, Government of India has been making concerted efforts to attract new investments through several schemes under its flagship program "AtmaNirbhar Bharat" including Product Linked Scheme 1, thereby encouraging the synthetic/technical textile sector, PLI 2.0 encouraging the garment/home textiles and textile accessories sectors and the PM MITRA Scheme.
A timely move by RBI, providing for International trade settlement in Indian Rupee enhances ease of doing global business and will also help reduce India's dependency on US dollars in a turbulent market scenario.
Government support
The stimulus to overcome the challenges that erupted during the pre-pandemic and the pandemic scenario, so as to boost exports, production, demand and job opportunities on pan-India basis were:
To boost exports in Man Made Fibre (MMF) sector, Government has removed Anti-Dumping Duty on PTA (Purified Terephthalic Acid), MEG, PSF, Viscose Staple Fibre and Elastomeric Filament Yarn.
The Government has approved setting up of Seven Pradhan Mantri Mega Integrated Textile Region and Apparel (PM MITRA) Parks in Greenfield / Brownfield sites with an outlay of Rs 4,445 crore for a period of seven years upto 2027-28. These parks will enable the textile industry to become globally competitive, attract large investment and boost employment generation.
The Government has approved the Production Linked Incentive (PLI) Scheme for Textiles, with an approved outlay of Rs 10,683 crore, to promote production of MMF Apparel, MMF Fabrics and products of technical textiles in the country to enable Textile sector to achieve size and scale and to become competitive.
The scheme of Rebate of State and central Taxes and Levies (RoSCTL) effective from March 2019 has been continued till 31stMarch 2024 for Exports of Apparel / Garments and made-ups in order to make the textile sector competitive in international market.
The WTO Dispute Resolution Panel had ruled that Merchandise Exports from India Scheme (MEIS) was not in compliance with global trade rules. Hence, the Central Government had introduced the Remission of Duties and Taxes on Exported Products (RoDTEP) Scheme, replacing the existing MEIS scheme, effective from 1stJanuary 2021.
Interest Equalisation Scheme on pre and post shipment rupee export credit has been extended till 31stMarch 2024 by the Reserve Bank of India @ 2 per cent.
Emergency Credit Line Guarantee Scheme (ECLGS), paved way for reduction of economic stress faced by MSMEs by providing them additional funding in the form of a fully guaranteed credit line, on the outstanding at concessional rate.
Government has allocated an outlay of Rs 1000 crore for advance research and innovation in technical textiles at par with the best in the world.
Speeding up conclusion of FTA's with major importing countries. Recently, mutually beneficial international trading agreements have been entered into with Australia, UAE and Mauritius.
Promoting MSME's by widening the financial and industrial parameters
In addition, Government is implementing various schemes viz Power-Tex for the development of the powerloom sector, scheme for integrated textile parks (SITP),SAMARTH- The scheme for capacity building in textile sector, jute (ICARE- Improved Cultivation and Advanced Retting Exercise), Integrated Processing Development Scheme (IPDS), Silk Samagra, National Handloom Development Programme, National Handicraft Development Programme, Integrated Wool Development Programme (IWDP) etc. catering exclusively for sector wise promotion and development.
Further, the Government is in the course of implementing an alternative scheme for the expired TUFS, to enhance the CAPEX by the industry players.
Future outlook
We expect demand to be significantly better in the second half of 2023 with improving consumer sentiments, however, the pressure would be felt on margins, due to cotton prices, which are likely to soften in due course, more so when the new cotton season has just begun. Overall, FY23 is expected to be a year of mixed bag for the industry with consumers resuming their normal lives to a great extent and textile exports looking up. Despite, improved sentiments on macro-economic factors during second half of 2023, industry would feel pressure on margins due to unfavorable market dynamics.
The undeterred efforts of the government to put the struggling cotton spinning sector on the growth trajectory is well understandable from the formation of various committees/groups consisting of members from both industry and government with the objective of resolving issues hindering the normal course of the industry's movement. The Textile Advisory Group (directed to be formed by the Union Minister of Textiles), working under the chairmanship of Suresh Kotak, the cotton veteran, to look into the cotton price stability due to the impact of Futures Commodity Trading and frame a model Cotton Contract is a visionary approach. Similarly, the master plan devised to increase the productivity of cotton, being worked out by the industry associations in close coordination with the government, is a move to put back the country on the rails, as numero uno in cotton production on the global map.
To counter the unpleasant happenings in the global scenario including the Russian war, environmental impact in Europe, stability of government with our major international partner (i.e) UK, GoI has been extending support through various path breaking policy measures, such as PLI, signing of FTAs with large export partners etc.
With new round the corner and the pandemic impact being under control in majority of the countries, the order bookings for the Indian manufacturers is expected to be brighter. It is also appreciative that the industry is adopting all necessary steps to perform better through cost optimisation, product innovation for better margins besides capacity enhancement in all areas of operations.
I hope and wish that 2023 would be a game-changer for the Indian textiles and clothing industry and consequently garner a larger share of the global trade in the time ahead.