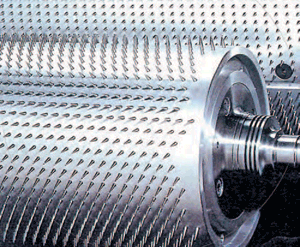 Selection of beater design in fibre preparation
Brian A Leach and Kishore Kumar Khaitan discuss the issues related to how beater designs and the sequence of opening points influence fibre preparation. Fibre opening is key to good yarn spinning. Good, gentle opening ensures maximum retension of fibre strength by minimising fibre rupture, reducing the level of neps
Brian A Leach and Kishore Kumar Khaitan discuss the issues related to how beater designs and the sequence of opening points influence fibre preparation.
Fibre opening is key to good yarn spinning. Good, gentle opening ensures maximum retension of fibre strength by minimising fibre rupture, reducing the level of neps, effective thrash removal and minimal amounts of micro dust and lint. It is obvious that well cleaned and opened fibre is a prerequisite to high quality carding and spinning. However, the fact is that this is very difficult to achieve for a spinning mill since the fibre quality, fibre mix, product mix, etc. keep changing and the process has to be optimised to the new requirements. Even if the process is optimised, it is a challenge to maintain the consistency of quality.
In this article, we discuss the issues related to this subject and how beater designs and the sequence of opening points influence fibre preparation. In modern blow rooms, four types of beaters are primarily used disc beaters, peg beaters, pinned beaters and saw tooth beaters, each having it own function and suitability to certain requirements and conditions. As disc and peg beaters are used exclusively for beating and pre-opening of cotton fibres, we shall focus on pinned and saw tooth beaters for detailed analysis. It was not until the 1960s that blowroom cleaning machines embraced metallic wire as an option to bladed, porcupine, vertical or pin beaters.
Production limitations of traditional blowroom lines of around 300 kgs/hr gave way to metallic wire wound cylinders enabling dramatic increases in production. This provided more intense opening and cleaning, however, not without quality concession. Metallic wire in many applications results in fibre damage and requires frequent maintenance.
Typical Indian mills producing fine ring spun yarn up to the 1980s used up to seven cleaning points in their blowroom lines and no metallic wire was used. Though in modern blowroom lines, it is claimed that less cleaning points are required which helps reduce fibre damage at high productions rates, what is actually done is that multiple cleaning points are provided in a single blow room beater or card. However, even if one or two cleaning points are actually reduced, use of metallic wire leads to aggressive opening and consequent fibre rupture, which affects ring spun fine yarns quality in particular.
It may be prudent to replace the wire wound rolls with pinned rolls to reduce fibre damage, particularly for fine count, ring spun applications. Most super high production lines are suited for open end spinning operations where quality demands are more forgiving. Ring spun yarns, on the other hand, are very sensitive to speeds, over beating, and aggressive cleaning. Machine makers are thus increasingly adopting the pin technologies to overcome some of the issues posed by aggressive metallic wire cleaning.
Engineering improvements, such as use of long lasting alloy steel pins, extruded alloy aluminium lags and special pin profiles, along with proven advanced methods of pin fixing (eg. NIF method adopted by Stewarts) that provides pin-point accuracy, have dramatically improved the performance of pinned beaters, which was never achieved in wooden products. Leading manufacturers of modern blowroom and carding machines have adopted pin rollers and pinned aluminium profiles as the primary recommended specification. Choice of beaters and sequence of opening depends on the nature of fibre and the process requirements. Long staple cotton with low thrash would require lesser beating and more opening than short staple, thrashy cotton. Synthetic fibres require no beating and only gentle opening. Though not preferred, saw tooth wires can be used for opening polyester or nylon fibres. However, they can cause several problems if used for opening soft fibres like viscose since such fibres have a tendency to disintegrate under stress.<