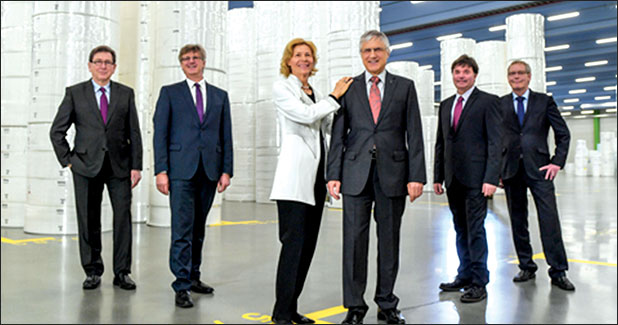 Sandler: Sets record in 2016, more optimistic for 2017
German nonwovens manufacturer Sandler AG from Schwarzenbach/Saale, Bavaria, reports a successful year 2016. Despite a sharp fall in raw material prices, the company was successful in keeping sales stable at Euro 288 million and further increasing output.
German nonwovens manufacturer Sandler AG from Schwarzenbach/Saale, Bavaria, reports a successful year 2016. Despite a sharp fall in raw material prices, the company was successful in keeping sales stable at Euro 288 million and further increasing output. With a team of 770 employees, Sandler continues to position itself as a partner of global industry leaders in the growing market for nonwovens in construction, engineering, filtration, home textiles, hygiene applications, transportation and wipes.
A global player in the dynamically growing nonwovens industry, the family-run company banks on organic growth—a strategy increasingly becoming a unique feature. The staff members consider themselves part of the Sandler family. This philosophy in particular represents one of the company's key success factors.
For Sandler, 2016 was characterised by the biggest milestone in the company's history so far: The new manufacturing site in Perry, Georgia, USA was set up and the first production line taken into operation. In autumn, production of nonwovens for hygiene products and technical applications commenced. First samplings and deliveries to US customers have left the new plant and important customer audits were passed successfully. The backbone of these achievements is a highly motivated team of new US staff members and German expatriates which has been growing steadily over the past few months. Sandler is planning the further expansion of the Perry site in the future.
At the German plant in Schwarzenbach/Saale, the past year was also signified by investments and change: In July, the new production building and manufacturing line were formally inaugurated in the presence of 250 guests from the economic, political and social spheres. Ilse Aigner, Bavarian State Minister for Economy and Media, Energy and Technology, acknowledged the company's achievement in her welcoming address. Having successfully completed the start-up and qualification phase, the new production line is already running at high capacity. It will enable Sandler to further advance the development of materials for hygiene products.
Pioneering, market-oriented innovations form the basis of a new generation of nonwovens for the hygiene industry. A higher degree of softness and protection for more comfort in use are paramount: Soft nonwovens are gentle on the skin and can be enhanced with individual embossing designs. Extensible materials for closure systems facilitate optimal adjustment to the body contours and perfect fit with every movement. Nonwoven fluid handling layers quickly transport fluid away from the body and distribute it evenly. New nonwoven wipes substrates for cosmetics, cleaning and disinfection combine protection and gentle care.
In the market for filters in heating, ventilation and air-conditioning Sandler's new development enAIRsave® focuses on sustainability: The synthetic pocket filter medium not only features high efficiency, it also contributes to lowering the energy consumption during operation of the filter plant. Owing to a special multi-layer structure, dirt and particulate matter are efficiently deposited, without restraining the airflow through the filter. This way, enAIRsave® provides excellent air quality for a comfortable indoor climate and saves energy at the same time.
Comfort is paramount also when it comes to novelties for the transportation industry. New absorber nonwovens of the sawasorb® series for interior and exterior applications efficiently dampen engine and road noise, even in narrow installation spaces. Nonwovens for seat applications provide for comfortable driving on the long haul as well as on short drives, and contribute to an optimal micro-climate of the seat. Textile comfort all around—on the road, on the rail, and in the air. These big and small changes are implemented by the Sandler staff—a team that grew by 200 members during the past five years. Apprentices account for about 10 percent of the staff, completing their vocational training in business and technical roles. Sandler also puts emphasis on a junior management training programme, offering ambitious employees a focused career path into leadership positions. Together with Sandler's already established leadership guidelines this initiative expands on Sandler's philosophy: The employees are the cornerstone of success. Each individual contributes to the company's further development by assuming responsibility for his or her scope of duties.
Building the Perry production site, employees from different departments of Sandler AG were given the opportunity to apply their know-how to setting up a new plant and to experience living and working in a different cultural environment. The Sandler team members gladly took this chance for personal and professional growth. The nonwovens manufacturer will continue to offer select employees—especially young professionals still completing vocational training—the possibility to gain experience abroad working in the US subsidiary.
For Sandler, the future will also be shaped by expansion—in Schwarzenbach, as well as in Perry, Georgia. The management is optimistic: