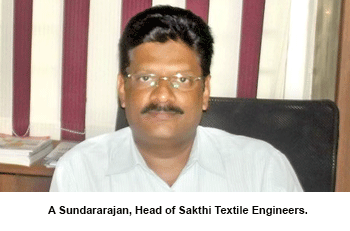 Sakthi makes 90 variants in top rollers
Sakthi´s administrative office and manufacturing unit is located in the heart of Coimbatore, Tamil Nadu, and it is supported by an established R&D center, automated manufacturing plant
Sakthi´s administrative office and manufacturing unit is located in the heart of Coimbatore, Tamil Nadu, and it is supported by an established R&D center, automated manufacturing plant; doorstep service after sales and good marketing dealer network all over India as well as abroad.
The company´s manufacturing unit is equipped with most advanced CNC machineries and systems to maintain high precision standards of its products. It is a fast growing firm who are also exporting their products to various countries like Indonesia, Bangladesh, Thailand, Egypt and Turkey through reputed dealer network. In an exclusive chat with the Editor of the Indian Textile Journal, A Sundararajan, Head of Sakthi Textile Engineers, shares the growth of Sakthi in all these years and also the company´s USPs.
Excerpts…
ITJ Editor: When was the foundation for Sakthi Textile Engineers laid? How has been its growth all these years?
A Sundararajan (AS): Sakthi was established in 2007 with limited investment and huge belief. In terms of our hard work and all our well wishers support it is grown to a worth of Rs 20 million. Our growth is an on going because we believe success is a journey not a destination.
ITJ Editor: Which are the major products of your company? What are their USPs?
AS: We are manufacturing the entire range of top rollers for draw frame, lap former, comber, speed frame and ring frame. We are competing in the replacement market next to original equipment manufacturer (OEM).
ITJ Editor: You are in a segment, which is severely competitive by nature because of too many players. How do you manage this?
AS: When we enter into the market we are well aware that we are not a pioneer. But we have a confident that because of our dedication towards the commitment we will get the acceptance in the market. That´s what happened and now we have a good amount of potential clientele in our record.
ITJ Editor: Do you export also? If so, which are your markets and how have you developed them?
AS: Yes. We do exports also to countries like Indonesia, Thailand, Vietnam, Bangladesh and Turkey etc., through reputed and beloved agent network.
ITJ Editor: Do you have any plans to diversify or expand? If so, please elaborate your future plans.
AS: We still we have a good potential in top roller range itself. Already we have more than 90 variants in our product list, and we wish to achieve for almost all the machines available in the world.
ITJ Editor: What is your marketing strategy?
AS: Our mantra is no compromise in quality, cost effective and timely delivery. ITJ Editor: How´s the market in India for the kind of products you have been producing? What are its prospects, problems, strengths and weaknesses? AS: Of course India is a big market. Indian mills also [gradually] comes out from the conservative thinking. Now everyone has to compete globally. Hence the mill technician and the management has to find out an exclusive reputed and cost-effective manufacturer and supplier of spares for trouble-free running. Mills are facing manpower shortage and afraid to take a chance with new vendors. We can understand such constraints of the end user and ensure 100 per cent quality from our end.