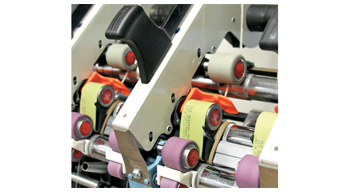 Rotorcraft's latest in mechanical compact spinning
Rotorcraft AG of Switzerland has reported an overwhelmingly response at ITMA 2015.
Rotorcraft AG of Switzerland has reported an overwhelmingly response at ITMA 2015. ?We are extremely satisfied, both with contracts concluded at the fair, as well as with the great interest of customers from all over the world and the new mill contacts we were able to establish?, stated Dr. Andreas Fischer, Head of Global Sales for Rotorcraft.
The company, established in Switzerland in 1973, is encouraged by the positive response with which both, the upgraded version of RoCoS and the newly introduced top arm RT3 were met.
RoCoS Premium 1.21 HDC is the latest and ultimate in mechanical compact spinning. Its features allow for a low end break rate at high speeds, while maintaining superior IPI values. ?Customers also appreciate the concept of green compacting which, due to the lack of additional electricity consumption for low air pressure, is an inherent feature of RoCoS?, added CEO Frank Gossmann.
RoCoS Premium applies a concept patented by Rotorcraft. It consists of a a longer than standard apron cradle, which allows to guide the fibres for a significantly longer path than is the case in any other system. In addition, Rotorcraft creates a steeper the position of the steel table after the exit from the middle bottom roller, allowing to move the RoCoS unit backwards. Thus, the drafting plane tilts downwards and the fibres are getting deflected after leaving the apron nip. This deflection creates friction between the top apron and the fibres. This results in reduction of fluff and to improved yarn values.
The revolutionary top arm RT3 was especially welcome by mill managers. ?Immediately they recognise the reliability and ease of handling which the RT3 introduces to the mill. Fixed distances between the front and middle top roller eliminate human error that traditional top arms have due to manual distance setting?, according to Chairman Hans Stahlecker. Change of distance between the front and middle top roller rollers is achieved by simple switching the roller holders, which are laid out in different colors for easy identification.
This switch takes only a few seconds per top arm. ?Therefore, the RT3 motto is: Don?t check millimeters, check colors,? Hans Stahlecker added.
For further information:
Dr Andreas Fischer
Head of Global Sales
Managing Board Member
Email: Andreas.Fischer@oe-rotorcraft.com