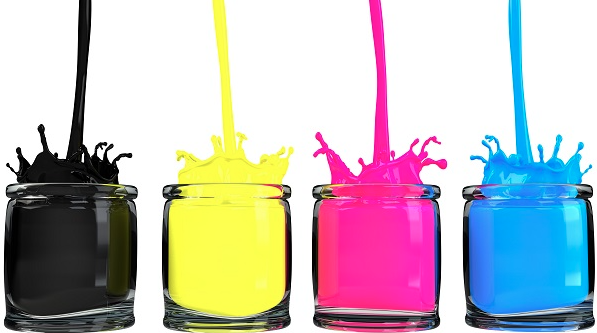 Rapid emergence of Digital Textile Printing
The textile business has always relied on screen printing, but the use of digital technology has dramatically increased the variety of ways you can design fabrics. Divya Shetty analyses the surge in popularity, the current trend, and the advantages of digital printing.
Development of digital age and the rapid flow of information, consumer behaviour is changing at an accelerated rate and becoming more demanding. E-commerce is expanding, pushing aside and stressing out physical retail establishments as new business models emerge. Fashion firms are struggling to meet the individualised demands of consumers while also dealing with intense pressure for speedy replenishments. In the pursuit of technical innovation and in the textile business, sustainability, circularity, and traceability are gaining ground.
Shorter runs at competitive rates and quick time to market are constantly in demand due to the fast fashion, mass customisation, and personalisation trends. The final lap – textile printing – is most capable to meet customised demand at a faster rate even if the entire textile sector is aligning itself to changing trends for shorter value-chain.
There are many traditional printing methods, which have been used by the industry since ages but considering the fast fashion, turnaround time, sustainability, customisation and varied designs, Digital printing technology has become the future of textile printing and its printing process is completely different from traditional printing. Smarth Bansal, GM-Product/Brand Management, Colorjet India, states, "Demand of Digital printing technology is growing and the Indian textile Industry has accepted it. In the last decade, Digital printing technology has revolutionised the textile printing method and over power the traditional printing."
"Textile is considered the mother of industrialisation & the era of Industry 1.0 is associated with mechanised textile weaving. Presently, Industry 4.0 is based on automation, digitisation & artificial intelligence. Likewise, Textile Printing also evolved from the primitive hand/block (Printing 1.0) to analogue Screen printing (Printing 2.0) then the fast and highly productive Rotary (Printing 3.0) & now the sophisticated Digital Ink Jet (Printing 4.0) which can provide extraordinary sharp image in multiple colours on a real-time basis as per the consumer's expectation," says Dr Ashok Athalye, Professor-Textile Chemistry, Institute of Chemical Technology.
Digital textiles printing was initially used for soft signage applications, however with the advancement in the technology its applications diversified into textiles & clothing, home textiles and RR Decor is one such home textiles brand. Rohit Khemka, Founder, RR Decor, comments, "Digital printing presses print varieties of surfaces without using any printing plates. Digital printing is faster and is a more cost-effective method of printing. Most of the consumer printers are the digital printers now. When using toner or ink for printing the fabrics, the medium does not penetrate just like the traditional inks do. And instead of this, it sits on the fabric surface that causes the toner or the ink to get heated or cured to stay on the surface."
Robert Zoch, Global Content Manager, Kornit Digital, further explains, "Screen printing has long been a staple of the textile industry, but digital has greatly expanded the scope of how you can decorate fabrics of all kinds. Today, if you can render an image on a computer screen, you can faithfully replicate it on substrates—any colour, any graphic detail, photorealistic, and on both dark and light backgrounds, with a durability withstanding light exposure, rub, and repeat washes."
Advantages of digital printing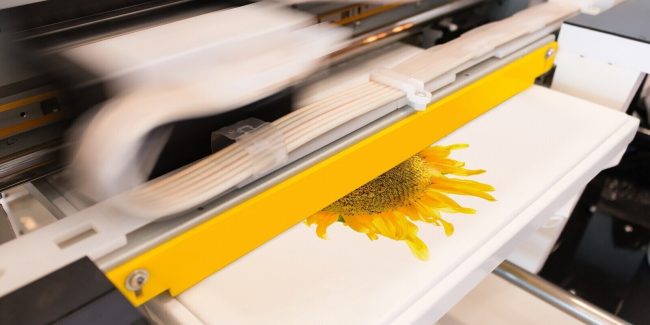 The major benefits of Digital textile printing over conventional Analog printing are in terms of –wide coverage area, endless colour combinations, excellent sharpness of designs, quick turnaround of prints, real-time instantaneous transfer from screen to fabric, printing on any textile material and less space.
Khemka further lists down more benefits:
Low-cost establishment
There will be less waste and no need to dispose of surplus dye and chemicals that are harmful to the environment
Printing on demand with high printing accuracy and sharpness
Less operational area is required, as is the use of resources and inventory
When compared to traditional printing, it requires less education
Rapid sampling and quick dispatch
Affordable for both small and large orders
No nickel deposition of screens into fabric (stricter norms and regulations in the future
In Traditional printing process, huge amount of energy and water required and affecting the environment while digital textile printing technology method saved billion litres of water and offers sustainable solution to the textile-printing industry. In Nutshell Digital Printing Process offers- Incredible Quality, Low costs at low volumes compared to traditional printing, Short Lead Times, Prototyping or Constantly Revising Artwork etc.
"ColorJet being the industry leader provides with inbuilt water filtration system, which uses 98% less water in comparison to other machines. Our machines are also compact and energy efficient with a reduction of 42% energy approx. We also provide our customers zero water consuming printing solution with our wide range of pigment printing & sublimation printing machine," informs Bansal.
Emerging trends
E-commerce is fundamentally changing the way creators, producers, and consumers engage with each other. It's not only the growth of online stores, but social media as a driver of demand.
Zoch adds, "E-commerce is using virtual reality and the Metaverse to model new apparel and applications, empowering everyday people to create their own visions, and presenting an infinite array of design possibilities—while digital means creating only the pieces the consumer ultimately chooses to bring home."
One-Step application on any type of fibre, be it natural, synthetic or their varying blends is also emerging as a new trend. This process helps eliminate the need for post-printing washing-off process & thereby minimises the Water footprint as well as the Carbon footprint of the textile processing.
Cutomisation and sustainability is another buzzword in the industry and it is used by the digital printing sector too. People nowadays want everything custom-made, from eating to vacation, shopping to acquiring any services. Nothing makes people happier than the ability to customise any product or service they purchase. It comes with the freedom of personalisation and modification has made it possible to adapt things as one needs, and textile design is one of them. Digital textile printing quickly gained popular after its introduction to the market.
India taking the lead
There is a large number of customers in India using Digital Reactive Printing and Sublimation Printing. All the leading reactive and sublimation printer manufacturers have machines working with customers. In India there are several places which work mainly on Digital Printing machine. They all have started now with Sublimation and Pigment technology too. All polyester based disperse market in screen is shifting to Sublimation Digital Printing.
"With digital, you can sell a garment, accessory, home good, or custom fabric after you sell it, because it's fulfilled in virtually no time; this eliminates wasteful overstock. Digital printing uses pigments, which are eco-friendly and safe for children. You have virtually no water waste. It's much easier to train users on digital printing, because it's largely intuitive to a digital-native generation and maintenance operations are relatively simple; finding skilled screen printers is increasingly difficult, and screens inevitably produce considerable waste," opines Zoch.
A digital process can be integrated into a digital production workflow, to automate and streamline the entire fulfilment process from online store to shipping logistics, which means a lean and seamless experience for both producer and consumer. Digital printing has a low and consistent cost per print, so it's profitable in any quantity, and generating samples is quick and painless. It's easier to capitalise on new opportunities, or adapt to unforeseen market disruptions (as experienced during COVID-19 lockdowns).
Khemka also asserts, "The advent of digital textile printing would prove to be a game changer in India forever altering the way companies choose to manufacture everything from bedding to home furnishings, Digital printing technology excels at producing on demand and short print runs quickly and cost-effectively. Digital printing is also an ideal platform for personalization. If the industry wants to easily modify images and intricacies using variable data printing (VDP), then digital printing is the only way to go. With advancements in print quality and speed. Hence a major shift for them."
Techniques adopted by industry…
The Institute of Chemical Technology (ICT) has incorporated this subject into the student's curriculum & installed a prototype machine to demonstrate the practical application & performance evaluation. The department of Fibre & Textile Processing Technology is collaborating with other institutes and industry partners in developing an economically value-added & ecologically sustainable Pigment Ink printing as well as a novel Wool fabric printing process.
Colorjet's experienced team of professionals offers total plan of the digital printing project irrespective of the type of fibre (cotton, polyester, nylon, silk, wool, blends), type of ink (reactive, disperse, pigment, acid), type of applications (fashion apparels including formal wear, ethnic wear, swimwear, sportswear, home textile, technical textile and many others), size of business or any other customization as provided by the customer.
Kornit develop the most capable, efficient systems for digital textile printing on the planet. The KornitX Global Fulfilment Network aims to connect designers and brands with Kornit customers on a global scale, to make fulfilment localised and accessible while supporting the sustainability imperative.
With the advent of sophisticated workflow automation tools, RR Decor's no cylinder or screen printing meet the needs of designers and brands trying to meet the quick changeover.
Cue to potential users
Since printing is the textile industry's oldest practise, it is challenging to transform these traditional businesses into digital ones. Hence, here are a few tips provided by industry professionals to help with the transition.
Generally, the challenges encountered are in terms of – the initial cost of the machinery set up, identification & selection of proper dye-inks and auxiliary chemicals to avoid choking off 'print heads' on digital machines & avoiding direct cost-competition against conventional fabric printing- Prof Athalye
If you already have an existing staff, you would have to train them for the marketing operations, manufacturing operations, and so much more. This is exhaustive, time-taking and sometimes can even cost some money. Also, investment in technology is inevitable. Not only developing software or buying online tools but maintenance of the software, customer care services, products, and material and machinery is a big investment. Maintaining quality is necessary it helps you retain customers- Khemka
Focus more on innovation, sustainability, digitisation and newer products- Bansal
Consider the long-term labour and operational needs you will encounter, and understand digital is a very different experience from analogue. Know your customer (or intended customer) and have a plan for engaging that customer with digital capabilities. If you're currently a screen printer (or commercial printer), have a strategy for using each tool to maximum effectiveness—such as using screens for mass production of simple apparel, and digital for one-offs and short runs. In many cases, you may think of investing in digital as risk mitigation, establishing versatility to protect against unforeseen market dynamics- Zoch