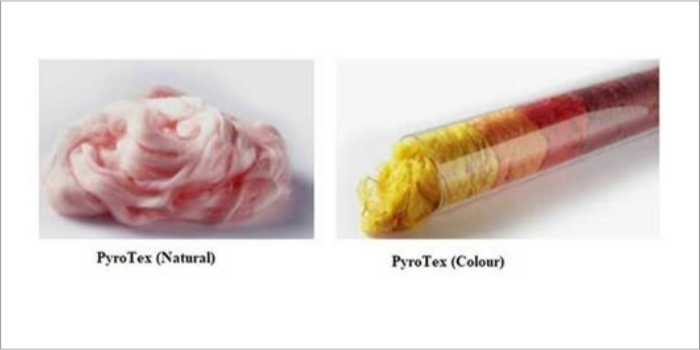 PyroTex specialty fiber: An innovation for Covid times
As a fresh wave of Covid-19 virus hits the country, innovative products such as the PyroTex specialty fiber are the need of the hour as it prevents the spread of the deadly virus, says Rajanna L Gotipamul & S B Vhanbatte.
PyroTex, an acrylic
fiber by PyroTex GmbH, is modified in various ways in order to create a new
safety fiber. PyroTex can be processed on short staple, worsted and OE
(open-end) spinning machines. In addition, the fiber is very suitable for the
production of nonwovens. Blended with fine Merino wool, PyroTex is used in
underwear for people working with molten metal as well as in knitted fabrics
that are used for the manufacturing of safety masks, so-called Balaclavas.
PyroTex is flame-retardant, heat resistant, and is certified by the Hohenstein
Textile Institute as Class 2 of the Oeko-Tex standard 100. PyroTex carbonises
instead of melts and,thus, forms a protective layer that provides additional
protection against flames and heat. PyroTex is the only fiber, which can
equally be used in basic and acidic media.
Chemically modified
acrylics, principally the modacrylics, introduce Cl atoms in their molecular
structure, which are responsible for their low burning behavior, and have the
ability to self-extinguish once the source of ignition has been removed.
PyroTex is an inherent flame and heat-resistant PAN fiber with LOI of 43%, and
shows good acid and alkaline resistance, UV resistance, good resistance against
solvents, hydrolysis, and oxidising agents, and its temperature resistance is
up to 250°C. The Hamburg-based company PyroTex Industries, Germany, has
succeeded as the first manufacturer worldwide to produce a fiber that has an
activity of 99.57% (99% after 14 seconds) against the SARS-CoV-2 virus. This result
has been confirmed by an independent, ISO certified laboratory according to ISO
18184: 2019.
The PyroTex fiber can
be used in protective masks, general protective and medical clothing as well as
products for the hospitality and the private sector. Besides its activity
against SARS-CoV-2, PyroTex fiber also has an activity of over 99% against
bacteria such as Staphylococcus Aureus, Escherichia Coli and Klebsiella
Pneumoniae. The latter often named as the most problematic germ in hospitals.
All properties are permanent and non-toxic.
As a fiber used for home and outdoor
textiles for the first time, PyroTex offers
the safest and most skin-friendly way to protect yourself from flames with
textiles. The high-tech fiber PyroTex is already used in areas that require
fire resistance, for example in aircrafts, work clothing or in filtration. Now,
we have the first product for end consumers made from this fiber – a multifunctional
blanket that is not only flame-resistant, but also a well-designed accessory
for living, car, outdoor and leisure. PyroTex
fiber can do much more than protect against fire. PyroTex is soft and warm. In
addition, it is permanently antibacterial without any chemical additives. It
just makes sense to combine security and comfort in the area of home textiles.
There are two types of
Pyrotex – natural and coloured.
CATEGORIES Weaving