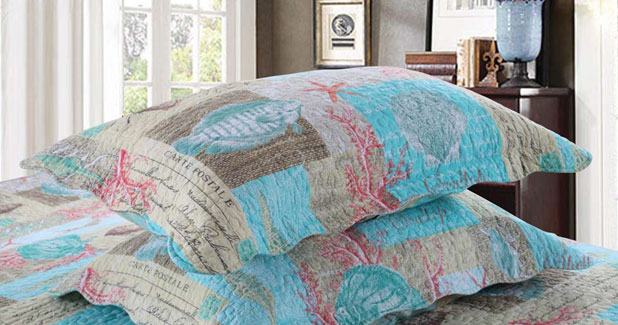 Proliferation of home textile companies
Bed linen has a 49 per cent share in Indian home textiles market. India exported $416.4 million of bed linen in 2017 growing at a CAGR of 13 per cent, says Avinash Mayekar.
Bed linen has a 49 per cent share in Indian home textiles market. India exported $416.4 million of bed linen in 2017 growing at a CAGR of 13 per cent, says Avinash Mayekar.
The Followers that what we Indians are known for, it is our work philosophy. This is how businesses work in India and we are quite successful in it. Most of the times there is one innovative business model which succeeds and as a herd mentality many others just follow the same business model and create problems for self as well as for others. The current growth rate of 7.7 per cent in the first quarter of 2018 proves importance of India in the global market. As far as the huge textiles industry is concerned, for past two decades, we have kept doing exceptionally well in yarn segment whereas in case of grey fabric, process fabric, garments or even in technical textiles we have not yet exploited our potential showing the lack of value addition. We are only following the trend of being yarn exporter to the world.
All though India is one of the largest textile hub, we are at distant second position in the global textile market. There is huge difference in being a follower and just following. The thin line is what distinguishes between being successful and just surviving. The story of home textiles is however slightly different thanks to, opportunity given to us by our competing countries like Pakistan. We have done remarkable innovations in this segment and have become one of the key leaders in this market having a share of 11 per cent in world touching $5 billion.
We have innovated our products to match the global as well as domestic markets. Home textiles consist of promising products like curtains, bed sheets, towels, pillow covers, furnishing fabrics, kitchenware, bath rubs, rugs, mattresses, tableware, bed linen, upholstery fabrics, drapery, window blinds, etc. The most in demand products are the bed linen and carpets.
Bed linen has 49 per cent share in Indian home textiles market. India exported $416.4 million of bed linen in 2017 growing with a CAGR of 13 per cent. Globally, retail value of home textiles segment is expected to grow with a CAGR of 7.7 per cent between 2018-2022. Globally China is the major supplier of home textile having a share of 39 per cent with $18 billion. However because of the rising labour cost and other varied reasons the market is slowly being captured by Indian players because of their competitive prices. Moreover China's has adopted recent strategy of investing into other countries like Africa, Cambodia, Vietnam etc. for the production of textile materials. China's import from India is increasing in home textiles segment major products imported are carpets, bed linens, curtains and blankets with a share of 39 per cent, 16.3 per cent, 8.3 per cent and 6.7 per cent respectively as on 2017(source: UN comtrade). Similarly, the UAE has also emerged as a significant market for Indian home textiles with carpets having a 41 per cent share in 2016.
There are a few players like Trident (largest terry towel producer), Welspun, etc. who have done remarkable work and become leaders. Other Indian brands like Indian Drape, RR Décor, F and F, Maspar, Goldtex, ABN, Portico New York, Birla Century, Spread, Swayam, MYCK, Zyneand Super Net, etc are recognised nationally and are growing at a healthy pace.
Creative Portico is growing at 30-40 per cent every year and the brand is doing very well. Estimated growth of Spaces brand of Welspun India was between 24 per cent and 30 per cent over past three years and it is projected to be between 30 per cent and 38 per cent for next three years. Currently, Spaces is among the top three home brands in India and aspires to be the leader in branded home segment. Swayam linen estimate 30-35 per cent growth YOY over the next three years. Tangerine another bed linen brand has experienced more than 50 per cent growth in its second year of launch.
A large number of international brands like Zimmer+Rhodes, Designers' Guild, Esprit Home, Harlequin, United Colour of Benetton have experienced a 20-30 per cent annual growth in the Indian market. IKEA, the world's largest furniture retailer, has also launched its first store in India at Hyderabad and plans to open 25 more stores in India by 2025. This penetration of international brands into India market shows the bright future for home textiles in India.
Conclusion
The major reason behind the success of home textile is the modernisation of society. Today a lot of efforts are been put to make a place lively, it is the feel and vibe that the surrounding gives which is of upmost importance. In an era of Instagram and Snapchat where one clicks pictures of each and everything, it highly matters to have beautiful décor with lively colours around. Home textiles have become a style statement and has a status associated with it. Also today it is not just the cost but the comfort of goods that are driving the market. If we see our homes, hotels and showrooms, home textiles are what gives the unique 'x' factor to the place. An additional me factor is added to the rooms due to the varied colour and designs of home textiles that decorate the rooms in shades or character of the person or brand. A pink cushions, curtains, floral wallpaper and Cinderella bed sheets easily indicates it is a room of a baby girl whereas the rustic colours are used for vintage brands.
The rising disposable income and importance to hygiene has also changed the buying trend of home textile products. These products like the curtains, bed sheets are no longer reused for decades or purchased only during festive periods but are replaced frequently after just three to four washes. The rising attractions towards these products are further driving the business for home textiles.
However the top players in India like Trident, Welspun are continuously increasing their capacities to become the largest player of the world irrespective of their capacity consumption. This continuous capacity expansions has resulted in proliferation in home textiles as its happening without the control of the market.
The setback of Alok Industries is one such example to it. The situation is an eye opener to other brands in home textiles.
Looking at market trends of the disposable textiles it is possible that in coming years disposables might take control of a significant share of home textile market. As Home textiles are a highly fragile fashion oriented segment the entry of disposables textiles is very easy. Hygiene is one of the important characteristics for home textile products there will be serious competition from nonwoven disposable textiles which are competitive in pricing with good fashion touch. The consumers are well aware that if we use nonwoven in towels the additional task of daily laundry will simply be eliminated as they are use and throw products. Even there is a possibility of using low cost recyclable material either for home textiles or even for disposable beds by itself.
There is no doubt that there is a great potential for home textile segment and expansion is the necessity but the market leaders must not forget that any time there might be entry of new fashion or alternate cheaper comfortable products which will change the game completely and so must plan their expansions having a good understanding of the market. In order to avoid proliferation in home textiles existing players should continuously monitor the situation and understand competition within as well from substitute products.
The author, Avinash Mayekar, is Managing Director and Chief Executive Officer of Suvin Advisors, Pvt Ltd.