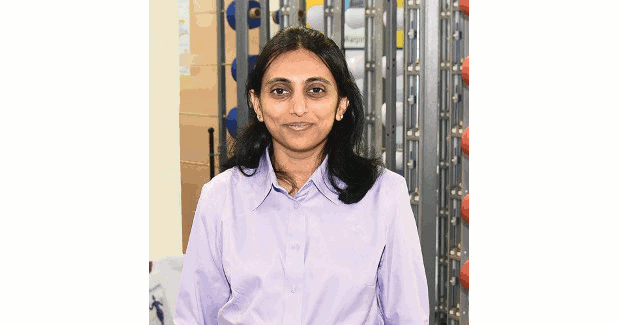 Prashant's top-of-the-line auto robotic sectional warping machine
Ahmedabad-based Prashant Group, established in 1975, is one of India's prominent and fast growing textile machine manufacturing companies.
Ahmedabad-based Prashant Group, established in 1975, is one of India's prominent and fast growing textile machine manufacturing companies. The Group has co-operations with leading European and American textile machine manufacturing companies, which bring an edge in updated technology and enhancement in product profile. Amoli Shah, Director, Prashant Group of Industries, speaks on the company's participation at ITMA, and its plans for the company.
How many ITMAs has your company attended. Please share your company's experience in the international markets with reference to participation in other exhibitions too.
Our company is exhibiting at ITMA since the last 20 years. ITMA is very important fair for us. It is a platform for us to showcase our latest products and innovations as we receive highest number of international visitors in ITMA. The visitors are mostly decision makers and so it is very advantageous. Besides ITMA, we do participate in other regional international exhibitions too.
What are the machinery/accessories your company will be displaying during this ITMA Barcelona? What are their unique features and applications?
Prashant Group is going to display its top-of-the-line automatic robotic sectional warping machine at ITMA Barcelona. This is one of the world's fastest robotic machines. Unique features of this machines are:
Innovative concept in sectional warping machine
Lease insertion by 3 Axis robot
Auto section advancing without cutting the section
Precise and quick yarn separation with optical monitoring
Endless warping
Highest productivity
Super flexibility with small width section up to 7 mm
How have your company's products been doing in the global export markets? In which year did the company make a breakthrough and how has this progressed through the years?
Prashant Group is focusing on weaving preparatory machinery. Our group is exporting to nearly 50 countries worldwide. Different global market has different potential. For instance in Europe, we mainly sell our sectional warping for synthetic yarn and technical textile. In South America, we mainly sell our sizing machine, warping machine, narrow fabric machinery, denim preparation equipment and indigo dyeing machine. In Africa and Asia, we sell all kind of machinery – warping, sizing, sectional warping, indigo dyeing, material handling equipment, beam storage system, Polybeamer for PP and HDPE tapes, and other weaving preparation machinery. Last year, our group company – Prashant West Point received Top exporter award – silver trophy from the Engineering Export Promotion Council (EEPC).
India is a very important market for all kind of fabrics and machinery. We are focusing on both domestic as well as export markets.
In the recent past, has your company entered new markets, and if so, which are the ones and for which products?
We have entered few new markets in Europe and South America. The product we sold in Europe is our high tech sectional warping machine, while in South America we sold our indigo dyeing range.
Is your company fully or partially dependent on foreign technology or inputs? Or are the products totally indigenously made? Give your comments on your competitive strength.
We have initiated our companies with either technical collaborations or joint ventures with leading European and American companies. Initially we were dependent on foreign technology but then we modified our product to cater to the customer's requirement. We have our own R&D department and we do lot of developments in-house. Though we follow certain norms of our partner companies, we do customisation as per the market requirement.
We have more than 200 engineers and have an ultra-modern development centre equipped with the latest software. We have our own software division. We have latest fabrication shop equipped with laser cutter, plasma cutter, CNC bending, robotic welding, lathe machine, CNC machining centre, shot blasting plant and other multi-axis machines. Due to our high-tech infrastructure and highly technical engineers, we can take up any challenge and we provide excellent solution in weaving preparatory machinery.
With some new countries entering textile production and also a few reshoring & revival of textile industries, do you see any rise in demand for your products globally?
There is revival of textile industries in some part of the world at the same time; there is declination in other part of the world. This can affect product demand temporarily but in long run, I believe that if we are providing world-class products at appropriate price, then the global demand will definitely rise.
What are the future prospects and problems that your company is facing in raising its share for its products/machinery in the global market?
In global market, local representation is very important. It is easier to sell the product when we have local representation because of language and cultural diversity. Other than that, we have not faced any major challenges because our products are of international standards and we can give online support for any service-related issues.
Promoting products/machinery effectively through exhibitions abroad is very important for the industry and the country in these days of globalization. Do you have any suggestions/advice for the industry and the Government in this regard?
The Government is providing different schemes for promoting export through international exhibitions. There are a few export promotion schemes for MSMEs. The Government is also giving MDA (Market Development Assistance) by reimbursing certain portion of cost for participating in foreign exhibitions. This is good and all Indian manufacturers should take advantage of these schemes. There is some upper limit for this assistance. Nowadays, the exhibition cost is skyrocketing. So probably government should reconsider their limit.